The Road to Financial Wellness w/ @Phroogal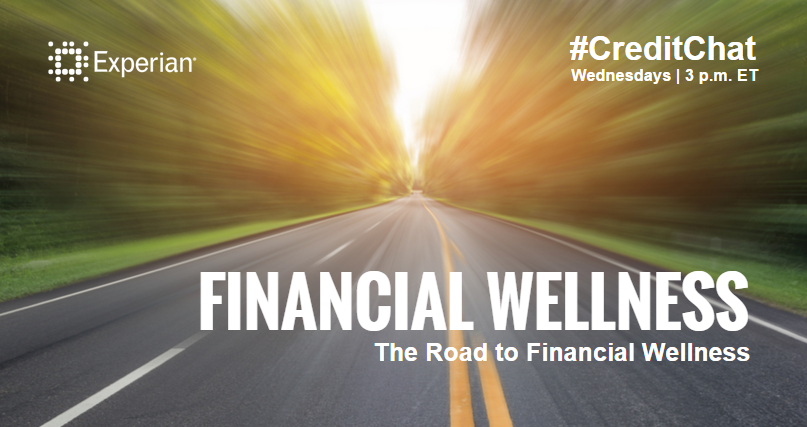 Join our weekly #CreditChat  every Wednesday at 3 p.m. ET. This week we hosted a conversation about financial wellness with Jason Vitug on Twitter.
The panel included: Jason Vitug: Author, Speaker, Founder of Phroogal.com; Rod Griffin: Director of Public Education at Experian and Mike Delgado: Social Media Community Manager at Experian.
Questions We Discussed:
Q1: What does it mean to be financially well?
Q2: What prevents many of us from being financially well?
Q3: What are some of the most common debts?
Q4: What are strategies to get out of debt?
Q5: What sorts of financial goals should we create to be financially well?
Q6: How important is budgeting/tracking money?
Q7: How does credit play a role in being financially well?
Q8: What are ways to improve our credit scores?
Q9: What resources are available for those struggling with their finances?
Q10: Any final tips for those that want to be financially well?
View the entire discussion via Storify
Join our #CreditChat every Wednesday at 3p.m. ET on Twitter and Google Hangouts.
If you've never heard about #CreditChat, here is a brief overview:
Resources:
Best Way to Pay Off Every Type of Loan via Kiplinger
Americans Will Have $1 Trillion in Credit Card Debt This Year. Here's How to Deal With Yours via Money
How to use Dave Ramsey's Debt Snowball Plan to achieve your New Year's resolutions
Financial Goal-Setting Worksheet via Rutgers
How Do I Dispute An Error I Found On My Credit Report? via Stop Fraud Colorado
5 sites that make learning about finances fun (no really!) via Kasasa
Recent Chats on YouTube & Twitter