How to Protect Your Identity This Holiday Season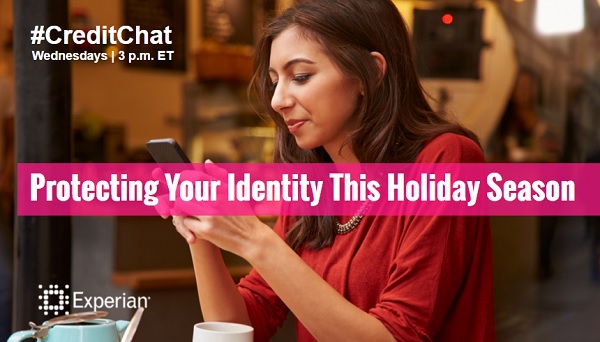 Don't let the hustle and bustle of the holiday season distract you from taking all of the necessary steps to ensure that your personal and financial information is safe. This week's chat highlighted tips for avoiding simple mistakes that might leave you vulnerable to identity theft.
The panel included: Rod Griffin– Director  of Public Education at Experian and Mike Delgado– Social Media Community Manager at Experian.
Join us on Twitter by using the #CreditChat hashtag – and tune in to the discussion on Blab.
If you have ideas for future topics and guests, please tweet @Teena_LaRo or email Christina.Roman@experian.com.
Questions We Discussed:
Q1. 

What are ways your personal information can be stolen?

Q2. 

What should you do if you get a phone call from a "charity" asking for money?

Q3. 

What's the safest way to spend money in stores (cash, credit, debit, or check)?

Q4. 

What should people know about using public wifi?

Q5. 

What types of online scams are used to get your data?

Q6. What tips do you have for creating strong passwords for websites?
Q7. What advice do you have for those shopping on their mobile device?
Q8. If you think you're a victim of identity theft, what should you do?
Q9. Any final tips to help those avoid scams this holiday season?
View this entire chat on Storify:
Join our #CreditChat every Wednesday at 3p.m. ET on Twitter and Blab.im.
If you've never heard about #CreditChat, here is a brief overview:
Recent Chats on YouTube & Twitter