Ways to Teach Your Kids About Money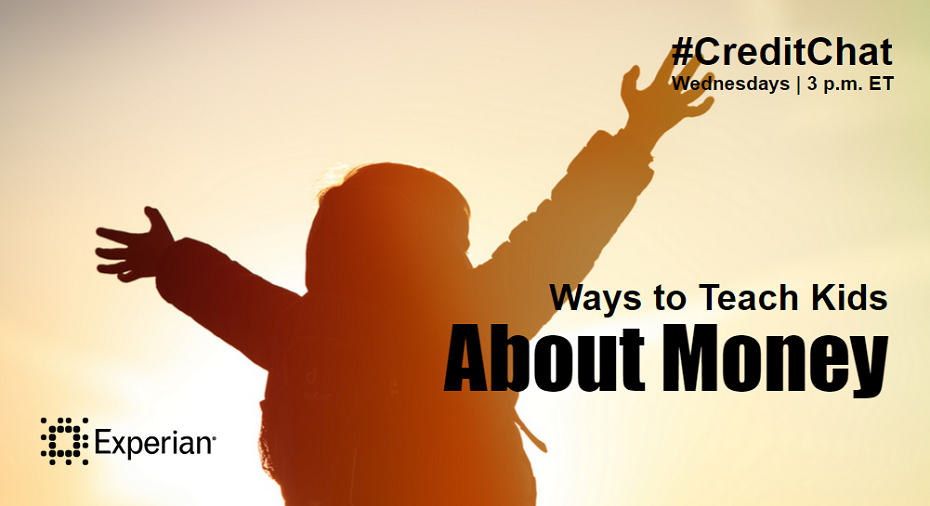 Join our weekly #CreditChat on Twitter & Blab every Wednesday at 3 p.m. ET.
The panel included: Brian Page– teacher, financial Literacy leader and advocate, Bill Dwight– CEO and Founder of FamZoo, Sam Renick– Founder of DreamBigDay.net and Mike Delgado– Social Media Community Manager at Experian.
If you have ideas for future topics and guests, please tweet @Teena_LaRo.
Questions We Discussed:
Q1: What is an appropriate age to start teaching kids about money and finances?
Q2: What financial topics are most important for children to understand?
Q3: How can we incorporate money lessons into everyday activities for kids?
Q4: How can teachers incorporate financial literacy in their classrooms?
Q5: What resources are available online to help kids learn about money?
Q6: How can parents who are struggling with money teach their kids about finances?
Q7: What do you think about allowances? Pros/Cons
Q8: How should money lessons progress as children get older?
Q9: What money lessons do you wish you had learned at a young age?
Q10: Any final tips for smart ways to teach kids about money?
View the Complete Tweetchat via Storify:
View Highlights from this chat on SlideShare:
Join our #CreditChat every Wednesday at 3p.m. ET on Twitter and Blab.im.
If you've never heard about #CreditChat, here is a brief overview:
Recent Chats on YouTube & Twitter