Money Management Tips for Committed Couples [Video]
Join our #CreditChat on Twitter and YouTube every Wednesday at 3 p.m. ET.
This week, we had a chance to chat with Talaat & Tai @HisAndHerMoney
about money management tips for committed couples.
 The Google+ video panel included: Katie Bryan – Director at Consumer Federation of America, J.J. Montanaro – Financial Planner at USAA, Carrie Smith – Careful Cents, Shannon McNay – ReadyForZero, and Mike Delgado – Social Media Community Manger at Experian and more.
Questions we discussed:
Q1: When should a couple start talking about money and credit?
Q2: What are some financial challenges a couple can have when living together?
Q3: Should committed couples merge their finances? Pros/Cons?
Q4: How should couples work together if one partner has debt or credit problems?
Q5: How often should couples talk about money? How should it be approached?
Q6: What are some common financial mistakes couples make?
Q7: What kinds of financial goals should couples create and work toward?
Q8: Do you have any favorite books or apps to help a couple manage money?
Q9: Any final tips to help couples with their money management?
Highlights:
Resources:
Favorite Tweets:
Discuss money with your partner way before you say "I Do" @NikkoGrant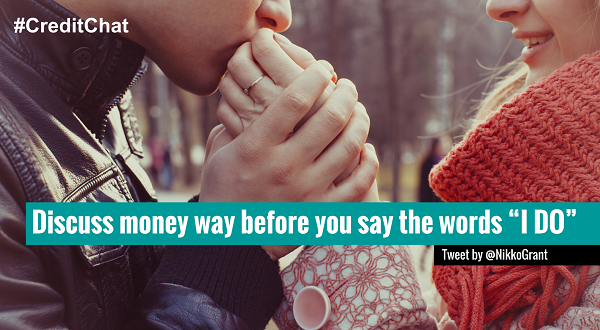 You don't need to share your credit score on the first date. @KatieBissell

What works for one couple when it comes to money may not work for another. @JJ_USAA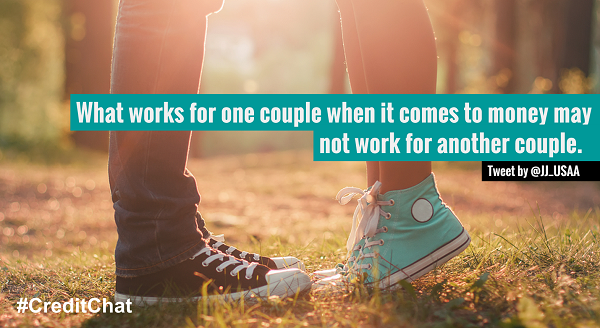 You should start talking about money when you start imagining a long-term future together @BWFeldman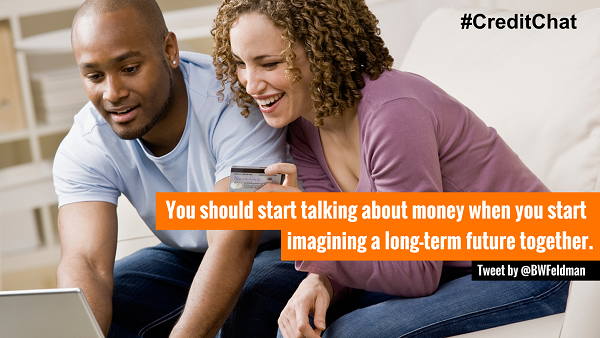 Retaining some individual spending freedom can relieve some of the tension that can build up in joint budgeting. @AmericaSaves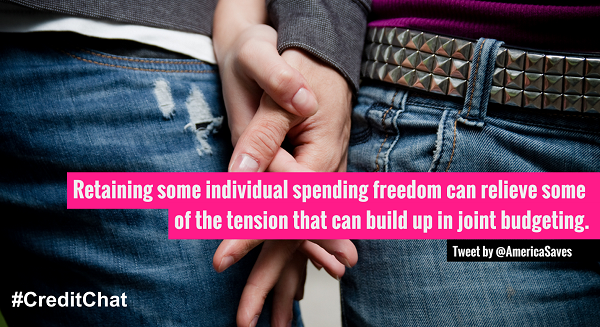 There should be complete transparency, whether or not accounts are joint or separate. @Magnify_Money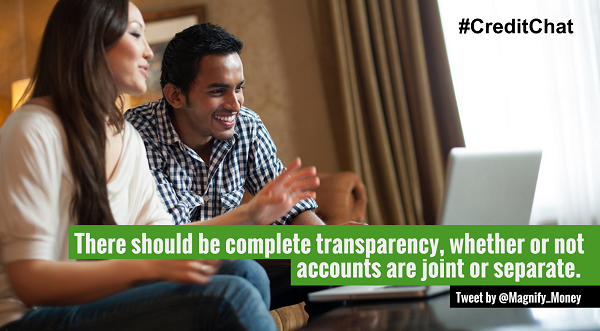 Talk about money at least monthly. Make sure talks are regular and not just triggered by financial crisis. @JJ_USAA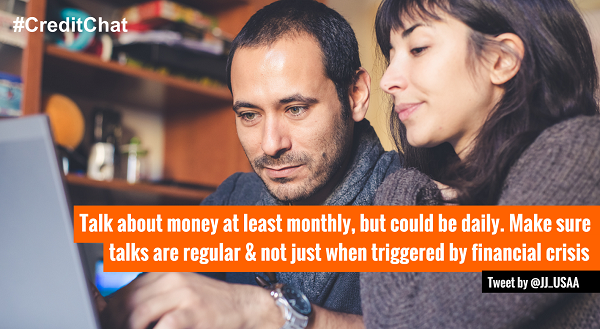 Check out the complete tweetchat: