Beauty on a Budget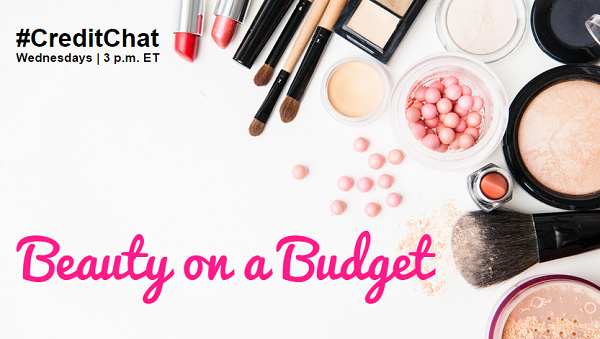 This week, we discussed ways to scout out the best deals on beauty items in our Beauty on a Budget #CreditChat! View all of the tips here.
If you have ideas for future topics and guests, please tweet @Teena_LaRo.
Questions We Discussed:
Q1: Do you have a budget set up for your beauty products?
Q2: Why is it so easy to spend a lot of money on makeup and beauty products?
Q3: Where do you go to find deals on makeup?
Q4: What are some of your favorite low cost makeup brands?
Q5: What are some ways to save on high-end beauty brands?
Q6: How do you decide which items are worth splurging on vs. saving?
Q7: What are some of your favorite affordable skincare products?
Q8: Do you have any DIY or natural skin care remedies?
Q9: What are some must-have beauty items that can fit into any budget?
Q10: Do you have any final tips for someone trying to budget their beauty?
View the Complete Tweetchat on Storify:
Join our #CreditChat every Wednesday at 3p.m. ET on Twitter and Blab.im.
If you've never heard about #CreditChat, here is a brief overview:
Recent Chats on YouTube & Twitter