For British Petroleum (BP), 2010 has been marked by the unfortunate developments resulting after the Deepwater Horizon oil rig explosion in the Gulf of Mexico on April 20. Since then, BP's crisis mismanagement and failed attempts to stop the oil spill have transformed this unfortunate event into an ecological disaster with political and financial consequences for the company.
The oil leak has caused BP to lose a noticeable number of its American customers, namely their most loyal consumers. Experian Simmons DataStream shows that between April 26 and June 28, 2010 the percentage of American adults who report going to BP fell from 26.4% to 16.4%, a relative loss of 38% of their client base in just nine weeks. More astounding is the fact that BP's most loyal consumers (those who said that BP is the gas or service station that they go to most often) declined a relative 56% during the same time. In fact, on June 28, 2010, only 9.5% of adults went to BP most often compared with 21.5% who were loyal to BP the week of the spill.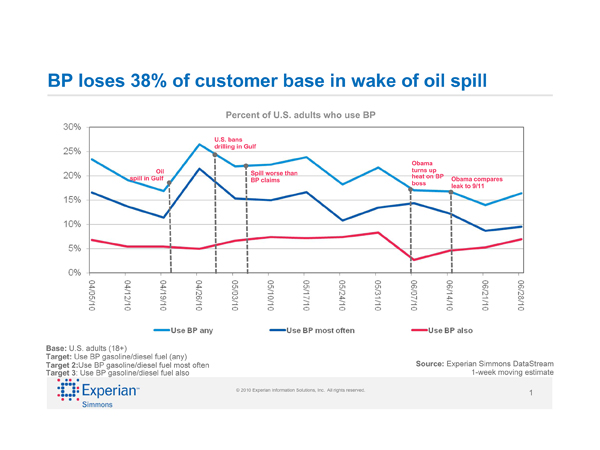 With the flow of oil temporarily ceased and nearing a permanent solution, BP may finally be able to cap the flow of bad publicity and to reverse some of their loss in market share. Experian Simmons will continue to monitor this and other important consumer trends and share those findings here.