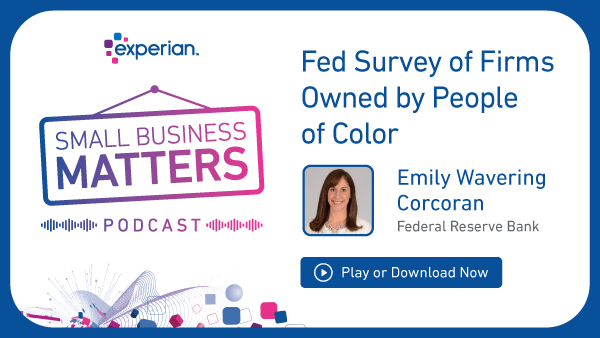 Watch Our Interview
The Federal Reserve Bank recently published its 2022 Report on Firms Owned by People of Color, highlighting key data from the 2021 SBCS across Asian, Black, Hispanic and White-owned businesses. So we invited Emily Wavering Corcoran on the podcast to discuss some of the key findings in the report. Emily works in the Community Development Department of the Federal Reserve Bank as the Program Manager of the Small Business Credit Survey.
If you are unfamiliar, the small business credit survey, SBCS, is a collaboration of all 12 Federal Reserve Banks. It's a survey of small businesses across the country that includes questions about business performance, the financial and operational challenges that businesses face, and financing outcomes. More than 10,900 small employer firms, that's firms with fewer than 500 employees, in all 50 states plus the District of Columbia responded to the survey.
In our interview, Emily talks with us about some of the most illuminating insights in the report.
This segment begins at 17:44 in the podcast.
What follows is a lightly edited transcript of our interview.
Gary Stockton: Looking at the 2022 report, what was your biggest takeaway or surprise comparing the 2021 survey to the 2020 survey for firms owned by people of color?
Emily Wavering Corcoran: You know, Gary, when we look at the 2021 survey data and then look back to the 2020 survey data, the persistence of financial hardship and operational challenges stands out for all firms.
And it's particularly striking for small business owners of color. Businesses owned by people of color continue to face more financial and operational challenges than their white-owned counterparts.
Gary Stockton: So, have small businesses owned by people of color fully recovered from the Pandemic? And what was the most common financial challenge among this cohort?
Emily Wavering Corcoran: So, in general, no. We're not seeing a robust, consistent recovery to pre-pandemic levels. But, of course, you can look at recovery in a couple of different ways. And recovery can be very dependent on the revenue and employment size of the business.
But in general, firms owned by people of color were more likely to report that their revenues continue to be lower than in 2019 before the Pandemic. To illustrate what that looks like, in terms of the numbers, about 8 in 10 Asian-owned small businesses have lower revenues now than they did in 2019 compared to about six and 10 White-owned small businesses.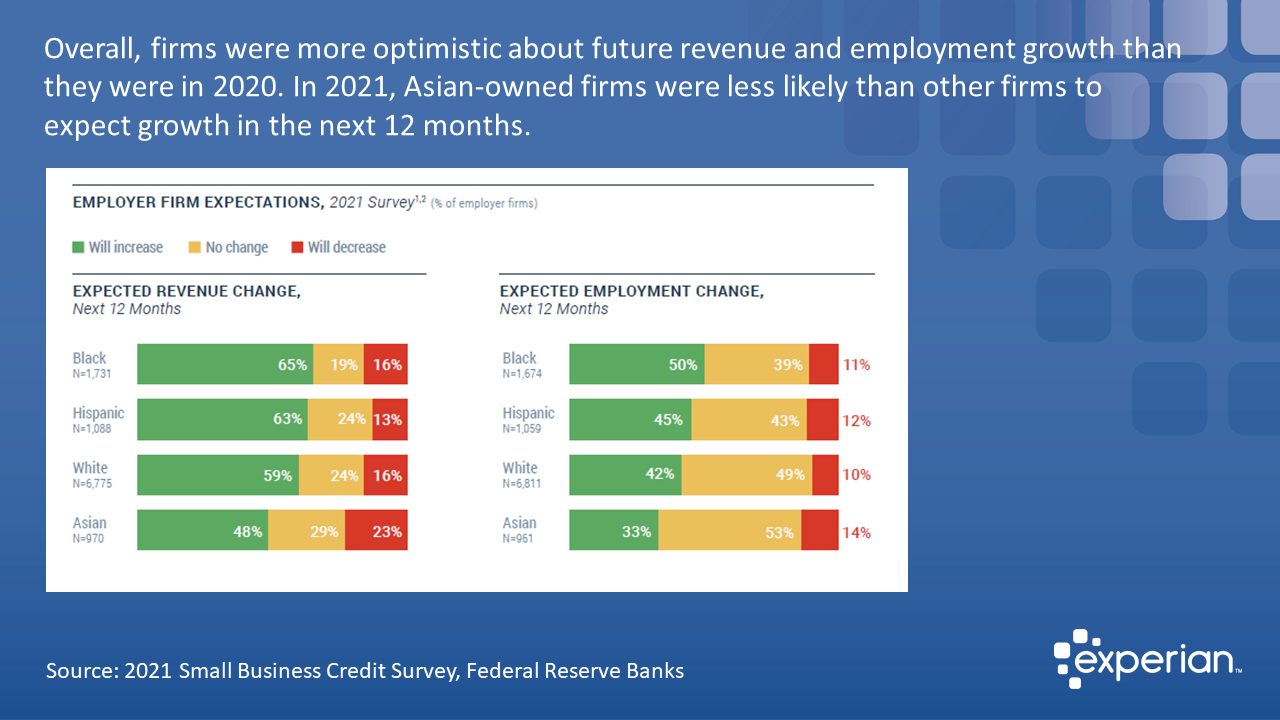 Gary Stockton: The report also said that small businesses were less likely to apply for pandemic-related financial assistance in 2021 compared to 2020. And that firms owned by people of color were less successful at obtaining funds compared to White-owned firms. Were firms owned by people of color discouraged because they did not receive all of the funding they sought in 2020? And why did they not seek financial assistance?
Emily Wavering Corcoran: Yeah, that's, it's a tough question and a good one. Small business owners of color who opted not to apply for pandemic-related financial assistance programs in 2021 most frequently indicated in the Small Business Credit Survey that they did not apply because they did not think that their business would qualify for the program.
Firms owned by people of color are more often newer firms. So they might have largely been correct in that assessment. Right? Younger firms may not have met the criteria for programs like the PPP, for example.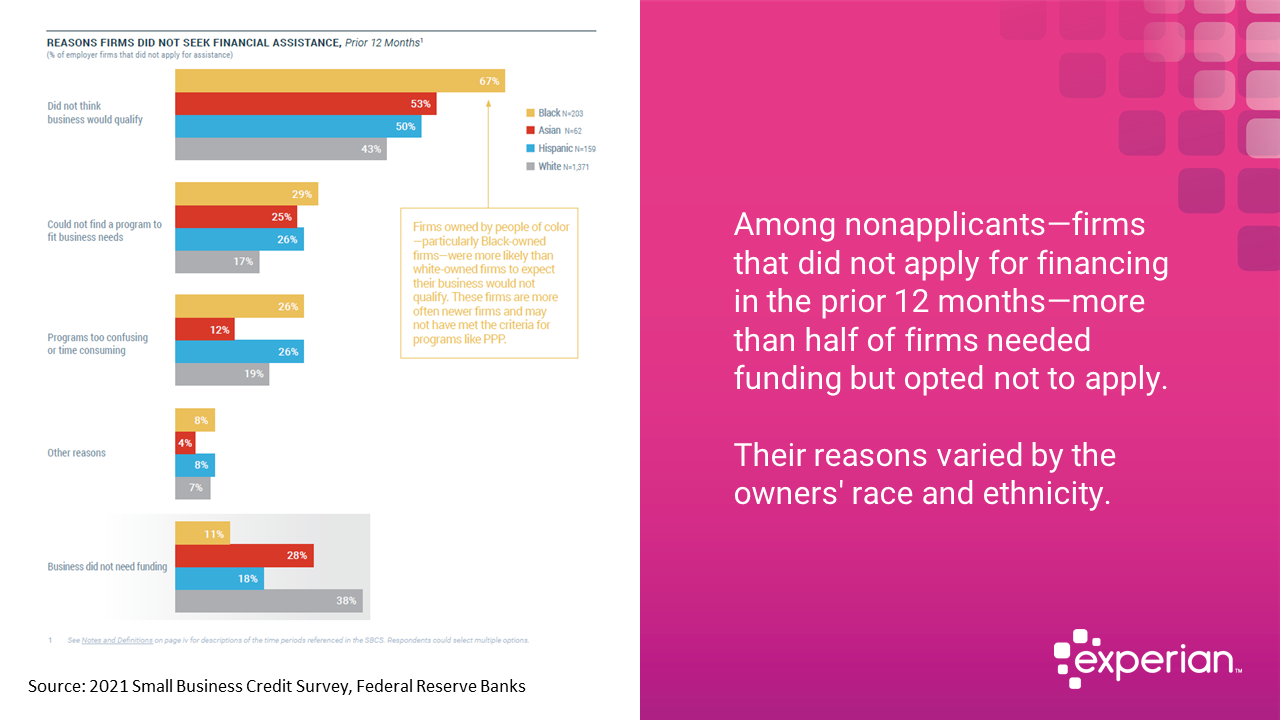 Gary Stockton: So what kinds of financing were business owners of color more likely to seek out?
Emily Wavering Corcoran: I just mentioned PPP; that was the second most likely program that small business owners of color applied. They were more likely to seek financing from the Small Business Administration's Economic Injury, Disaster Loan program, or EIDL. And it is worth noting here that some of that might be timing. So while PPP loans were available only until May of 2021, applicants could seek EIDL funds, including, you know, expansions of existing EIDL loans until the end of 2021. So there's some timing there, and there's potentially the criteria piece.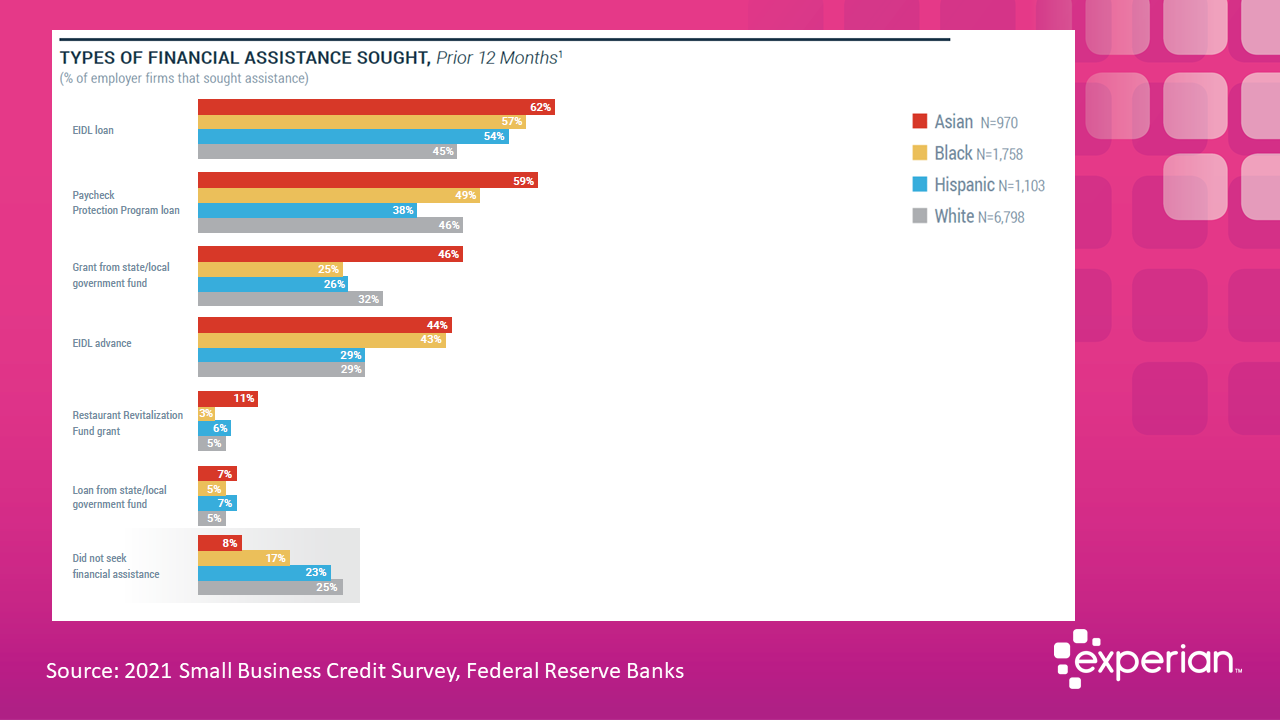 Gary Stockton: During the Pandemic, small business creation saw more than 5.1 million new businesses starting in 2020 and 2021. And the report suggests that many of those business owners, particularly people of color, felt they would not qualify for financial assistance due to not meeting all the criteria. Does the criteria need to be reevaluated to open up greater access for, or during a future crisis?
Emily Wavering Corcoran: Gary, that is a fantastic question for policymakers.
It's all about tradeoffs, right? So, depending on the nature of the economic crisis and the goals of a particular program, Policymakers have to make decisions about how to design financial assistance programs. In the SBCS data, the tradeoffs of those criteria decisions are playing out. For example, small businesses had to be operational before the Pandemic, to be eligible for the first drop of PPP funding.
The intention there was to reduce fraud. The consequence is reduced access to new businesses. So, a tradeoff.
Gary Stockton: Yes. So in terms of their expectations for revenue growth and employment in the next 12 months, which group was most optimistic?
Emily Wavering Corcoran: We see that Black and Hispanic-owned firms, were most optimistic about revenue and employment growth over the coming 12 months, and given that this information is from the 2021 SBCS, this reflects their expectations for this year for 2022. Our 2022 survey launches in September on September 8th. So we'll soon have an opportunity to understand how those expectations played out for those firms.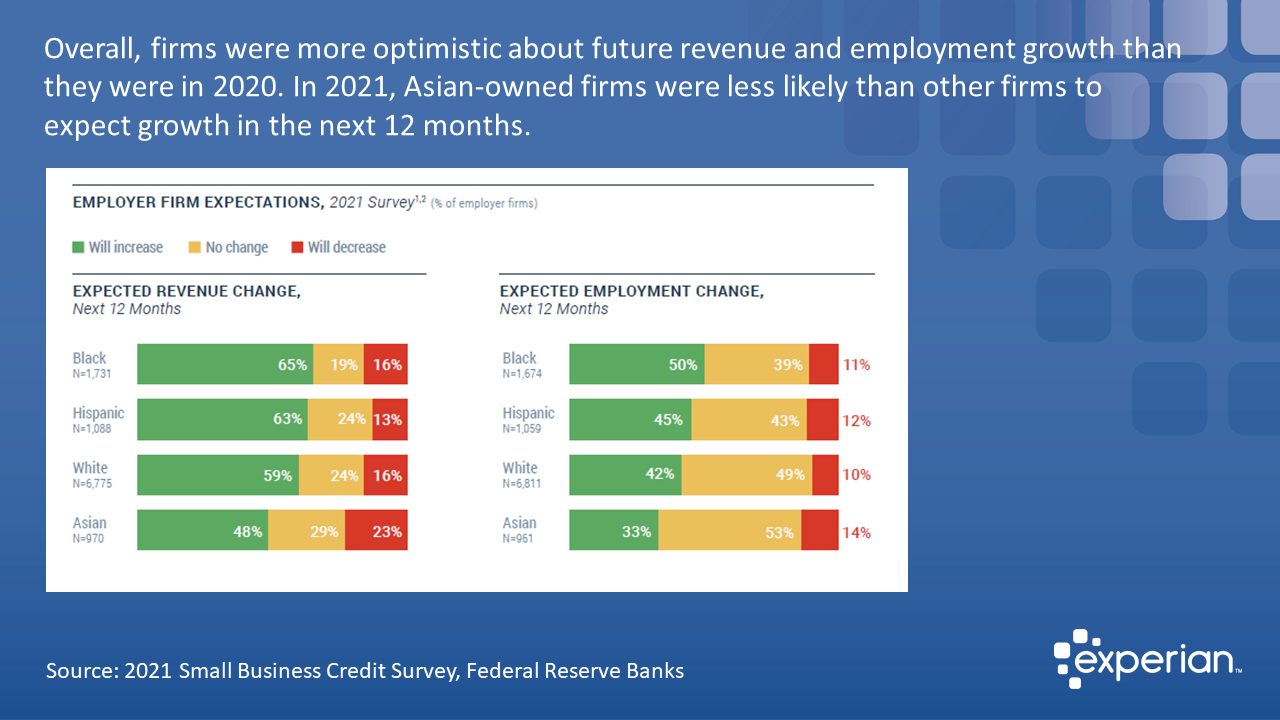 Gary Stockton: So, with many of the forbearance programs offered during the height of the COVID-19 Pandemic expiring, do you think firms in poor financial condition and who did not seek financial assistance are in danger of closing? And should we be expecting an increase in closed businesses?
Emily Wavering Corcoran: Small Business Credit Survey data do not comprehensively capture business closures or business creation. Census data are the best sources to track those dynamics in particular. But I will say that the firms in poor financial condition that did not seek assistance were in a precarious financial situation in 2021.
They may have turned to other sources of funding. They may have found other solutions to keep their business open, or they may have decided to close. And again, we'll have to potentially look at some other data sources to really understand those dynamics, especially over time as we get a little more distance between, our data and 2020/2021.
Gary Stockton: Of the groups who reported weak sales and financial challenges, was there a group who used personal funds to keep their business running versus other groups?
Emily Wavering Corcoran: Yes. It's quite common for small business owners to rely on personal funds to help navigate financial challenges in their business; personal and business finances can often be highly connected. But Black-owned firms are the most likely to use personal funds to cover a financial challenge. Almost three-quarters of Black-owned businesses who experienced a financial challenge in 2021 used their personal money to respond to it.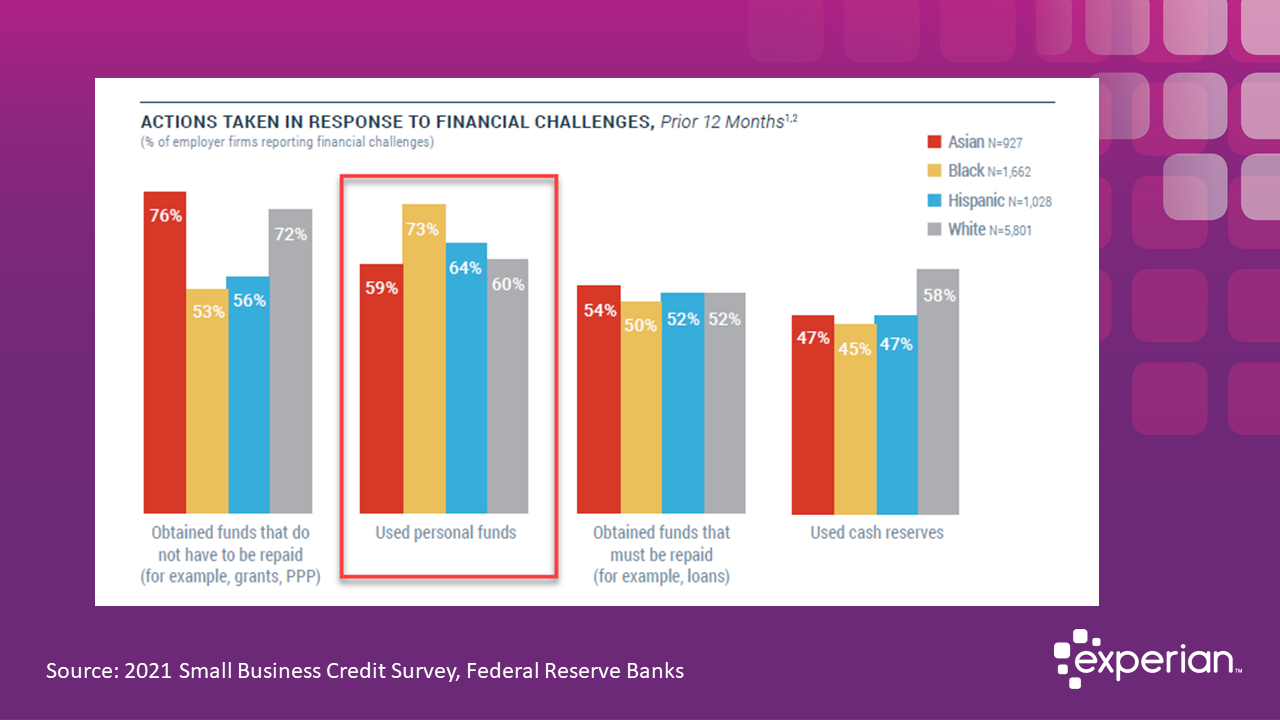 Gary Stockton: Wow. Three quarters. Wow, that's significant.
Emily Wavering Corcoran: It is.
Gary Stockton: Hispanic-owned firms were more likely than others to have debt. However, more than a third owed less than $50,000. Would Community Development Financial Institutions be an area for the Federal Reserve Banks to expand partnerships and programs, particularly for small business loans and borrowers?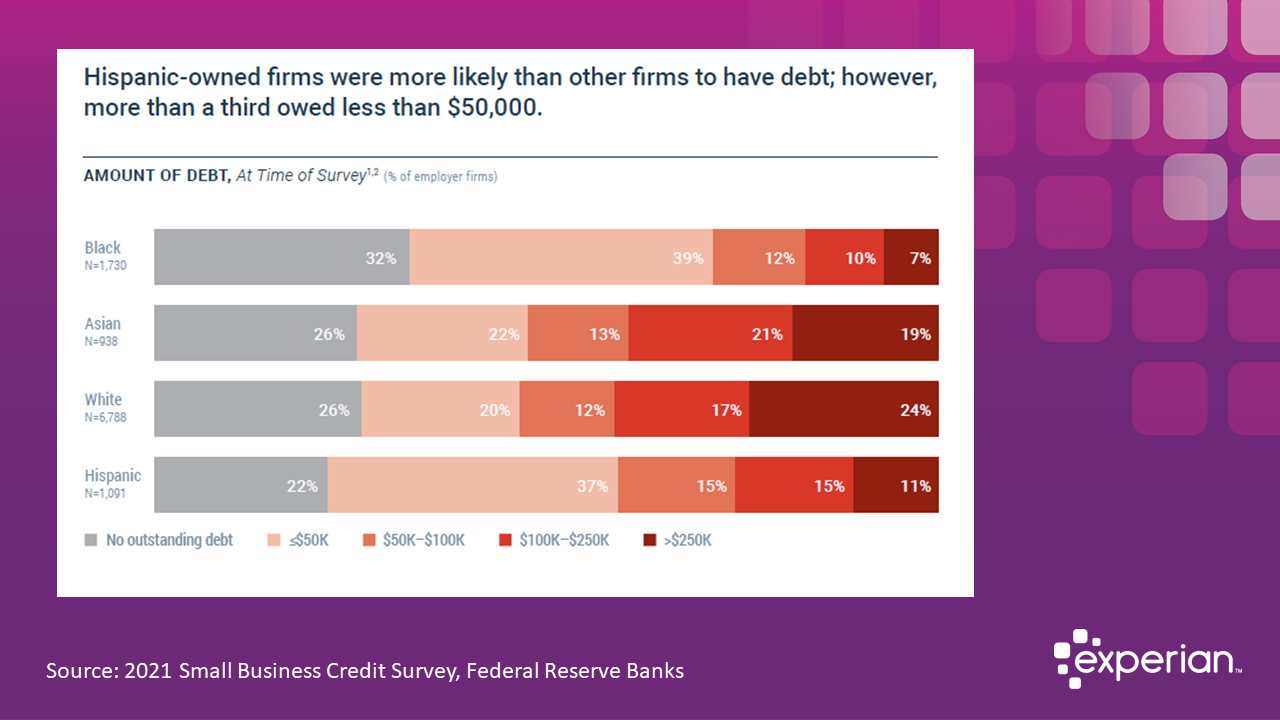 Emily Wavering Corcoran: Federal Reserve Banks have a lot of ongoing, great work with Community Development Financial Institutions, or CDFI's. For listeners who might be unaware, CDFI's are mission-driven, financial institutions that tailor their products and services to meet the needs of populations that have been historically financially underserved. This includes small businesses and small businesses owned by people of color. So there are CDFI's that work directly with the entrepreneurial community to enable access to credit. They're certified by Treasury CDFI Fund, and Community Development departments across the system are working with CDFIs in several different ways.
On the research side, there's a biennial survey of CDFI's to contribute rich data on the sector. In addition, there are case studies and reports that elevate innovative CDFI models. And then, on the outreach side, there's ongoing outreach to CDFIs and potential CDFIs, so that fed staff can help inform interested communities about the vital role of CDFIs in credit access and credit access for small businesses in particular.
Gary Stockton: So there's a lot going on in that space already?
Emily Wavering Corcoran: Yeah, there is. Yeah. There's some wonderful work there.
Gary Stockton: So what should business owners of color do with the information in the report? What can they learn from these trends?
Emily Wavering Corcoran: We hope small business owners can use this information to understand how their individual experience fits broader trends.
Maybe they see shared experiences in the data. So our work is always about amplifying the voices of small business owners. And that's important, not just for policymakers to hear but also for individual small business owners to see their experiences represented.
Gary Stockton: Well, Emily, this report is fascinating. It shines a light on the disparity across the small business economy, particularly for businesses owned by people of color. Thank you for all the great work you and your colleagues are doing on the SBCS. Where can people go to read the report and other research the Federal Reserve Banks puts out?
Emily Wavering Corcoran: Sure. So you can go to fedsmallbusiness.org to learn more about the Small Business Credit Survey and to read all of our reports, including the Firms Owned by People of Color, as well as, we have a report on hiring and worker retention. So you can check that out there. And then, fedcommunities.org is a sort of one-stop shop to learn more about the community development work in the Federal Reserve System.
Gary Stockton: Thank you for coming on the Small Business Matters podcast today.
Emily Wavering Corcoran: Thank you so much, Gary.