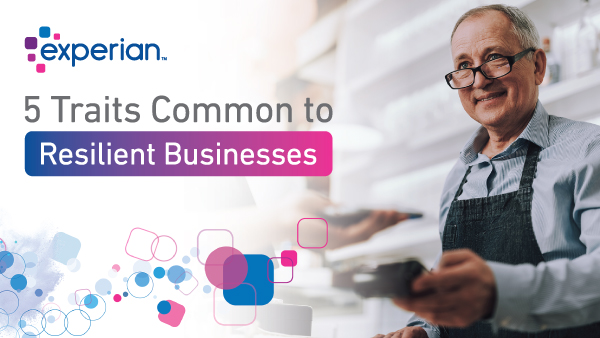 A third of new businesses will close by their second year, according to the U.S. Small Business Administration. Running a business that beats the odds starts with ingenuity, grit, and guts.  So, what does it take to build a business that can withstand decades of economic upheaval in between the boons and successes to remain resilient?
We thought this was an interesting question, so we did some research, examining businesses that have been on file with Experian for decades to see what traits they share.
For G&G Electric Supply in New York City, four generations of perseverance and the ability to pivot are in their company's DNA, beginning with founders Gabriel and George.  The Zildjian Company has roots dating back to 1623 Turkey, and then as immigrants landing on Ellis Island in 1929 on the eve of the Great Depression.
As we've all experienced through this historic period of national economic uncertainty, changes can occur in business that force us to adapt and adjust quickly.  Market conditions shift, and even the best plans and roadmaps are forced to contend with entirely different circumstances. For small business owners, these conditions can be scary, and the volatile situation is a reminder that past profits and recent confidence are no guarantee for future success.
There are companies today that are still standing, despite the shaky conditions that were brought upon by roller-coaster economics and dramatic world events. Inspired by reviewing the profiles for this article, we present some of the most interesting, resilient businesses and the attributes we think set them apart from others.
Perseverance
G&G Electric Supply Company, Inc.
Founded: 1914, New York, NY
Industry: Electrical equipment, wiring, installation
In the early 20th Century, partners Gabriel and George thrived due to the swift modernization of homes and businesses. Everyone wanted electricity in their house, apartment, shop, or office. Weathering the storm of the Great Depression, they landed contracts for the now-iconic Empire State Building and Radio City Music Hall. The war years, personal losses, and shortages that followed offered their own challenges, but the company adjusted and added more clients by diversifying into software development. When one arm of the business was soft, they buffed up another to remain profitable, never giving up. Now in its fourth generation of family partners, G&G Electric Supply Company is still the major electrical distributor in Manhattan, with increased technical acumen and a robust offering of products and services.
Specialization
Dlubak Specialty Glass Corp.
Founded: 1900, Blairsville, PA
Industry: Weather-proof glass, security glass, decorative glass
As manufacturers of glass, Dlubak Specialty Glass products cover a wide variety of needs, including aesthetics, privacy, safety, and more. At the core, they make one thing: glass. But their customers vary from commercial properties and government offices to prisons and military protection. Their expertise is built on specific knowledge to ensure that they provide the correct glass for their clients' important needs. At a company whose projects have included the safety glass atop the Observation Deck of 30 Rockefeller Center in New York, to gunner protection for the U.S. Army, to bullet-proof glass for foreign embassies worldwide, one of Dlubak's secrets to success is that they are renowned experts in their knowledge and true specialists at their craft.
Reputation
The Zildjian Company
Established: 1623, Samatya, Turkey. In the USA: 1929, Quincy, MA
Industry: Music cymbals, drumsticks, percussion mallets
The story of Zildjian begins with its founder practicing alchemy in Constantinople, attempting to turn other metals into gold. Though that effort didn't work, he discovered a metal compound that he crafted into a perfect cymbal. After centuries of success in their native Turkey, the family moved the business permanently to the USA in the 20th century, and their customers followed the music, so to speak. Music industry professionals from house bands and studio musicians, to world-famous celebrities, continue to seek out the Zildjian brand as the standard in the industry, at least partly because, after almost 400 years, they have earned something no one can put a price on — customer trust.
Consistency
The Russian Tea Room
Established: 1927, New York, NY
Industry: Fine dining, in-house catering, private events
There's an expression, "Good taste never goes out of style." With its upscale interior design, A-list clientele, and adherence to customs like High Tea, The Russian Tea Room restaurant has remained popular due to its standards of excellence and its elegant old-world décor. Founded by members of the Russian Imperial Ballet, it has always been associated with the beauty and grace of high art. Rather than bending to trends and fads, it is steeped in the century-old European tradition. For a business dinner, elegant couples' night out, or wedding reception, this reservations-only dining establishment has maintained its place in Manhattan society through impeccable quality and classic décor. By continuing to offer an unparalleled experience through its food menu and stocked bar, it remains an institution of luxury and glamour.
Adaptability
Booz Allen Hamilton
Established: 1914, McLean, VA
Industry: Commercial business consulting, cybersecurity and technology, defense and intelligence consulting
Edwin G. Booz Surveys, as the company was originally known, started as a business that observed other businesses and then offered advice on how to make improvements. Mr. Booz used his background in psychology to focus on the people in business, rather than the products. He effectively invented modern management consulting as an operational business. Focusing on the people is still a major guiding principle of the company a century later. On the USA's entry into World War II, they helped prepare the US Navy and expanded from commercial consulting into government consulting. Their chameleon-like ability to shift and change enabled Booz Allen Hamilton to continue to grow and increase their specialties including technology, cybersecurity, and more. One might argue that Mr. Booz's own original psychology studies might have encouraged his company's ability to always evolve to the needs of the market in order to discover new areas of opportunity.
Resilience: in conclusion
These brief profiles give a sense of some of the traits exhibited by these successful businesses over time, the ability to adapt and pivot, or provide exceptional customer experiences consistently, or respond to customer demand by offering highly specialized products and services. Above all,  be strong enough to endure times of economic uncertainty to emerge strong and resilient. We hope you find them as inspiring as we did.