Some people might consider starting a business easy; the hard part is keeping the company open and profitable beyond the first two years. The odds of success are tough; a third of new businesses will close by the end of their second year. And 70% of these companies fade by year 10.
According to the U.S. Census, 2020 business starts soared 27 percent to 4.4 million. COVID-19 closures and related layoffs were a likely catalyst. How many of these new businesses will succeed beyond their second year?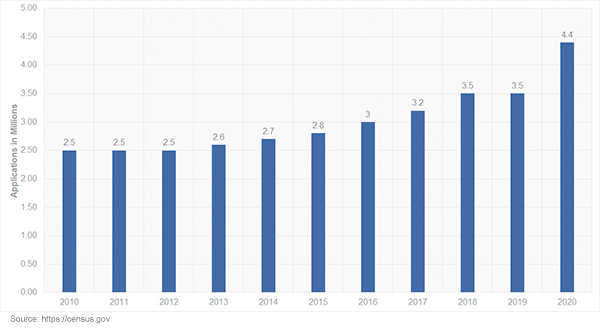 It takes hard work, guts, and determination to grow a successful business, especially one that remains open for decades.The Small Business Administration studied business failure. In this post, we summarize ten leading reasons. Use them to keep your business on track.
#10: Over-investment in fixed assets
Up-front expenses are common for any business. However, over-investing early on can spell disaster. Evaluate the necessity of owning these assets. Perhaps you can lease or buy used equipment rather than buy new when you are just getting started. Avoid this problem by limiting start-up expenses, and maximize cash flow.
#9: Personal use of business funds
Some business owners will use their business to cover personal expenses, a big risk, and a potential accounting hazard. Many small business owners will use personal credit to bootstrap their operations. To bypass this mistake, keep your funding sources separate. To avoid legal liability, set up your business as an LLC, corporation, or partnership.
#8: Poor inventory management
For a young business, good inventory management is crucial. Tying up working capital in inventory can be risky. So, putting in place good inventory controls early on is just smart. Make conservative, experience-based projections of supply needs. Rather than draining capital and eroding profits, a business can set up a line of credit but must exercise proper control and accountability.
#7: Unexpected growth
As a business starts to flourish, it's tempting to invest everything back into it in order to grow. For the long-term, it's better to limit spending, especially on more significant expenses. Spending too much, too quickly exposes the business to increased risk, which can endanger working capital.
#6: Unable to keep pace with competitors
The free-market economy encourages competition. Competition can be good for consumers, but a new business must work hard to distinguish itself against larger, established competitors. Study them and look for areas of opportunity – the path to longevity is taking care of your customers. Find ways to deliver good value and good service. This will build good word of mouth and help set you apart. Business reviews are a great place to start building.
#5: Location and visibility
Visibility is a key component of success, so try to find a physical location close to where targeted customers work or live. Consider accessibility, parking, and the condition of the building. A business's online presence is just as important – for both digital and brick and mortar businesses. Customers can't buy from someone they can't find, so a professional-looking website with pages designed to get found by search engines is a must. A strong presence on social media is equally important.
#4: Lack of experience
Good business leadership means having the experience to make the right decisions and anticipate the challenges in the initial stages of growth and beyond. Aside from the expected steps to build a business, leaders must adapt to handle the pressure and avoid costly mistakes. Before opening your business, know your products and services and research customer needs and the general market.
#3: Poor credit arrangements
A business must make customer payment and credit terms accessible, but it can hurt cash flow if your financing options are too flexible. Mobile payments such as Square, PayPal, Venmo, and Zelle may help provide easy payment solutions. Establishing clear credit terms for large accounts is best. Just as you assess the creditworthiness of your customers, your business is also being assessed by potential vendors. To be seen as good credit risk, keep tabs on your own business credit score.
#2: Low sales
Maintaining consistent sales levels is a significant success factor for any growing business. Low sales can result from keeping an underperforming sales force, having inferior products and services – or overpricing them, lacking a solid understanding of buying trends, or misreading the competition. Business owners need to be ready to make course corrections to increase sales and revenue.
#1: Insufficient capital
Having money on hand is an obvious necessity to run a business. Investors, government grants, and business loans are common ways to raise capital. Online lenders have stepped in to fill the gap left by major banks following the Great Recession. Getting a loan may not be difficult, but a new business lacking credit history may face less favorable terms. Even if showing a profit, small businesses must focus on maintaining positive cash flow and paying bills on time to build strong credit.
Don't allow poor credit to limit your potential
When it comes to managing your business credit, think of Experian. Whether you need to monitor your own business credit report or evaluate others, Experian® SmartBusinessReportsSM has the ideal small-business reporting service for you. Experian's business credit reports and subscriptions are the best value for the money, giving you the choice to monitor your business credit reputation or instantly evaluate business backgrounds and credit scores on your suppliers and customers.