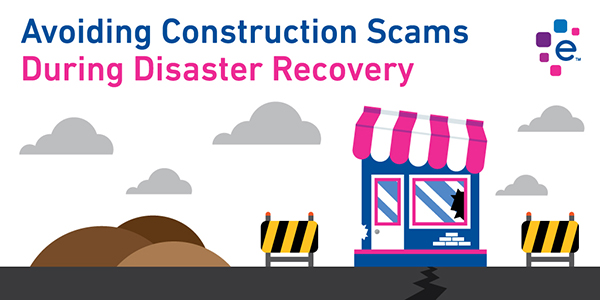 When a small business is damaged by a natural disaster — be it a hurricane, flood, earthquake or tornado — recovery presents its own set of hazards. There is, of course, the immediate cost of lost business. There are both short- and long-term physical dangers posed by weakened walls and ceilings, exposed power cables and mold. And then there are the threats posed by skilled disaster recovery scam artists who see small business owners as easy prey.
Kenneth Citarella, CFE, knows all about these post-disaster scams. A former New York state prosecutor, Citarella now works for Guidepost Solutions LLC, which provides investigations, compliance, monitoring, and security and technology consulting solutions for clients in a wide range of industries. In the wake of Super Storm Sandy, which devastated large sections of coastal New Jersey, Brooklyn and Staten Island in 2012, Citarella served as a Guidepost Solutions "Integrity Monitor," making sure contractors were in fact performing the work for which they were being paid.
"The days and weeks following a natural disaster are times of great stress and confusion," Citarella said. "This is the perfect breeding ground for scams of all kinds. Small business owners need to be aware of how they may be targeted and how to avoid being a victim."
How Fraudsters Find Their Marks
While natural disasters are horrific events, they're great for contractors and restoration companies for whom such events are their bread and butter. As soon as a disaster occurs, it's not unusual for construction companies to descend on the affected site, blanketing the area with pamphlets and brochures, and stuffing mailboxes with business cards. While many contractors are legitimate, there can be a good number of storm chasers who are just out to make a fast buck. At a time when construction labor is at historic lows, small business owners may find themselves working with a firm with less than stellar credentials
"The more enterprising scam artists will take the time to go door-to-door, offering low-ball prices or even offering to cut the business owner in on the fraud," Citarella said. "For example, they'll offer to do the $75,000 worth of restoration work that is actually required, bill the business owner's insurance company for $100,000, and then split the difference. This is an obvious solicitation of fraud and should be reported immediately to the local police."
Common Types of Post-Recovery Fraud
In addition to the insurance scam described above, Citarella discussed other forms of fraud a small business owner might encounter following a major disaster.
"The most common type of recovery fraud involves a contractor who shows up to do the first two or three days' worth of work, and then just disappears. Another type involves the use of lower-grade or otherwise substandard materials," Citarella said.
Citarella also noted that otherwise well-meaning contractors may buckle under the pressure a natural disaster creates, leaving the business owner out thousands of dollars and still unable to operate.
"A small contractor can easily get in over his head," Citarella stated. "He may not be able to get enough workers, have problems with his supply line, or be managing too many projects at once. There may be no criminal intent here, but the outcome is the same."
How to Avoid Contractor Fraud
Find reliable, licensed contractors and validate their businesses before hiring them to help you rebuild. Experian's ContractorCheck.com/Hurricane is being offered as a free resource to those affected during this time of recovery. This website enables you to find contractors and easily check the critical components of a contractor's business background, including license, bond and insurance data (if an when available from state licensing boards). Click here to see a sample report.
Also, the Better Business Bureau (BBB) offers a list of recommendations to business owners and anyone else looking to hire a construction contractor, among their recommendations:
1. Ask for Recommendations. Ask friends, relatives and fellow business owners to recommend contractors they have previously hired.
2. Check Their Track Record. Use bbb.org or other business review websites to get customer reviews, complaints and any notices of criminal violations.
3. Verify the Business License. Make sure the contractor under review has a valid license to do business in your state.
4. Get Multiple Quotes. Always get at least three quotes for any particular job. Any quote that is unusually low is probably one to avoid. Remember the old adage, "If something seems too good to be true, it probably is."
5. Look for Signs of "Professionalism." A reputable contractor will arrive in a vehicle that is clearly marked and branded, and may wear a uniform bearing his/her company name.
6. Request References. Ask the contractor for a list of previous customers you can contact and discuss their satisfaction with the contractor's service.
7. Check Professional Affiliations. Ask if the contractor belongs to any trade organizations. Such companies are usually bound to operate according to a strict code of ethics.
8. Avoid Large Up-Front Payments. Pay by check or credit card for added protection. Avoid paying in cash.
9. Get Everything in Writing. Demand a written contract, and make sure to read it carefully, especially the fine print. Make sure the contract includes the contractor's name, street address, telephone number, email address and state license number. Fill in any blank spaces. Don't sign anything you don't understand.
"Document every step of the reconstruction progress," Citarella added. "Take pictures every day to record the contractor's progress. Smartphone pictures can be invaluable in the event of contractor misbehavior or if there is a challenge by your insurance carrier."
Citarella described four "gears" that run any reconstruction machine. "There's the business owner, the adjuster, the carrier and the contractor. All four need to work together to get a job done right. However, the only one who has a stake in effective cooperation is the business owner. So if you have a business that needs post-disaster repair, take the time to make sure it's done right."
If you are in the process of rebuilding following Hurricane Harvey or Irma and need to check the contractor you are working with, go to www.contractorcheck.com/hurricane to receive up to 15 free reports.
Also, Sam Fenerstock of Credit Manager's Association published an excellent article titled "How To Assist Your Customers To Stay In Business After Natural Disaster", it contains lots of great information about disaster preparedness and working with your customers if they are impacted by a natural disaster.