Email hashing was originally intended to be used as an email security feature that has ended up being a very powerful marketing tool. A hashed email is a cryptographic function that changes an email address to a random code which can be used as an anonymous customer identifier. This code is privacy-safe and cannot be traced back to the customer's email address. However, this hashed email can function like a digital passport that traces every behavior and action a customer takes when logged into an account that is authenticated with an email, making hashed emails a goldmine for customer data. Today emails are used across traditional publishers and within the CTV ecosystem; tying them to more consumer touch points than ever before.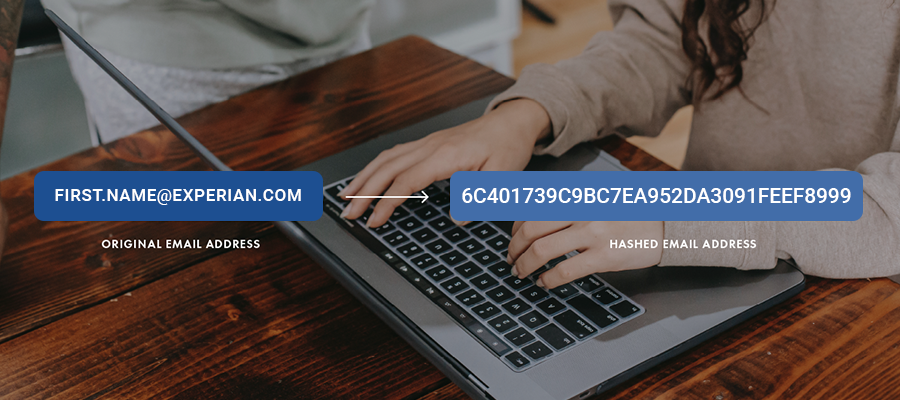 Why the emphasis now?
Cookies are on their way out the door and have been the primary way that many marketers have tracked their existing and potential customers. In order to replace this granular level of data, marketers are likely going to need multiple solutions. With so many cookieless solutions and IDs appearing in the marketplace, the mapping of the customer journey is bound to be fragmented. Relying on first-party data, such as hashed email, is just one way to reduce that fragmentation; as it can serve as an authenticated starting point for cross-device identity resolution that can be leveraged for targeting, personalization and measurement.
How can
Tapad

+ Experian

help?

Tapad + Experian's Hashed Email Onboarding is a privacy-safe way to connect consumer email addresses to their related digital devices and other digital identifiers through high precision probabilistic identity.

By onboarding hashed emails and incorporating them within your Tapad Graph file you can:
Build a more holistic view of individuals and households and their relationship to email addresses in your first-party data set
Leverage these relationships for increased cross-device scale for targeting
Employ personalization tactics at the household or individual level across devices
Create new audience segments and look-alike models for cross-channel activation
Design more inclusive measurement and attribution for customer journey mapping
Tapad, a part of Experian has built a hashed email onboarding product feature that works with the existing flexibility of The Tapad Graph to deliver the most holistic consumer view, combined with the attributes you need, in the structure that works best for your business objectives.
Get started with

The

Tapad

Graph
For personalized consultation on the value and benefits of The Tapad Graph for your business, email Sales@tapad.com today!