Tweet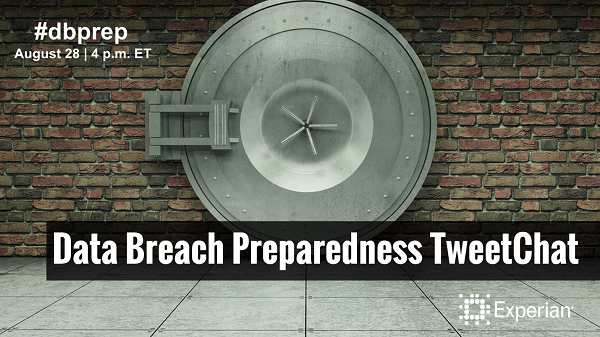 Join our Data Breach Resolution tweet chat on Thursday, August 28 at 4 p.m. ET by using the #DBprep hashtag on Twitter.
We are tweeting with Michael Bruemmer, Vice President of Experian's Data Breach Resolution group, Norm Balchunas, Col, USAF (RET), Director of Operations – Applied Informatics Group at Drexel University, Ann Patterson, Senior Vice President, Medical Identity Fraud Alliance (MIFA), Craig Spiezle, Executive Director & Founder of the Online Trust Alliance, Tom Field, Vice President of Editorial at ISMG News, and additional experts in the cybersecurity world.
Topic:  Data Breach Preparedness
When:  Thursday, August 28 at 4 p.m. ET
Easy ways to chat with us on Twitter: Twubs or Tchat
The last two years has seen an explosion of security incidents, affecting millions of consumers around the world. In fact, 2013 saw the biggest data breach in the United States to date.
Sadly, this trend is poised to continue, with the healthcare, energy, financial services, retail and telecom industries continuing to be the biggest targets. While a majority of organizations have data breach preparedness plan in place, however, not everyone is necessarily prepared. For most, the unfortunate reality is a data breach will likely happen sooner than later. How do you get started on the way to preparedness?
Experian Data Breach Resolution hosts this chat to discuss the first steps businesses can take and what to do when the inevitable breach occurs.