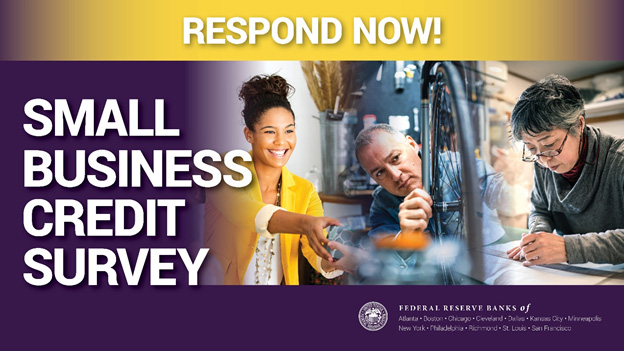 Small businesses are critical to the US economy, and the United States is home to over 33 million small businesses, each with a unique perspective on how they do business and approach to accessing financing. But data on the hows and whys these small businesses seek financing can be limited. Through the annual Small Business Credit Survey (SBCS), the Federal Reserve Banks captures one-of-a-kind data on small businesses.
The survey is a unique opportunity to hear the voice of thousands upon thousands of small businesses whose voices can't be heard through any other means. For instance: Did you enjoy your experience applying for credit this past year? Were you approved for all you applied for or just a portion?
By taking the survey, small business owners contribute to data that directly informs the Fed, federal government agencies, service providers, policymakers, and others—ultimately benefitting their business and other businesses like theirs.
A few details about the survey:
• The survey takes 10 minutes to complete.
• It's open to for-profit businesses with fewer than 500 employees.
• Responses are confidential.
• Small-business owners do not need to provide any personal information.
We're proud to help amplify the voices of US small businesses.
The survey closes on Friday, November 4 at 11:59 pm PT.