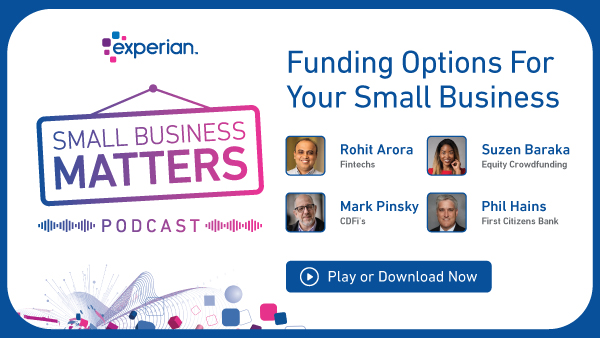 If you are considering financing for your small business or feeling unsure which type of financial institution might be best to work with, this episode of the Small Business Matters podcast is just for you as we focus on small business finance with four organizations that cater to small businesses. Our episode consists of four separate interviews ranging from Fintech, to CDFI, to Equity Crowd Funding and a top-tier brick-and-mortar bank, about how they serve small businesses. You can find links to the full interviews with each guest below.
Fintech Standout Biz2Credit Streamlines Funding Process for Small Business
Rohit Arora is one of the country's leading experts in small business finance. His company, Biz2Credit, uses technology to streamline business funding.
In our interview, we talk about the origins of the company and the FinTech space, and how they are helping small businesses with useful tools like the BizAnalyzer which enables small businesses to benchmark how they are performing compared to other businesses in their space, and the Small Business Lending Index, which reports on lending trends on their platform.
Watch Full Interview with Rohit Arora
CDFI's Provide Myriad Assistance to Small Businesses and Entrepreneurs
CDFI stands for Community Development Financial Institution, they are mission-driven community resources of financing for small businesses, and they play a crucial role in the financial ecosystem. We spoke with Mark Pinsky, Founding Partner of CDFI Friendly America, an organization established to help existing CDFI's serve bigger markets.  They have done some incredible things with CDFI's located in cities like Bloomington, Indiana, and big plans for the future.
We talked about what characteristics CDFI's look for in small businesses and entrepreneurs they work with, and what CDFI Friendly America has planned for major city expansions in the near future.
Watch Full Interview with Mark Pinsky
Seed at the Table Offers Innovative Crowdfunding for Small Businesses and Investors to Help Close the Racial Funding Gap
Seed at the Table is a mission-driven crowdfunding platform committed to connecting diverse entrepreneurs with investors. They raised $1.3 million in less than a year for businesses founded by women, and people of color. Co-Founder Suzen Baraka sat down with Experian's Emily Garman to talk about their mission, and some of the early successes they have had working with underserved small businesses.
Watch Full Interview with Suzen Baraka
First Citizens is Banking on Strong Relationships with Small Businesses
As America's largest family-controlled bank, First Citizens Bank has been supporting consumers and small businesses across the US for more than 120 years. They operate more than 600 locations in 22 states and recently merged with CIT Group, making them one of the top 20 US banks.
We spoke with the bank's Senior Director of Business Credit, Phil Hains,  about how they support small businesses, what a small business should have in place before seeking funding, and how the bank is embracing Diversity, Equity and Inclusion in their branches through their bankers and the greater small business community.