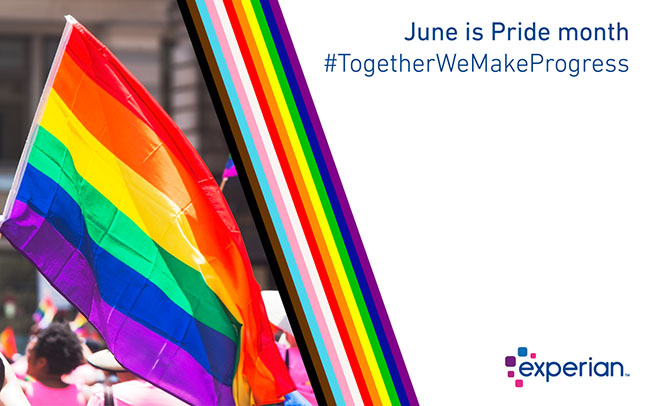 Experian is proud to include people of all genders on our team. In fact, Experian has made great strides in being a premier LGBTQ+ friendly workplace. For the 4th consecutive year, Experian North America has achieved a 100% rating on the Corporate Equality Index by the Human Rights Campaign Foundation. Fortune and Great Place to Work have named Experian North America as one of the Best Workplaces for Diversity. These designations reflect the commitment we've made to not only hiring LGBTQ+ people, but elevating them to high levels within the company, and welcoming them to "bring their whole selves to work" each day. Hear from a few Experian employees about what they love about working here!
My Experian family also gets to know the "real me"
For Grace, bringing her whole self to work at Experian means that she gets to fully and authentically be exactly who she is. "The same Grace that my friends, family and people outside of work get to know, my Experian family gets to know also," she said. "And something that makes me so proud is that I not only get to make impacts from a business perspective in my sales role, I get to make an impact here on the employees through my Pride leadership role. How cool is that?!"
"At Experian, all your identities are seen and valued"
Jose (he, him, his) is a DE&I engagement manager for Experian, and is proud to work for Experian, he said, because "they recognize me in all my identities, especially my gay identity. This week is actually Pride week at Experian, and we are having such a great week with all the activities planned for all our employees. I am also fortunate enough to be on our steering committee, to help navigate and instruct what we are doing for our LGBTQ+ community and allies at Experian. So come join us, and learn more about what we're doing as a company internally and externally," Jose said.
"Experian has created a LGBTQ+ friendly workplace where your identities don't have to be separate"
Emily joined Experian a little over six months ago and did so because of our diverse and inclusive culture. She feels she can bring her whole self to work, she feels more relaxed and present with her co-workers. "I grew up in the 70s and 80s in Oklahoma. I didn't ever think it was possible to have the life I wanted, because I didn't see anyone living that life," she said. "Things have changed a lot since then. But I think people of my generation tend to have this idea that you don't bring anything "personal" to work, because at work you have this "professional" persona, and that's different than the person you are with your friends and family. Experian has dared to envision, and create, a workplace where those identities don't have to be separate."