As the infections of Coronavirus continue to escalate unabated, millions of small businesses are closing and laying off workers. Others send the majority of their staff to work from home, as in our case here at Experian. If you are a business who can pivot to virtual selling Covid-19 may just be a temporary setback, but for other non-essential retail businesses laying off staff and closing their doors, workers have few options.
I got a little burned out from watching all of the bad news as I flipped around cable the other night so I retreated to the den to read articles and saw that three days ago GoFundMe had set up a Small Business Relief Fund for businesses impacted but Covid-19. The goal of the fund is to raise $1.6 million, and as of this writing had raised $1.557,130 with major donations coming from Intuit Quickbooks, Yelp and GoFundMe. Hats off!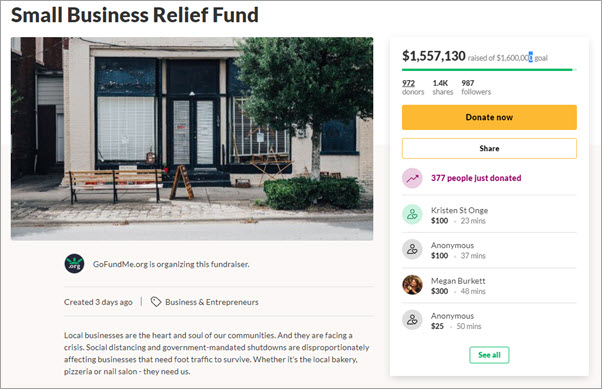 The site is filled with over 80,000 businesses looking for donations. As I sat reading the stories about businesses here in Orange County, California, I was struck by the outpouring of support and the heartwarming comments left by customers. Many of the campaigns are launched by business owners who want to do right by their people while their businesses are struggling to remain open.
Orange County businesses fight to survive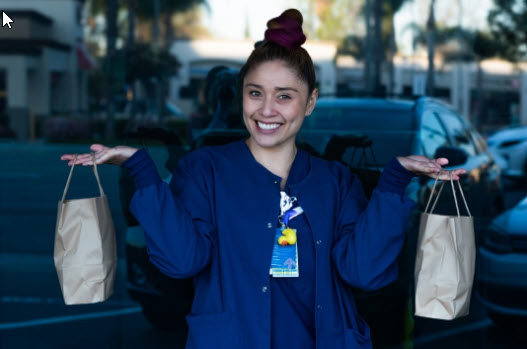 Teague, Ish, and Craig from Veteran-owned Blue Bowl Superfoods in Orange, California have a target of $50,000 from which a portion will go to feeding healthcare workers from nearby CHOC and St. Joseph hospitals. Their campaign description is a defiant open letter addressed to COVID-19 which reads "We are a veteran-owned small business fighting to keep our lights on because of you. You will not destroy our jobs and you will not destroy what we do." As of this posting his campaign had raised $11,548.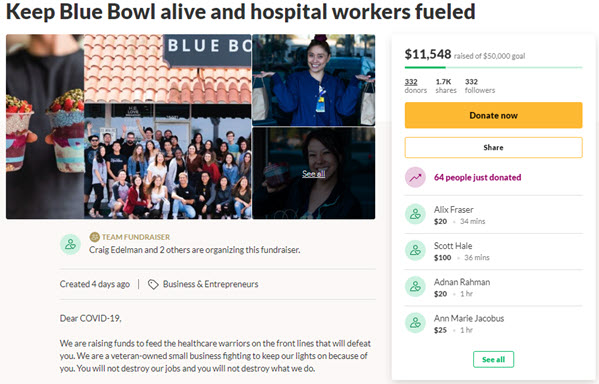 I reached out to Blue Bowl and spoke with the company co-founder Teague Savitch. Teague got the idea for the company while deployed to Afghanistan in 2014, telling me "Towards the tail end of my deployment experience I was working in a team that was doing 24-7 operations and on-call all the time, always eating on the go. It was the first time in my life where for an extended period I was getting very little sleep and a lot of stress. When I came home, I started going to juice bars and really paid more attention to what I put in my body. That's when I kind of really got interested in the superfood movement. And from that Blue Bowl Superfoods was born."
When asked why he started a GoFundMe he responded "We're fighting to try and keep our doors open, and keep a paycheck going for our team, and it just so happens that our first location that we opened just over four years ago is right in the backyard of two major Orange County hospitals – Children's Hospital, Orange County and Saint Joseph Hospital. Both of those hospitals have been very key to our early success, spreading the word about our company and what we do. It's been a really popular item with hospital staff that need a meal that's healthy performance-enhancing nutrient-dense where they can come in quickly grab and go, get in and out of there and get back to doing their rounds in the hospital."
Solopreneurs turn to GoFundMe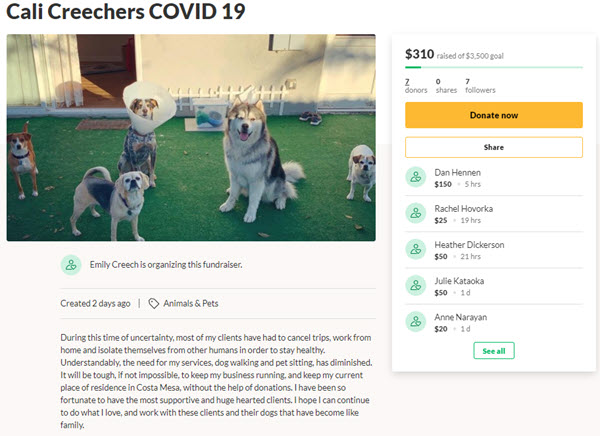 Emily Creech of Cali Creechers, a pet sitting and dog walking business, is using GoFundMe to raise $3,500 to offset cancellations saying "most of my clients have had to cancel trips, work from home and isolate themselves from other humans in order to stay healthy." The impact of Covid-19 not only threatens her livelihood, but also her housing situation.
I reached out to Emily to ask how she heard about the GoFundMe idea and she said: "I actually got an email from QuickBooks because I have QuickBooks for my business which is to keep everything organized, and they said they were sponsoring or helping promote the idea that you can start to go fund me for a local small business."
Emily says things started to change in her business around the 13th of March when she had one really big booking get canceled saying "I think people are canceling their trips because they have to, they're scared or they're elderly and they don't want anyone coming in their home to pick up their dog."
Cali Creechers got started after Emily started walking people's dogs in her free time, picking up gigs using the Rover app. She said "You pass a background check and create a profile and people who need dog care can kind of narrow down their searches and get someone to care for their dog. So, I did that and I had a lot of really good response and I realized that it's something I'm good at."
But Rover understandably charged a 20% fee on all of her business, so one day she decided to set-up an LLC so she could earn 100% of what she makes.
Non-essential service-based businesses suffer sudden closures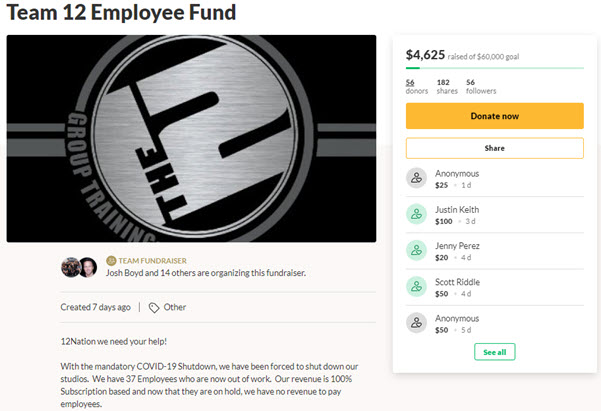 Josh Boyd founded Costa Mesa-based Team 12 Group Training in 2013. He tells us that when the State ordered all non-essential businesses closed he had to lay off his 37 employees. He's hoping GoFundMe can help him raise $60,000 to help his employees, all out of work. Josh explained in his campaign profile, the revenue for his business is 100% Subscription-based and now that training sessions are on hold, they have no revenue to pay employees.
I asked Josh if he thought Covid-19 would do any lasting damage to his business he said, "Once this is over the public will flock to gyms and have a deeper appreciation for the service based industry because they realize how hard it is to get motivated on their own." Adding "You truly don't value things as much until you actually lose it!"