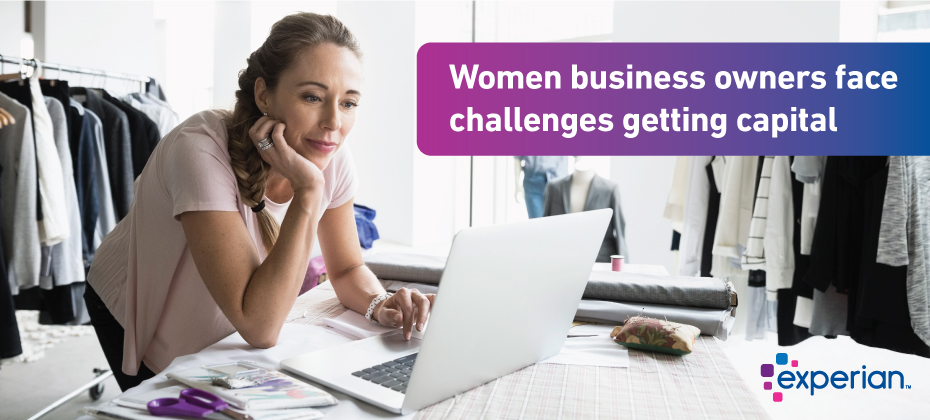 In honor of Women's History Month and International Women's Day, Experian took a closer look at the specific challenges of accessing capital for women business owners.
When small businesses need capital, they need it quickly. They may need to replace broken equipment or require resources to launch a new product. Unfortunately, since the financial crisis and a wave of bank regulation, many big banks don't offer quick loans, especially when they're smaller scale than what may be requested from larger businesses. Many women business owners turn to online lenders, sometimes paying a higher interest rate than a normal loan. Loan payoff term can often be within a year, something that could be detrimental to a small business owner just getting started.
How Women Entrepreneurs Launch a Business
The National Women's Business Council released a report earlier this month – Understanding The Landscape: Access to Capital for Women Entrepreneurs. The report highlights the ongoing funding challenges for women business owners:
Women raise smaller amounts of capital and rely on personal sources of income more than men.
Women are seen as "less credible" and "less legitimate".
Women investors still prefer to work with men business owners.
These disparities continue beyond the initial startup phase.
Entrepreneur Dana Donofree shared her experience trying to gain access to capital for her lingerie line for women. Her clients are women being treated for breast cancer or who have had breast cancer surgeries. Donofree bootstrapped AnaOno Intimates completely out of her own personal resources. "I did not take a loan or borrow money to launch my business. I started slowly and grew as much as I could afford," Donofree said. "It was when the need to scale became larger than my cash flow I started to look to lenders."
When It's Time to Scale
Donofree's experience aligned with the results in the NWBC report. While credit cards and personal income helped launch her brand, she faced objections when trying to scale. She initially went to her bank, with whom she had a long standing personal and professional relationship. Although she had positive credit history with the bank and even paid "more than the requested minimum payments", she was not approved for additional credit.
"That is when I turned to alternative funding, through non-profit organizations that help small socially driven businesses scale, and other lenders, like OnDeck that approved me for loan dollars needed to scale my business, but came at a higher price than my bank loans."
Access to small business loans is declining, according to the Small Business Administration, so more women entrepreneurs are turning to online banks to grow their businesses. Online bank loans have become a popular option but interests rates can be anywhere from 9% for older established businesses to 99% if your credit is average or poor or if your business is less than a year old.
Donofree also considered other funding options such as ecommerce platform Shopify, that allows loans based on sales volume, or even PayPal. According to Donofree, "these loans are great as they take a percentage of your sales before your revenue hits the bank, so you are always paying it down based on your incoming cashflow. It was a great alternative to a structured monthly payment."
Creative Funding Options for Women Business Owners
Accessible alternative funding options are helping women entrepreneurs more than traditional banks and women are willing to try creative substitutes.
The NWBC report notes that women are more willing to connect with their networks to raise capital through crowdfunding and tend to have better success than men. Pushing beyond gender bias to raise capital, women have learned to rely on natural emotional connections with their network, building brand trust and influencing those who invest.
Community Development Financial Institutions or CDFIs are backed by the U.S. Treasury department and play a role similar to banks. A CDFI promotes access to investment capital for underserved communities and the leaders who grow community businesses.
Women can also turn to specific funds that promote women or minority owned businesses. The National Women's Business Council lists growth and funding alternatives on their website with the specific purpose of encouraging more women-led businesses and expansion.
Mentorship and other women role models are a powerful way to encourage leaders to start or grow their businesses. The Small Business Association reports that small business owners who have access to mentoring report higher growth rates and revenues. Often a woman entrepreneur simply needs to hear something positive from someone who's been there.
Dana Donofree believes that women should support each other, "Obviously I believe in women feeling strong and beautiful, but I am also incredibly passionate on how to start your own business, especially as a woman."
Watch Dana's story