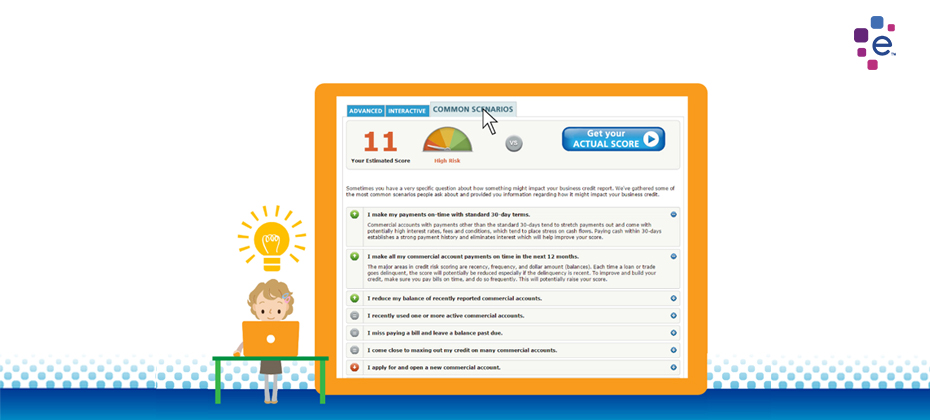 As business owners you will find yourself in situations where you need funds to expand your business. Whether this involves acquiring more inventory, opening new stores, or adding more employees to your team. Many lenders look at business credit scores among other things, to determine your businesses credit risk. This information helps lenders gauge how healthy your business is in terms of meeting debt obligation, and its bankruptcy and delinquency rates. Unhealthy credit scores can make it harder for business owners to secure funds that are critical to operate. Learning how to manage your business credit score should, therefore, be a top priority for business owners, particularly new business owners.
The differences between consumer and business credit scores
So what exactly are business credit scores? Business credit scores are different from consumer credit scores in that, they assess a company's credit risk by taking into consideration the business' credit history as opposed to personal credit history. The scores range from 1 to 100 with one being the lowest score. Business credit scores are affected by a multiple of factors including but not limited to business size, establishment and industry size.
Consumer credit scores on the other hand, which range from 300 on the low end up to 850 on the excellent credit scale, enables individuals to borrow money for personal use or defer the repayment of the debt to future debt. High consumer credit scores usually mean that the consumer has a history of making timely repayments on borrowed money without incurring penalties or defaulting on payments. Lenders can, therefore, trust them to borrow more money. Bad consumer credit scores, on the other hand, show that a consumer has had difficulty making timely payments. With a low consumer credit score record, it is difficult for such an individual to buy a house, car or even obtain a credit card because lenders such as banks and other financial institutions find the consumer to be high risk.
Many small business owners use personal credit to finance their business, however, this does not guarantee them funding for their business. Lenders evaluate personal and business credit scores independently. Therefore even if a business owner has a great personal credit score but low business credit score or no existing credit history for their business, it will be difficult to secure funds for the business. Therefore business owners should establish and manage their personal and business credit line separately, and make every effort to establish and build strong business credit.
Business Score Planner helps you be proactive about your business credit score
Knowing how to manage and improve your business credit score can save you time and lower your cost of securing funds critical to growing your business. To help business owners educate themselves on business credit scores, Experian has developed an easy to use Business Score Planner tool that can simulate different credit history scenarios and calculate a hypothetical business credit score. With the Business Score Planner you can enter a few variables and calculate your hypothetical business credit score based on your current behavior in relation to your business credit habits, and get recommendations on how to improve your score.
While the calculator does not reflect your actual score, it can help you learn about habits which affect your business credit score and the necessary steps you may need to take to improve the score. You can use Experian's calculator to test out theories and how different scenarios might affect your outcome. This will not only help you as a business owner to understand the world of business credit scores, but it will help you formulate a game plan that you can commit to, making it easier for your business to get funded.
You can learn more about the Business Score Planner by watching our short demonstration video or by visiting: http://sbcr.experian.com/scoreplanner