2022 was a year of adjustment. Consumers adjusted to a post-pandemic world and returned to pre-pandemic shopping behaviors. Consumers adjusted their budgets as the price of goods skyrocketed, as a result of high inflation. To combat inflation, the U.S. Federal Reserve adjusted interest rates. This further restricted consumer buying power. The AdTech ecosystem also experienced adjustments. Google adjusted the date of cookie deprecation. Federal legislation forced technology companies to adjust their consumer privacy practices. Marketers and advertisers adjusted how they address interoperability issues by investing in clean room solutions. This year of adjustment makes it harder to predict where consumers will spend and how marketers should plan their digital audience strategies.  
What will 2023 bring to AdTech? Download our 2023 AdTech trends and predictions report to access our forecast to help you plan for 2023. Our report will answer:   
How

has digital activation

changed over the last four years? 

 

What are the top advertising platforms?  

 

Which digital audiences

are advertisers buying? 

 

Do digital

audience strategies

vary by vertical? 

 
Our
AdTech trends
forecast  
In 2023, digital activation will increase. Digital audience activation continues to grow at a significant rate despite market shocks like the pandemic, inflation, and higher interest rates.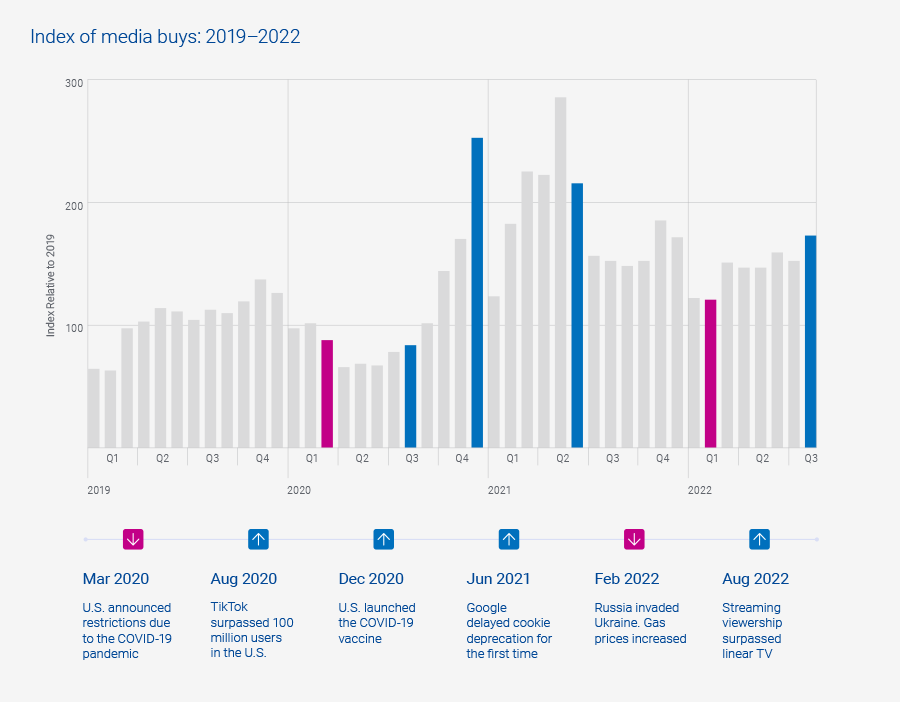 Given the current economic uncertainty, we predict that marketers will look toward tried and true channels where they are confident they will have quality audiences, inventory, and be able to drive ROI. 
What
will digital activation
look like in 2023? 
Between 2018-2021, digital audience activation increased annually by 46%. Using projected 2022 results, between 2018-2022, it will increase annually by 34%. We anticipate continued growth in 2023. 
Top advertising platforms in 2023
2023 will see increased digital activation, but which platforms will advertisers use to serve their ads?  
Advertisers will shift their focus to demand side, video, and supply-side platforms.

 

Social media platforms will continue to experience

volatility

. 

 

Advertisers will place

bigger bets

on the combination of addressable and CTV.

 
Our report will also reveal which platforms are creating a path toward a post-cookie future and where data-sharing relationships will become the strongest. 
The most popular advertiser audiences trending now in
AdTech
Which digital audiences are advertisers buying?  
Demographics  

 

Modeled Lifestyles 

 

Behavioral

 

Custom Audiences 

 
Traditional targeting methods like Demographics and Modeled Lifestyles are the baseline of many marketing strategies. We predict that we will continue to see marketers activate against these data sets. 
Digital audience strategies by vertical
Digital audience strategies vary by vertical. Download our report to uncover the digital audiences purchased by advertisers in the following industries:  
Financial Services 

 

Health 

 

Retail & CPG 

 

Technology & Communication 

 
Download our report to discover the best digital
audience strategies
for 2023
As we move into 2023 and out of the year of adjustment, what can you do to move toward more certainty? Download our report to learn how you can use the right data to reveal the way forward.