As more consumers take pictures, make phone calls, read books and listen to music on smartphones and tablets, these devices replace the functions of the traditional gifts of years past. Read on to learn about this holiday's hottest products and check out our recent Hot Holiday Products webcast to gain insight into how to capture more consumer visits during this busy season.
Hot this week:
Experian Marketing Services' analysis of online search trends this holiday season indicates that tech gifts are increasing in popularity this season. Smartphones and tablets rise to the top of the hot product list, as their functionality replaces that of traditional holiday gifts like cameras, books, clocks and stereos.
New gaming consoles releasing this season, the Xbox One and PlayStation 4, are among the hottest products for 2013, with PlayStation currently in the lead. Tablets are also popular and the iPad is in the lead. Searches for iPad outperform those for Galaxy by a margin of more than 4:1.
Hot holiday products
With a scant 26 shopping days this holiday season, retailers need to identify hot products even faster than usual in order to run appropriate promotions and keep shoppers happy. Every year, Experian Marketing Services identifies the "hot products" that consumers want based on online searches driving traffic to the Hitwise® Retail 500, a grouping of the top online retail sites. This year, like last, the immediately recognizable footwear brand Ugg claims the top position on our list, as of November 9th.
A new pair of cozy boots may sound nice as temperatures dip, but gadgets and electronics are what consumers are really hot for. Driving demand are two new major gaming consoles that hit the market this season. After several years without a major update, Microsoft will release the Xbox One and Sony will release the PlayStation 4. High consumer anticipation for both consoles won the PS4 and Xbox One a spot at number two and number three, respectively, on our hot products list. As of November 9th, variations on searches for PS4 were about 50 percent higher than search variations for Xbox One; however, the new PlayStation hits stores a week before the new Xbox, so this may change once both consoles have shipped.
With smartphones and digital tablets performing the functions of traditional gifts of years past, such as cameras, stereos, books, watches, etc., it's no surprise that the iPhone 5S, iPhone 5C and the new iPad Air are solid contenders on the hot product list. Likewise, the old-fashioned pedometer has been getting increasingly high-tech to the point where Fitbit, the wearable fitness tracker that links to your smartphone via Bluetooth, is the number four item on our list and searches this year are nearly three times what they were at this point in 2012.
But not all of this season's gadgets are high tech. In fact one of the hottest gadgets burning up the Web this season is about as old school as you can get: the loom, the Rainbow Loom, to be exact. We'll cover this hot product in more detail in a bit, but it's the number seven product on our list and one that every marketer targeting kids needs to have on their radar.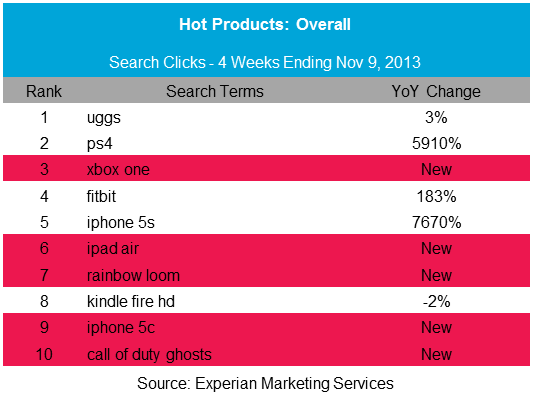 Electronic spotlight
With the tablet market heating up, iPads still enjoy a comfortable lead in terms of overall search. In fact, as of November 9th, search variations for iPad were more than four times higher than the nearest tablet competitor, the Samsung Galaxy. The Galaxy, however, overtook the Kindle Fire back in April of this year to become the second most searched for tablet.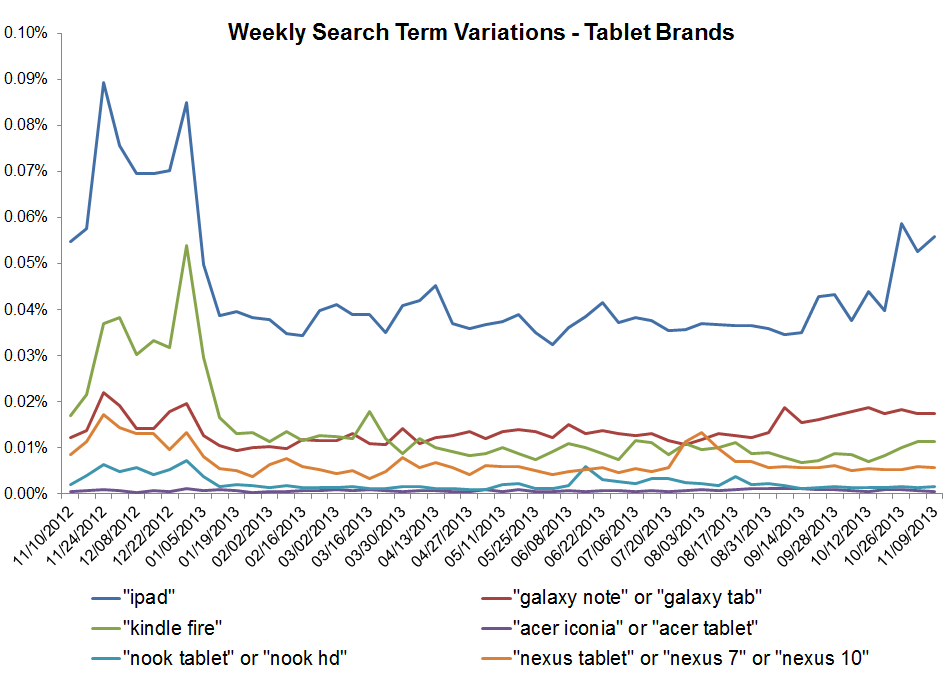 Tech Junkies, the segment comprised of online adults who visit technology review websites and technology content sites, are naturally more inclined to search for electronics and gadgets of all sorts, but they are even more disproportionately apt to be searching for Google and Microsoft products. For example, while Tech Junkies are 69 percent more likely than the average online adult to be searching for "iPad Air," they are 2.7 times more likely to be searching for "Nexus 7" and 1.3 times more likely to be searching for "Galaxy Note 3," two Android-powered tablets. Microsoft's new tablet, the Surface 2, is also searched for by Tech Junkies at rates double that of the average online adult.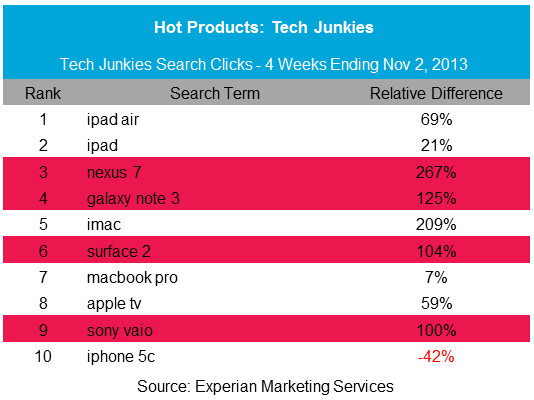 Toys! Toys! Toys!
When it comes to toys, it's all about rubber band bracelets. In fact, four of the top 10 hot toy searches are tied to this trend. The Rainbow Loom and Crazy Loom (or Cra-Z-Loom, rather), are handheld looms that the young and the young-at-heart use to make rubber band bracelets (think: friendship bracelets) and other crafty creations. Since the start of the current school year, loom-related searches have taken off much to the ire of school administrators who have increasingly taken to banning the item from school premises.
Video games aren't just for grown-ups; they're also for kids. The Skylanders SWAP Force and Disney Infinity are two sought after kid-friendly video games this year. Both allow players to bring physical action figures to digital life in video games. This is the third game in the Skylanders series and the first of its sort for Disney.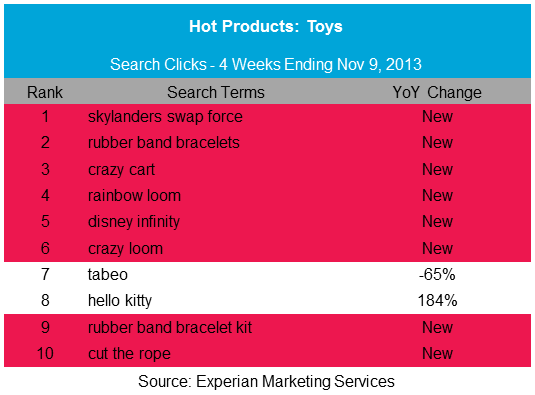 Visit and bookmark http://ex.pn/hhp for up-to-date trends on hot products this holiday season, as well as a list of the top 20 online retailers capturing the greatest share of visits to the Hitwise Retail 500. We'll update the data every Monday, so check back often!