Activate your offline audience data for online marketing
As a modern marketer, you know that personalized, data driven-marketing is not just a trend, it's a necessity. Every day, brands leverage audience onboarding to link the customers they know in the offline world to their digital identities. With data onboarding, marketers like you can:
Target your best customers with personalized online and mobile ads
Re-activate lapsed customers with relevant offers
Launch efficient prospecting campaigns by suppressing current customers
Create look alike models to efficiently reach a larger, qualified audience
Measure both the online and in-store sales impact of campaigns
Personalize the offers and content served to website visitors
Here's the process we use to onboard & protect your data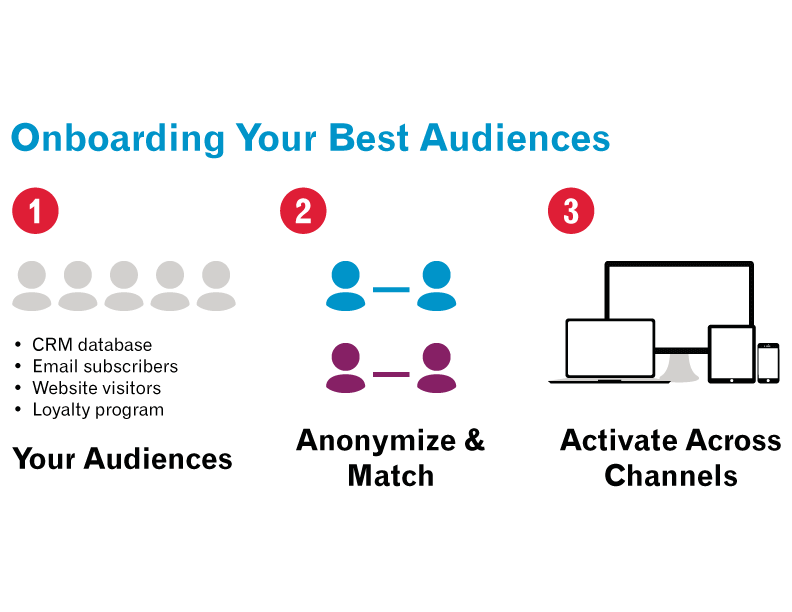 Reach your exact audience with confidence and precision
Onboarding is a powerful marketing weapon, but would it surprise you to learn that anywhere between 50-70% of the match information you get from other data onboarding is "dirty data" -- including incorrect linkages and inaccurate matches? This inaccuracy often results in ineffective targeting, irrelevant messaging, poor customer experiences, and tremendous media waste.
By partnering with an onboarding provider who has data expertise, proven technology and expansive distribution capabilities, like Experian, you can:
Stop Marketing Waste: With over 30 years of experience managing data and billions of daily digital transactions, matching your data as accurately as possible is Experian's expertise.
Maximize Audience Reach: Experian's onboarding solution leverages a network of strategic publishers, platforms and brands to create the highest quality coverage available.
Coordinate Across Channels: Take advantage of our extensive media partner ecosystem, including desktop, mobile, direct mail, email, and 100% of the addressable TV providers.
How can you see higher match rates than ever before?
Once your first party data, such as CRM data, email subscribers, or loyalty shoppers, matches to a digital identifier, the "matched" audience can be made accessible through dozens of marketing platforms, including Experian's Audience Engine. From here, you can activate measurable, people-based campaigns across channels. What's the end result? Your customers have meaningful brand interactions that drive them to take action.
If you want to drive more intelligent interactions through your onboarding investment, consider joining Experian's digital data exchange - a program that enable the world's biggest brands to work together to maximize customer reach across digital touch points. As the industry leader in consumer data with unparalleled expertise in developing world-class, privacy-compliant data cooperatives, this opportunity ensures participants the highest level of privacy and transparency.
Download the product sheet