Comply with federal and international anti-money laundering regulations
Let us help you:

Implement automated alert systems

Monitor transaction trends

Improve your Customer Identification Program
What are the Anti-Money Laundering (AML) Rules under the Bank Secrecy Act?
The AML rules help organizations to detect and report suspicious activity to stop money laundering and terrorist financing.
How can you meet anti-money laundering compliance?
According to FINRA, an anti-money laundering compliance program is required to include the following elements:
Establishment and implementation of policies and procedures that can be expected to detect and lead to the reporting of suspicious transactions.
Establishment and implementation of policies and procedures that achieve compliance with the Bank Secrecy Act Annual independent testing for compliance to be completed.
Identify individuals responsible for implementing and monitoring the program daily.
Adherence to BSA/AML policies are the responsibility of every employee within financial institutions and can be faced with heavy fines due to non-compliance. Work with a trusted compliance partner to remain vigilant in your continuous efforts to monitor suspicious transactions, track trends in your portfolios, and report. We help to enable banks, brokerage firms, insurance companies, ect, to analyze how money moves in and around their organization, detect suspicious patterns of behavior, create effective reports, and reduce the manual activities related to regulatory compliance.

Go beyond your typical transaction monitoring with powerful and flexible rule definition capabilities to help you create advanced behavioral rules and reports, supporting your organization's risk needs. Leverage integrated watch list screening to effectively scan customers for added efficiency and peace of mind. Effectively implement automated systems and processes to report money laundering activities through to the Suspicious Activity Report (SAR) filing and archiving.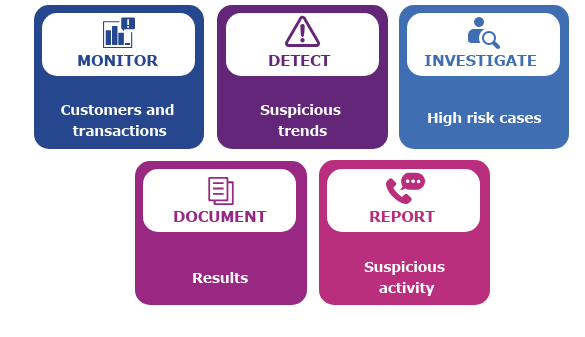 How we can help your BSA/AML strategy