Free credit report
Check your credit report regularly to help you make good financial decisions, detect early signs of identity theft and see how you might look to a lender. Checking your credit report regularly can help you make good financial decisions, detect early signs of identity theft and see how you might look to a lender.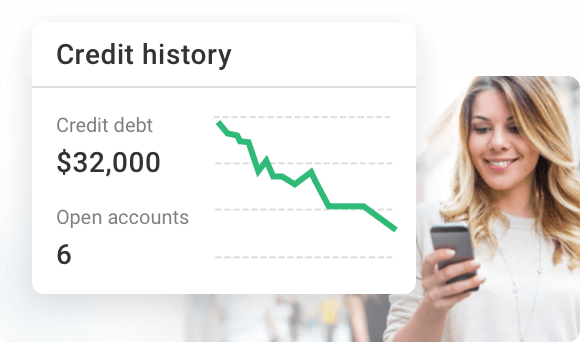 No credit card required
Get your free credit report
Includes a new free credit report from Experian every 30 days on sign in. This offer does not include a free credit score.
Why get your free credit report from Experian?
Understand your overall credit
Review your credit report and see your credit accounts, current balances, payment history and any derogatory items you may have. Get a summary of your account totals, debt and personal information.
Gain credit insights
See who's accessing your data and get tips on how to improve your financial health to receive the best terms. Track your debt-to-income ratio and lending risk level.
Stay up to date
Your credit report is constantly changing, and you can stay on top of these changes with access to an updated report every 30 days.
Monitor and protect your credit
Detecting identity theft early is key to protecting your financial well-being. Monitor your credit report for possible identity fraud and dispute any inaccuracies.
Free credit monitoring
Get customized alerts about new inquiries and accounts, changes in personal information and suspicious activity detected on your Experian Credit Report.
Online disputes
Review and correct inaccuracies on your Experian Credit Report for free. Easily submit disputes to our dispute center and track their progress online.
Credit monitoring FAQs
What is a credit report?
A credit report is a historical record of your credit history and contains information gathered by credit bureaus. Your credit report can be used by creditors as an indicator of how you handle finances. It includes your credit activity such as how you manage credit accounts and whether you pay your bills on time. This data serves as a basis for your credit scores.
Why is my credit report important?
Your credit report is an essential part of your financial health as it provides information to lenders and other service providers about your credit behavior. This information can help determine the terms you're offered when you seek out new or more credit.
For example, banks may check your credit report before deciding whether to approve you for credit. Landlords may check your credit report to determine if they should rent to you. Even some employers can review credit reports as part of the background check.
It's important to understand your credit report and to make sure the information in your credit report is positive and accurate.
How often is my credit report updated?
In general, creditors send updates to the credit reporting agencies on a monthly basis, but the day of the month may vary. Information on your credit report could change daily, or even more than once a day. Monitoring your credit report regularly can help you stay on top of your finances and reduce the risk of identity theft.
How do I get my annual credit report from Experian?
Under federal law, you are entitled to a copy of your credit report from all three credit reporting agencies—Experian, Equifax® and TransUnion®—once every 12 months. To get your Experian annual credit report online, by phone or by mail, visit www.AnnualCreditReport.com.
How do I dispute items on my credit report?
The easiest way to dispute an inaccuracy on your credit report is to do it online. Once you have access to your Experian Credit Report, you can initiate a dispute through our online dispute center, or dispute via phone or mail.
If the inaccurate information is associated with one of your credit accounts, you can contact the lender directly to have them correct their records.
Information may be different on your Equifax and Transunion credit reports and may need to be disputed separately.
Learn more about how disputing can impact your credit and how it works.
What is included in a credit report?
Your credit report includes your personal identifying information such as your full name along with variations that have been used, current and past addresses, date of birth, social security number and its variations, and employer information.
Your credit report also shows your revolving and/or installment account information, including the account status, contact information, credit limits or loan amounts, recent payments, and individual or joint responsibility.
Your credit report lists your current and past credit mix, whether accounts are in good standing, your payment history, and what is impacting your credit negatively. Negative information could include late payments, collections, settled accounts, repossession or voluntary surrender, charge-offs, and other derogatory items.