Let us help
Find out how you can partner
with Experian.
Call us at 1 888 414 1120
"Partnering with Experian has been a really great experience. Our account rep has been great. He's been a part of the solution whenever we've encountered issues."
Linda Larotonda, Sr. Vice President
First Commonwealth Bank
Baker Hill Bank2Business
Dynamically manage all of your business credit requests faster and with more consistency.
Baker Hill Statement Analyzer
Gain the flexibility to spread and analyze financial statements from anywhere with an Internet connection.
Baker Hill Exception Advisor
Baker Hill Exception Advisor supports exception management and compliance by providing a flexible framework to securely monitor document, policy, compliance and exception management across lines of business.
Baker Hill Portfolio Risk Advisor
Baker Hill Portfolio Risk Advisor leverages Experian's expertise to help banks mitigate risk, identify cross-sell opportunities, more effectively manage the renewal/extension process and streamline the portfolio management process.
---
Learn More About
---
Stay Informed
Take advantage of exclusive insights from Experian's industry experts
---
Join the Discussion
Hear from our experts and share your views.
Follow Experian
Follow Experian Credit Info
Follow Experian_US
Follow Experian CIS
---
Dispute Your Credit Report Information
Resolve reporting errors by disputing information on a personal or business credit report.
Growing The Business On All Fronts: Commercial, Consumer and Indirect
What your peers are saying: First Commonwealth Bank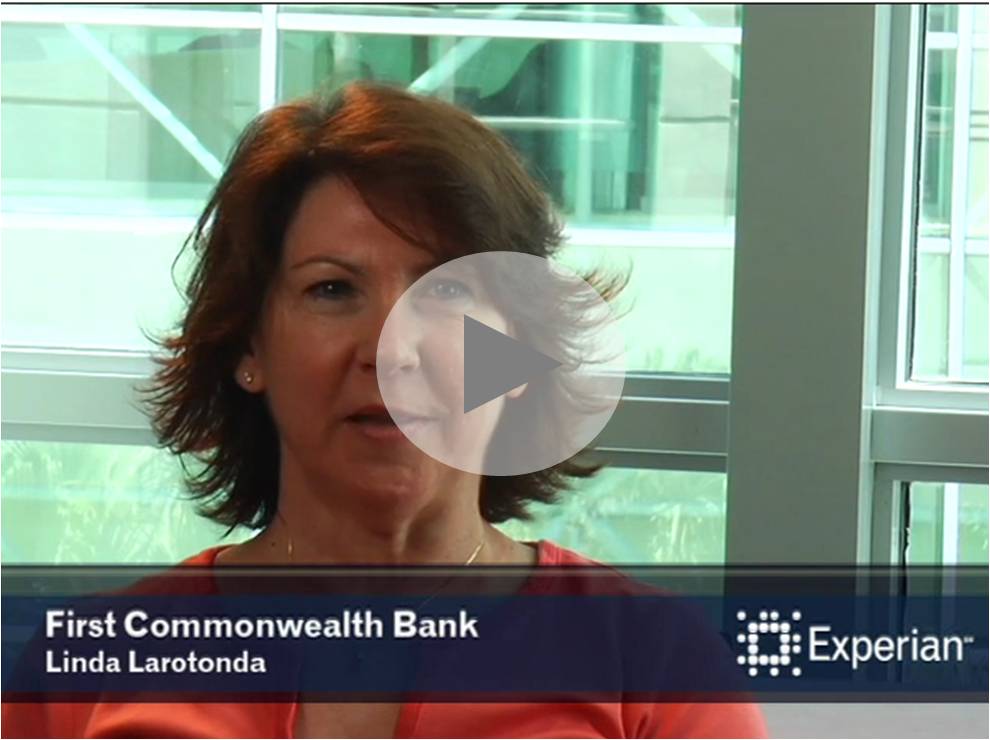 Linda Larotonda, Senior Vice President, First Commonwealth Bank
I work for First Commonwealth Bank in Indiana, Pennsylvania. I manage a couple of different lines of businesses: the small-business underwriting center, the direct consumer underwriting business and the indirect business.
Challenges
Some of our biggest challenges this year are growing the business on all fronts -- the commercial and the consumer as well as the indirect side. We're trying to make sure that we do it by minimizing the risk that we have associated with those businesses.
Core Solutions
We use B2B (Baker Hill Bank2Business) for both the small business as well as commercial. We have Statement Analyzer now because of that. We also have Exception Advisor and we just brought on Portfolio Risk Advisor last year.
Experian's Consultative Approach
Partnering with Experian has been a really great experience. Our account rep, Jeff, has been great. He's been a part of the solution whenever we encountered issues. I can always call him and he directs us to the right person. And when we decided to bring on a brand-new system, which was PRA (Portfolio Risk Advisor), we had a product manager and then we had access to the subject matter experts, so that was helpful. PRA's still a little new for us and we're getting used to how to use that, but I think being at the Vision Conference is going to help greatly in that regard. I will be able to talk to other banks that are using PRA. In fact, Jeff introduced me to a couple of people and I'm really excited about understanding how they're using it and making sure I maximize that to its fullest extent.
The Results
When we upgraded Bank2Business we started using Statement Analyzer and that's been a great help to us because we could use the different industry spreading systems that we didn't have access to before. So that's helped us get through the approval process a lot quicker.
How can our consultative approach help your business?
To get more information on how Experian can help you meet your own challenges, fill out the form below and a representative will contact you shortly.