Contact Us
Discover how an Experian business consultant can help your organization strengthen your credit and fraud risk management strategies and processes.
Gain the insight and best practices to drive profitable decisions
Featured White Papers

Case Studies

Download materials
Visit our communities
Gain valuable insight on trends and best practices.
Read our Blog
Follow us on Twitter
Enterprise-wide Value Creation
Global Business Consultants
Experian's business consultants provide clients with exceptional strategic insight into credit and fraud risk management , detailed enhancement opportunities, and deployment strategies. They ensure consistency through deep business subject matter expertise, client familiarity and a proven client engagement methodology.
Our business consultants have deep knowledge of data, analytics and software and demonstrated the ability to synthesize this intelligence with the deep understanding of credit management principles and practices to solve our clients complex business needs across industries that span different business sizes and market stages.
Fraud Business Consultants
Experian's fraud consultants have deep expertise and understanding of operational best practices, as well as fraud and identity strategies to deliver better, more insightful decisions while extracting greater value from current and prospective customer relationships.
Through our risk-based approach to fraud mitigation and customer authentication, we help organizations proactively manage risk by providing comprehensive insight into an individual's identity or commercial entity. This insight enables our clients to identify new credible customers, protect existing customers and meet regulatory obligations.
Specialized Consulting
Specialized ad-hoc consulting is available for specific engagement needs related to:
Provisioning – correctly and accurately forecast and provision for bad debt

Reporting – Design, use and interpret best practice strategy and scorecard reporting across the customer lifecycle: origination, customer management and collection

Loan modification – Qualify borrowers for a loan modification program (those showing inability to remain servicing the current debt)

Credit Risk function – Start-up or improve credit risk function or organization

Portfolio management – Profitably manage credit risk portfolios; manage credit portfolios across a wide spectrum of topics

Benchmarking – Interpret, use and act on information available from a credit bureau as related to the client performance against peer group

Mergers & Acquisitions – Specifically assess main impacts on credit risk management and marketing in light of a merger between 2 banking entities

Credit Bureau – Enhance the usage of market wide credit bureau data and value added products (scores, models, triggers, indicators, attributes) in credit risk operations to enhance risk prediction and increase profitability using "positive" credit bureau information

Capital Allocation – Optimize the allocation of capital across portfolios using RAROC approach

Pricing – Introduce a risk-based and/or performance based pricing approach to a retail credit portfolio
A business review helps clients identify value creation opportunities. Experian has established a highly effective methodology for evaluating opportunities to improve the return on investment, assess the organization's capacity to deliver these opportunities and identify any additional capability that might be necessary to fully realize proposed benefits.
» Success story (major US Retailer)
» Success story (major US money transfer service)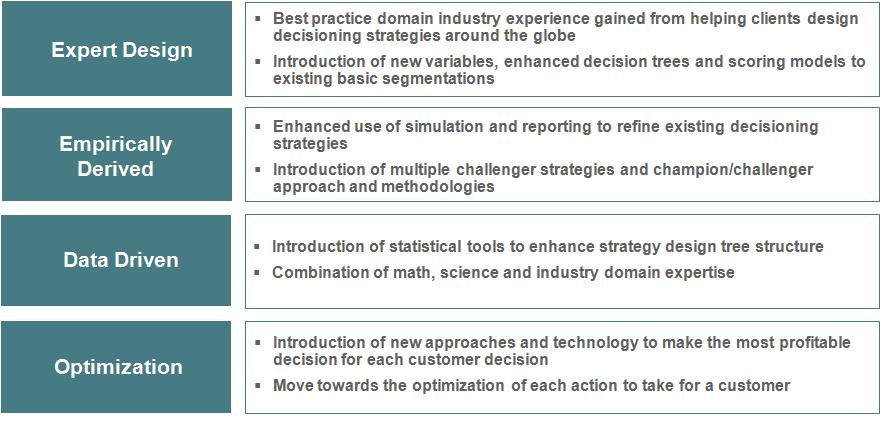 A strategy design helps clients create decisioning segmentation strategies and associated actions in support of their strategic goals and key performance indicators. Several different techniques and approaches are used from data driven and empirically derived methodologies to optimization and expert design practices.
» Success story (major US Retailer)
» Success story (Canada card-collections)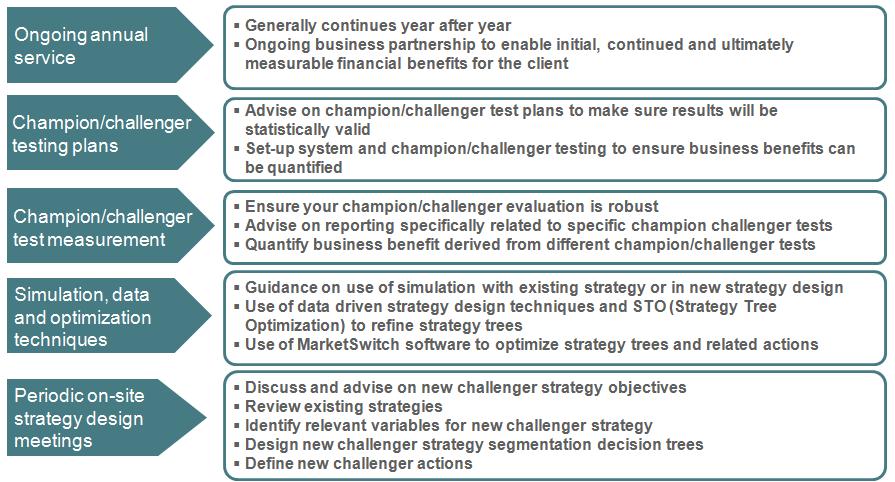 Consulting is an on-going element to ensure your customer decisions continue to add value to your business. A strategy review helps clients continue to realize value by improving and refining existing decision strategies.
» Success story (UK retail bank)
» Success story (Australia retail bank)
Our fraud consultants work with clients to conduct both operational and analytic assessments of current strategy effectiveness that include benchmarking analysis, validation studies, and profile and strategy analysis to derive specific recommendations based on changes in business, economic or market conditions.
Operational Review
An operational review helps clients find new opportunities to reduce fraud losses, improve the customer experience and reduce operational costs. Experian has established highly detailed studies and an effective, practical approach for improve the detection and prevention of fraud.
Additional consulting offerings
Our clients are also influenced by risks and required resources associated with activities and business drivers where our consultative approach can be applied to help manage these challenges.
New product launches and customer access across channels
Nontraditional or high-risk consumer and commercial market penetration
Enterprise-wide process and intelligence
Implementation of hosted services and products
Regulatory pressures and related costs
Customer experience and retention
Emerging of shifting fraud trends and threats