With Halloween only days away, it's crunch time for those who haven't yet found the perfect costume. And if past years are any indication, there are plenty of Americans who are still on the hunt. In fact, costume searches typically continue to rise each week in the lead-up to Halloween with peak activity occurring now.
Hoping to get the inside edge on the hot costumes this year, I created a search portfolio using Experian Marketing Services' Hitwise® online intelligence tool that included all variations of the specific costumes that Americans have been searching for online each week for over a year. As of last week, the most searched for costume by a long shot this season is Harley Quinn. "Harley who?" you may be asking. For the uninitiated, including me until recently, Harley Quinn is a rival of Batman who is making her live-action cinematic debut in the film Suicide Squad, which is scheduled for release in 2016. But Harley isn't the only Batman foe at the top of the list. In fact, the top four costumes all have ties to Batman.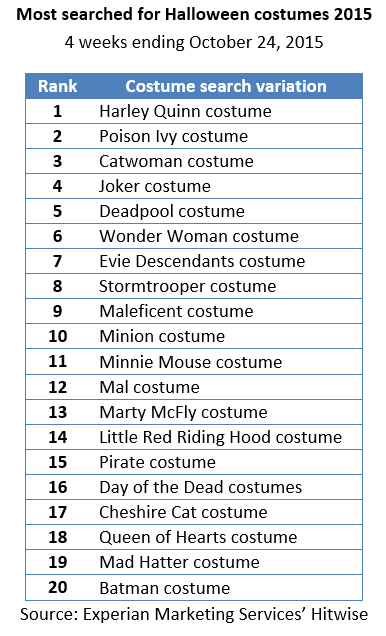 Checking out the list full list, you may be thinking, "that's a lot of superheroes!" And it is, but consider this: America has Comic-Con fever and are basically looking for any excuse to suit up like their favorite comic book hero or heroine and that's starting to carry over into Halloween. In fact, year-over-year, online searches for "comic-con," "comicon" or "cosplay" are up 57 percent, as of October 24.
Top Halloween costume trends: 2015
In order to better understand some of the costume trends beyond those related to superheroes, I looked at the differences between Halloween 2015 versus last year. While last year's top costumes included many reference to the Disney animated film Frozen, this year, Elsa, Anna and Olaf have been replaced by Evie and Mal, the stars of the Disney film The Descendants. Other pop-culture references are also reflected in costumes new to the list. Those include "Netflix and chill," "Left shark" and "Caitlyn Jenner." Likewise, Americans are welcoming Marty McFly back to the future by dressing as him this Halloween.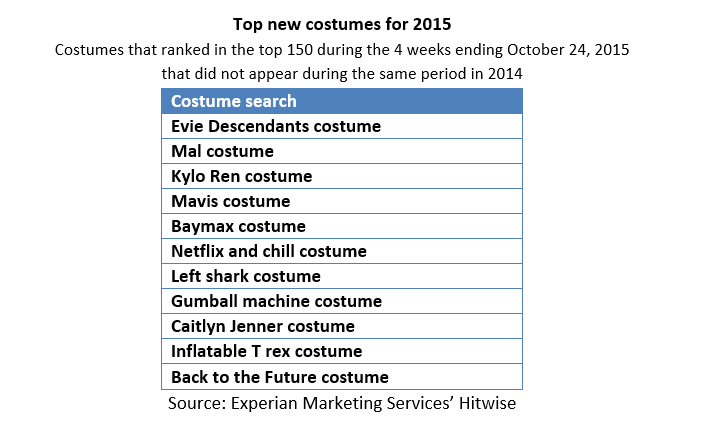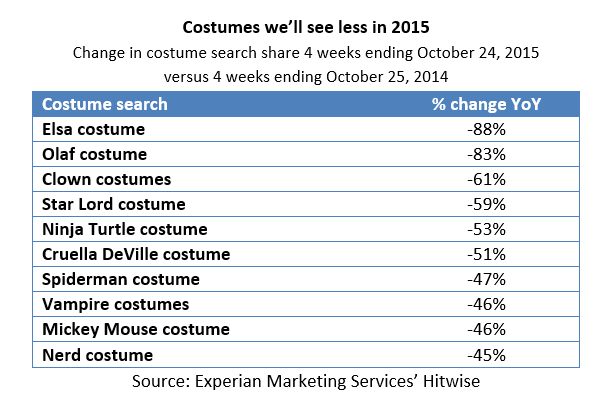 Heading into the final days before Halloween, searches for costumes for kids will continue to wane as grown-ups start worrying about themselves. Specifically, in September and early October, searches for costumes for kids typically made up 70-plus percent of all searches in which a demographic of the intended wearer was mentioned. However, kid's costumes will barely account for half of searches this week. Costumes for men will likely increase share the most as guys are notorious for being last minute costume seekers.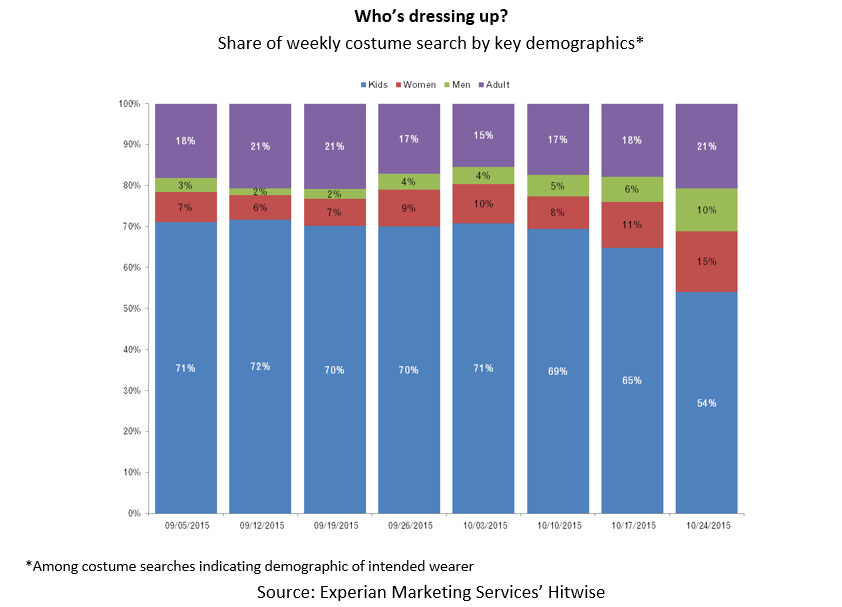 Dress like the rich
Want to dress like you have money? Experian Marketing Services' new AudienceViewTM platform gave me a chance to better understand how affluent adults (those with household incomes of $100,000 or more) search for costumes relative to the rest of the population. What I learned was that while affluents are more likely than average to be searching for costumes in general, they are less interested in the most common ones — especially those inspired by comic books. For instance, they're five percent less likely than average to be searching for "Harley Quinn costume" and 15 percent less likely to search for "Deadpool costume."
Instead, affluent consumers want their costumes to be more "unique." They're also more likely to be looking for a "DIY" costume, but "easy." Something else you should know is that more affluent adults get into costume themselves, which likely explains their increased tendency to use words like "plus size" in their costume searches.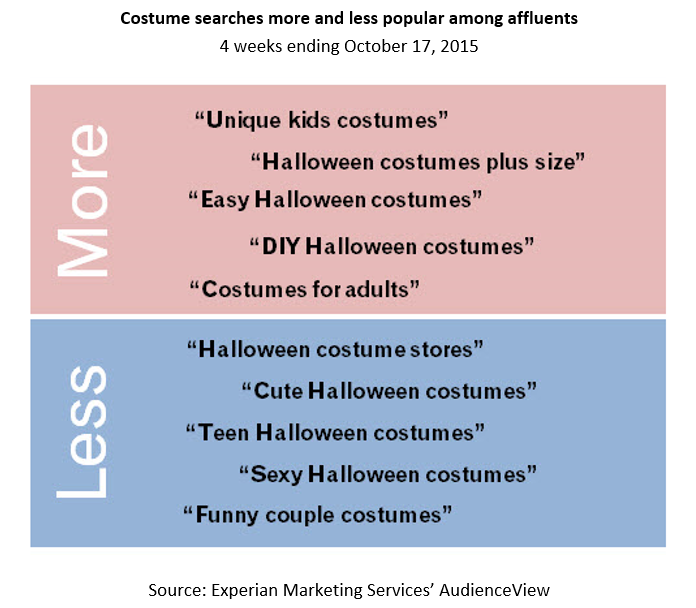 Similar trends were found when we analyzed the costume searches of affluent adults in the UK as well. For those interested in learning about the adoption of Halloween in the UK, you can read our blog post here.