We all knew heading into the holiday season that consumers were going to be highly sensitive to price due to the economic conditions, paving the way for an increase in online deal seeking. Coupon websites experienced growth in visits throughout the holiday season as shoppers searched for promotional codes to use online and printable coupons for offline purchases. The weekly market share of visits to coupon websites increased 15% from the previous year during the week of Thanksgiving & Black Friday and also increased 16% during the week of Cyber Monday. Overall, visits to the custom category of 70 websites increased 17% and 12%, in November and December, respectively, as compared to the previous year.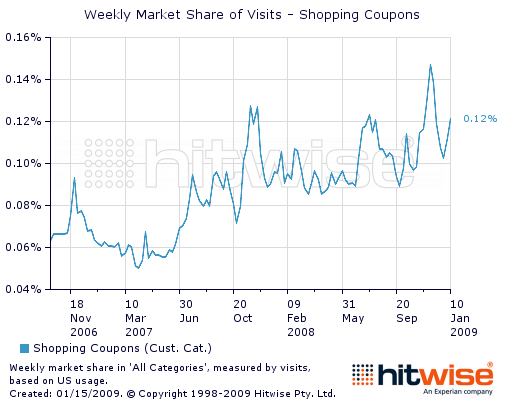 Coupon website referred traffic to retailers relies upon the availability of promotional codes and coupons for a given retailer. The availability of coupons and desired savings can certainly help to finalize and capture the transaction, making participation with coupon websites beneficial to the majority of retailers – particularly as many offer discounts & promotions during the holiday season and consumers inevitably share them anyway. In December 2008, the most commonly visited product categories following a visit to a website within the coupon category were department stores, computers, and appliances & electronics.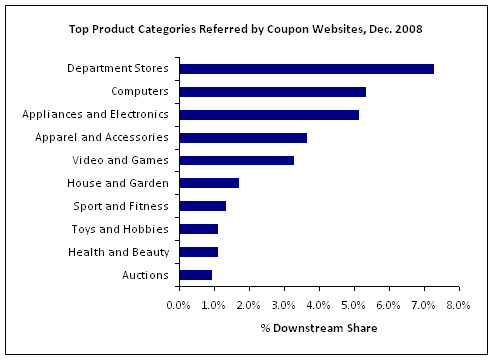 One interesting point is that many shoppers are looking for coupons from a specific retailer or brand, suggesting that many coupon searchers may be further along in the purchasing funnel and are close to making the purchase – but may need some type of final incentive. For the week ending December 27, 2008, 69% of the searches for the top 300 search terms that include 'coupons' also included a specific brand such as Pizza Hut, JCPenney, or Target. The other 31% of searches to include the term 'coupons' were generic in nature, seeking out grocery coupons, online coupons, and free printable coupons.