It's official: Cyber Monday is no longer the top online shopping day of the year. That title now belongs to Thanksgiving Day, which registered 328.7 million visits to the Hitwise® Retail 500 this year. Make no mistake; it was still a close race with Black Friday racking up 328.5 million visits and Cyber Monday another 320.7 million. And while consumers were more likely to be engaging in shopping reconnaissance missions on Thanksgiving Day rather than completing transactions, the importance of Thanksgiving Day should not be underestimated. That's when consumers are making decisions about where, when and how they're going to shop and what they're going to buy during the biggest retail stretch of the year.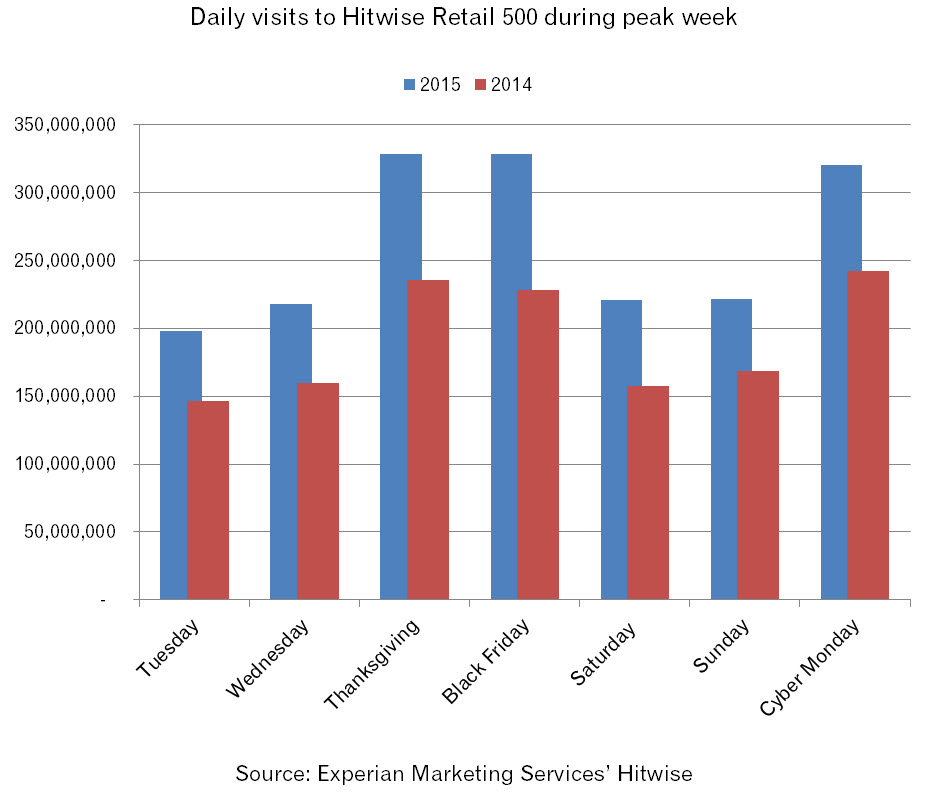 With in-store traffic on Black Friday reported to be lighter this year than usual, many analysts and media outlets were asking: Where are the shoppers? Well it turns out many of them were online. In fact, there were 100,000 more visits made to the Hitwise Retail 500 on Black Friday this year than there were in 2014, which is a relative increase of 44 percent. So despite a calmer atmosphere in stores, consumers were still busy parting with their cash, or rather credit, online.
Regardless of Thanksgiving now being the biggest shopping day overall, Apparel and Accessories retailers as well as those in the Sport and Fitness sector still celebrated Cyber Monday as their biggest day confirming that soft goods continue to follow the traditional pattern. Also bucking the trend was Amazon. Despite getting heavily involved in Black Friday, the industry leader still received the greatest number of visits this year on Cyber Monday, while the other top sites had the most traffic on Thanksgiving Day.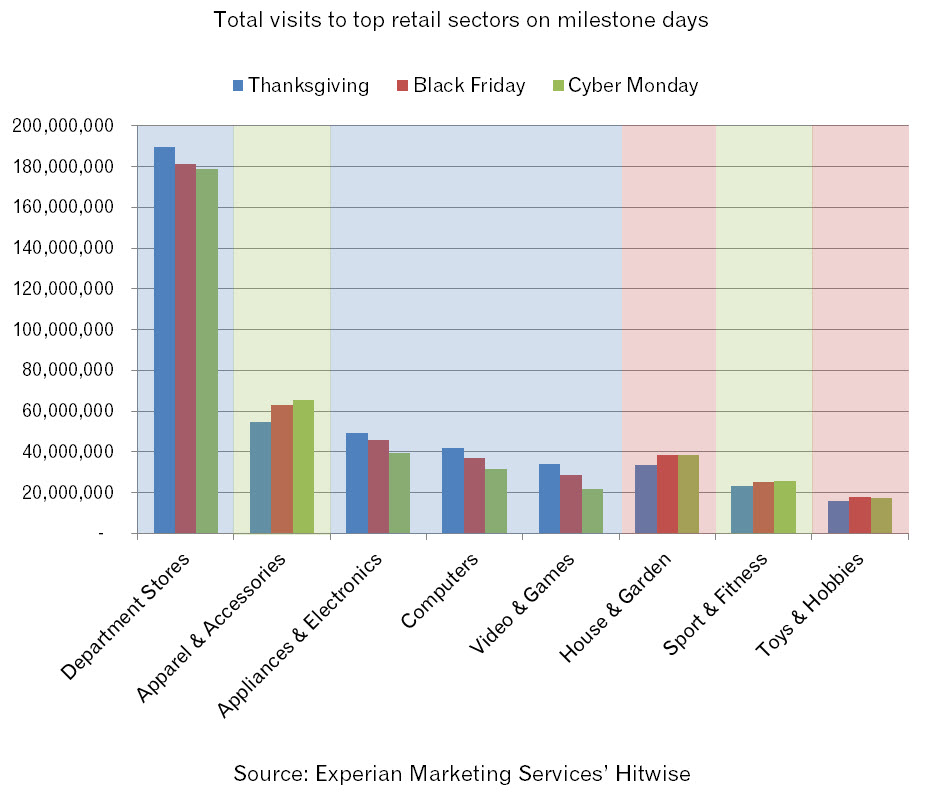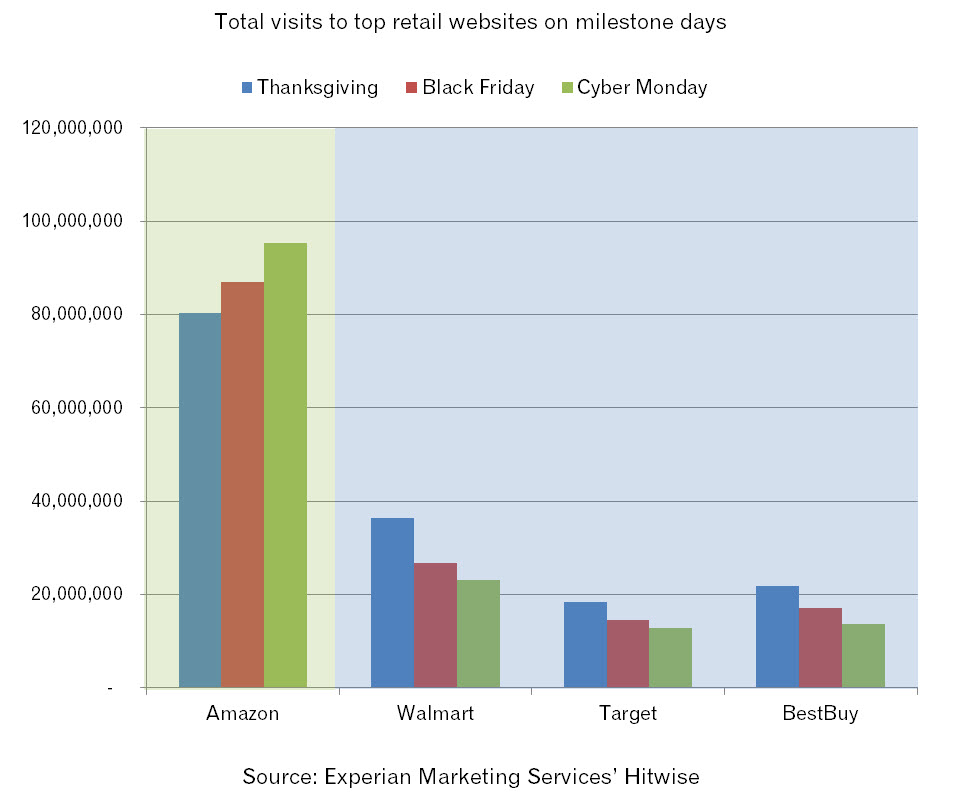 Hot product update
With the holiday shopping season now officially underway, it's time for a hot products update. According to Experian Marketing Services' Hitwise online intelligence tool, "Fitbit" maintains a solid hold at the top of the hot products list overall. Products brand new to the top 20 since the last list was published in our Holiday Hot Sheet include: "Keurig Kold," "Pie Face game," "Cards Against Humanity," "Shopkins" and "Beats." Keurig Kold and Pie Face game each made the most impressive leaps moving up 631 and 580 spots, respectively in the past two weeks. Cards Against Humanity, too, deserves a call-out for a clever marketing campaign on Black Friday where they sold the "experience of buying nothing" for $5 a pop which reportedly earned the company more than $70,000 in sales.
Products which got the boot from the list since the last publication include many footwear brands. Specifically, "Nike shoes," "New Balance," "Sketchers," "Toms" and "Crocs" are no longer among the 20 hottest products, nor is the video game "Fallout 4" or "adult coloring book."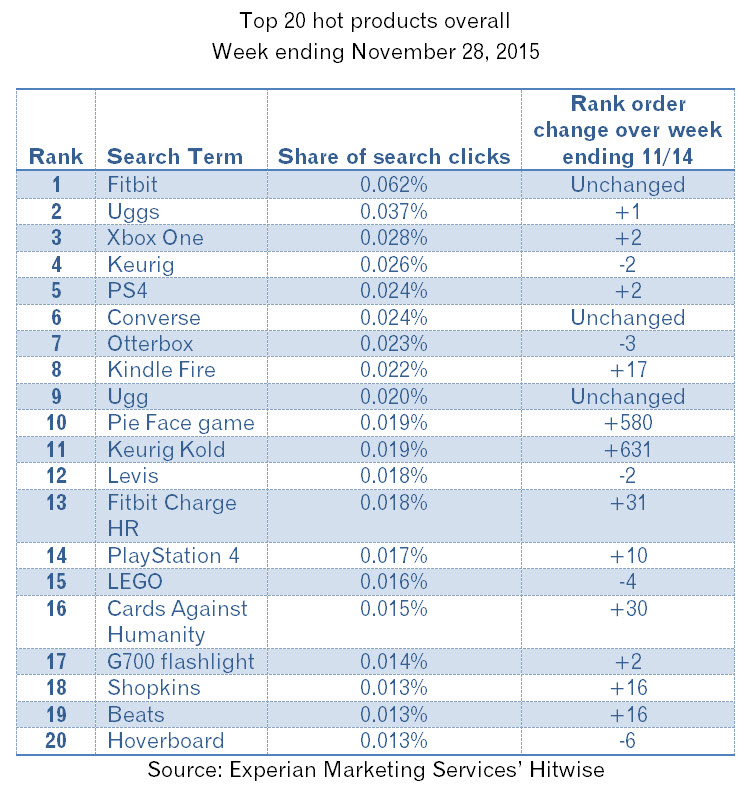 For more on this year's holiday marketing trends, subscribe to our Holiday Hot Sheet series.