New Segmentation Solution: Food Lifestyle
Experian Simmons is providing its clients with a new and complimentary segmentation solution: Food Lifestyle. This segmentation divides the U.S. population into five consumer segments based on eating habits and attitudes about food. (For the definition of each segment, click here.) The Food Lifestyle segmentation solution will be available with the Summer 2009 National Consumer Study which will be released later in November. This report gives a sneak-peek into the insights this segmentation provides.
But let us first break down the U.S. population by Food Lifestyle segments. As the pie chart illustrates, the two largest segments – Reformed Traditional and Variety on a Budget – comprise over 50 percent of the total U.S. population.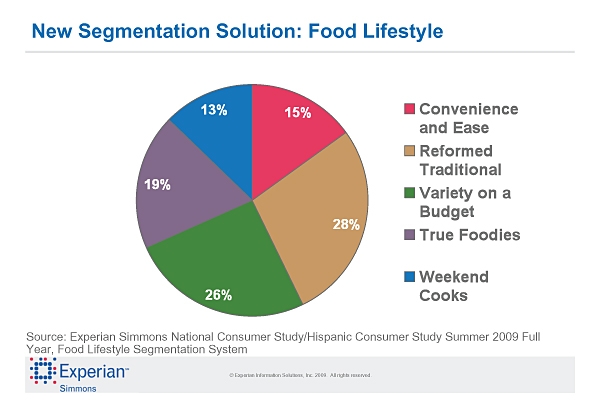 Grocery Store Each Food Lifestyle Segment's Most Likely Shopped At
With Thanksgiving just around the corner, consumers will definitely be picking up a few Thanksgiving dinner-related supplies from one their preferred grocery stores. The tables below list the three grocery stores consumers in each Food Lifestyle segment are most likely to have shopped in the last four weeks.
To help grocery stores, CPGs, restaurant and advertising companies gain better insight into this year's Thanksgiving food shopping trends, we will review a Thanksgiving staple along with food shopping behaviors and dining out preferences on the next few slides.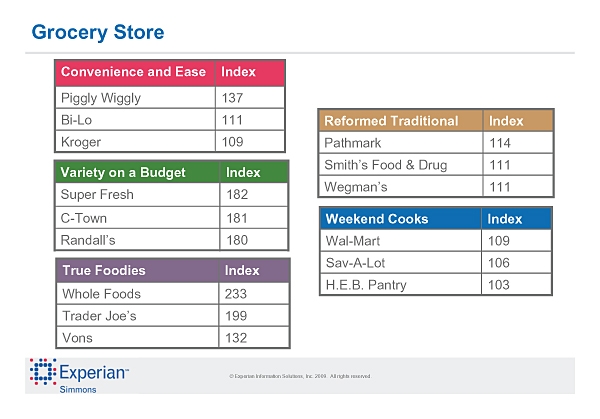 Fresh or Frozen Whole Turkey
Thanksgiving would be incomplete without a turkey. And interestingly, all five of the Food Lifestyle segments live in households where fresh reigns supreme over frozen turkeys.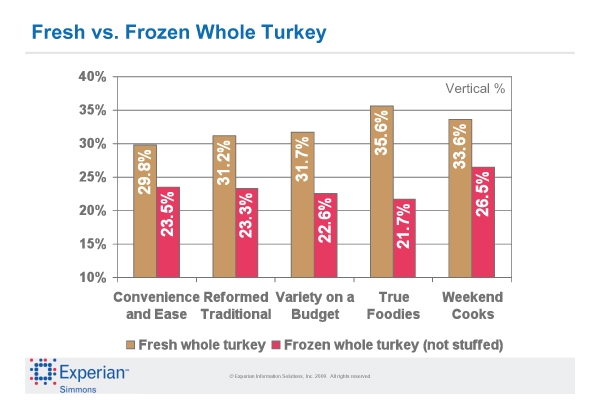 Shopping Lists, Coupons and Recipes
Consumers in the Variety on a Budget segment are 18% less likely than average to have finalized their shopping list before going to the store and are 13% more likely to be swayed by coupons to try new food products. Therefore, this segment is a great target market for companies releasing a new product or in need of decreasing its inventory.
True Foodies, on the other hand, are 49% more likely than the average American adult to refer to recipes when cooking. The next slide lists this segment's top five magazines.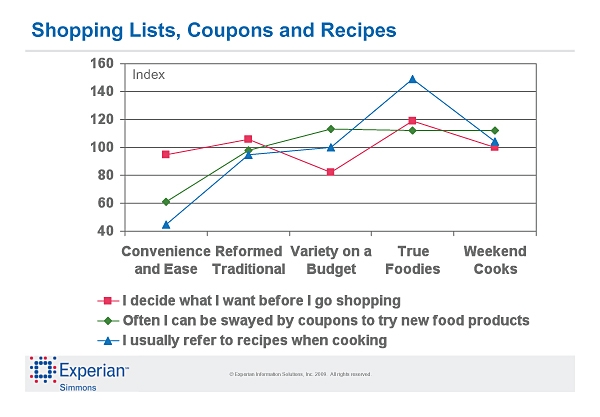 True Foodies' Magazines
The table below lists the top five magazines of consumers in the True Foodies segment. All five magazines are food-related and more than likely contains recipes True Foodies can try and refer to while cooking.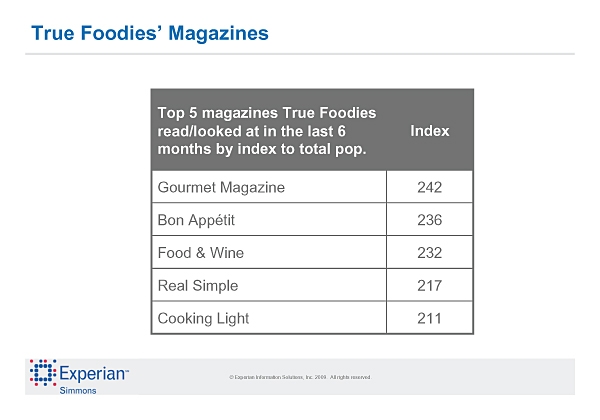 Weekend Cooks Eat Out
When asked if they go to family restaurants and steak houses, 87% of Weekend Cooks said yes making them the most likely to dine out. Below are the top five family restaurants/steak houses Weekend Cooks can be found dining at in high concentrations.