Now that the NFL regular season has come to a close, all focus is on figuring out which two teams will battle it out in Miami at Super Bowl® XLIV to be held on February 7th. With 37% of the U.S. adult population tuning in, the Super Bowl provides advertisers with a television audience rivaled by no other single broadcast program or event. That explains why companies continually pay the hosting broadcast network rates of $3 million and up for a single 30 second spot. Those kinds of investments draw Americans to tune into the Super Bowl not just for the game, but to see the much talked about ads in which companies often unveil new products and ad campaigns.
The following slides leverage data from Experian Simmons' National Consumer Study and New Media Study to provide insights into the behaviors and attitudes of Super Bowl viewers.
It's no surprise that football fans watch the Super Bowl, but even Americans who don't watch professional football watch the final game. Nearly 85% of frequent NFL regular season viewers tune into the Super Bowl as do almost 62% of occasional viewers. Furthermore, 13% of non-NFL viewers ultimately say they watch the Super Bowl…if only for the ads. Five out of every six Super Bowl viewers (84%) will watch the game in their own home.
Everyone knows the game experience is really all about the set. And a majority of at-home Super Bowl viewers will be getting the full effect this year. Fully 58% of viewers report having at least one LCD, plasma or big screen projection TV on which they could watch the Super Bowl compared with only 48% of non-viewers. Non-viewers are more likely to be traditional tube-only households with 45% saying that a traditional set is the only type of TV they own; only 38% of game viewers say they have nothing but a traditional tube set.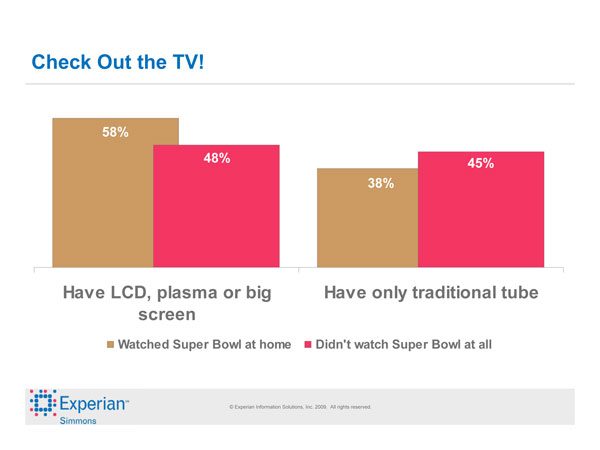 Super Bowl viewers of legal drinking age are 50% more likely than non-viewers to drink beer. Certainly beer companies have recognized the natural link between football and brew, but other beverages pair as well, if not better, with football: Super Bowl viewers age 21 and older are 147% more likely than non-viewers to drink Irish Whiskey. On the non-alcoholic beverage side, all adult viewers are 35% more likely to drink thirst quenchers like Gatorade.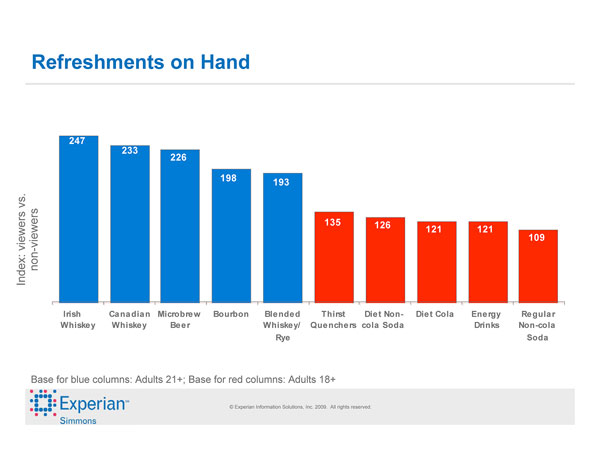 Football stadiums and broadcast games are full of product placement and sponsors and Super Bowl viewers are likely to pick up on those brands. Using Experian Simmons TV Product Placement segmentation tool, we see that Super Bowl viewers are more likely than non-viewers to be "Noticers" who pay attention to branded goods placed within TV shows and less likely to be either "Indifferents" who are neutral, or "Rejecters" who actually have a negative reaction when seeing product placement.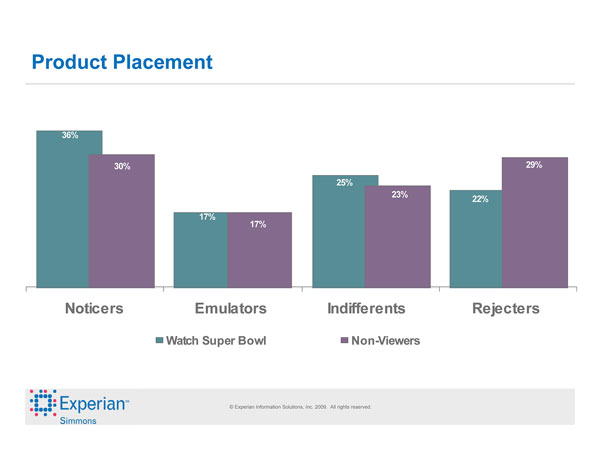 Super Bowl viewers are well connected. The Experian Simmons Spring 2009 New Media Study finds that while Super Bowl viewers are no more or less likely to own a wireless phone, they are 25% more likely than non-viewers to personally use two or more devices. What's more, they are active phone users and a prime audience for features like streaming mobile video…of sports, of course.