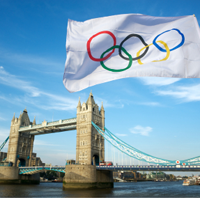 The Summer Olympics are coming to a screen near you. With a slew of viewing options including broadcast and cable television (NBC, NBC Sports Network, MSNBC, CNBC, and Bravo) and online video streaming (NBCOlympics.com) including live and full-event replays, consumers will have more than ample opportunity to whet their Olympics appetite.
From archery and athletics (that's Olympics-talk for track & field) to weighlifting and wrestling, there are 32 medal sports on the Olympic program for the 2012 London Games. It's a pretty sure bet that the most popular events from a television ratings point of view will include gymnastics, swimming, and track & field. Since Americans would most prefer to watch events where their fellow Americans have the greatest chance of winning (out of 921 all-time Summer Olympics gold medals won by U.S. athletes, 60% have come from these combined disciplines), it's no coincidence that NBC will devote the lion's share of primetime network programming to these premiere attractions.
The Olympics craze that is soon to be unleashed has advertisers in the starting blocks and at the ready to launch their own Olympic-size marketing campaigns. The composite television and online audience for the Olympics will span a wide range of demographic characteristics.  It's one of few sporting events that captures the interest and attention of as many women as men. In other words, lots and lots of people will watch. That means these Games will reach a massive audience and represent an advertising bonanza the likes of which marketers have rarely seen before.
How Should Marketers Capitalize?
Despite its obvious drawing power, a target marketing approach still plays a prominent role in determining the likely success or failure of any Olympic-themed marketing campaign. So, what is an Olympics advertiser to do? What types of consumers are more or less likely to be tuning and checking in?
In keeping with the Olympic spirit, we undertook our own exercise of classifying U.S. households into gold, silver, and bronze categories based on their overall interest level in viewing and following the Games. The analysis is based on television viewing behaviors captured by Experian Simmons.  The segments are drawn from Experian's Mosaic USA lifestyle segmentation solution.  Topping the podium are such key targets as Platinum Prosperity, Fast Track Couples and Picture Perfect Families.  Here's a look at six medalist segments (ranked by overall interest in the Summer Olympics), all of which have an above average propensity to be frequent viewers of the Games compared to the overall population.
Platinum Prosperity

. They see themselves as citizens of the world with a strong global consciousness and keen interest in international affairs. How's that for embodying the Olympic movement? A bit older (mainly in their 50s and 60s) and wiser (they are 4.3 times more likely to have earned a graduate-level degree), these wealthy empty-nesters and retirees are a prime target for marketers of luxury goods, products, and services. Many are also fitness fanatics who belong to health clubs, enjoy aerobic sports and watch professional sports events. More than twice as likely to own a second home, they travel frequently both domestically and abroad.

Picture Perfect Families

. Due to their mainstream media tastes, you'll most likely find members of this segment taking in the Olympics parked in front of the family room HDTV. Predominantly in their mid-30s to 50s, married and college-educated, the buying decisions of these consumers are heavily influenced by teenagers who largely rule the nest.

Fast Track Couples

. Younger, career-focused, upscale couples who have recently started a family or are on the verge of having children, these time-starved households are frequently on the go. Convenience is critical to meeting their discriminating demands. That means they are highly likely to take the Olympics everywhere with them by following the Games online and via their mobile devices.

Kids and Cabernet

. Highly affluent, well educated, and chock full of moms with kids, these brand-conscious suburbanites are the next best thing to a marketer's "dream team." They like their products family-sized. Preferring SUVs outfitted with the latest technology, they make frequent trips to athletic fields and school activities. Parents in this segment also spend a significant portion of their leisure time engaged in athletic pursuits including tennis, golf, skiing, and biking.

Wired for Success

. An eclectic collection of younger and digitally savvy adults, these consumers will lead the charge to a customized Olympics viewing experience by taking full advantage of online and video streaming options. Without children, these households have plenty of discretionary income to spend on the latest fashions and electronic gadgets. Many plan their shopping trips online before making a purchase decision. They are prime targets for Olympics advertisers planning to utilize social media marketing initiatives.

Status Seeking Singles

. Highly influential among their peers, these urban, upwardly-mobile singles latch onto the latest fads and fashion trends. Mainly in their 30s and 40s, unattached and childless, they strive to be "in the know."  Their penchant for a highly social lifestyle and all things digital makes them among the heaviest users of smartphones, tablets, Facebook and Twitter.
Companies whose products and services appeal to users in these key segments – think travel, electronics, financial products, retail and more – can take full advantage of a captive Olympics audience via many touchpoints. Let the Games, and the marketing mania, begin.