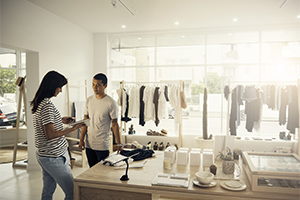 To set your brand apart from the competition (and thrive!), you need to get to know and communicate with your customers on a more personal level—this means knowing more than just their email or mailing address. It means building a relationship with them to turn them into loyal customers who keep coming back. To make this happen, retail marketers must engage with customers across all verticals and invest in true data-driven advertising.

Consider the following:
What do my customers do? If you know more about your customers' lifestyles, interests and spending habits, you will have a better understanding of how they choose to spend their money and free time.
Once you understand your core customer base, you can move on to how and when you should reach them. This starts with segmenting your customers and then reaching them across their preferred channels.
You should then learn what motivates your customers in order to understand their buying behavior. Do they buy items spontaneously or do they spend a lot of time researching? Do they only buy things with a coupon or is free shipping more important?
Lastly, determine what marketing is showing ROI so you can optimize your marketing campaign. To ensure your efforts are showing results and your marketing budget is getting the most bang for the buck, attribution is critical.
Retailers should strive to get more value out of existing data, supplement it with third-party sources, and find better ways to manage it and extract valuable insights. Experian's Customer Data Engine is the perfect solution to assist retailers with this challenge. This customer data platform helps provide you with a complete picture of online and offline customer engagement and delivers the data, tools, and insights needed to make decisions on reaching customers and lookalike prospects. Customer Data Engine is a centralized platform where first- and third-party data is managed and updated on an ongoing basis in a secure environment, providing retail marketers with analytical tools, lookalike prospects, campaign management, audience distribution and closed-loop measurement.
Once retail marketers have a deeper understanding of what they need to know about their customers, they can create customized audiences using this data. Retailers value first-party data and often look at it first. Usually, this refers to online data about customer activity on a website or app, and can come from form and email submissions, views of merchandise or devices and things people searched for online. Although first-party data is gold, there is almost always additional information needed to fill in gaps.
For instance, the need for recency, frequency and monetary (RFM) data is crucial. RFM data is a way for retailers to analyze their customers by using recency (how recent the customer made a purchase), frequency (how often a customer makes a purchase) and monetary data (how much money a customer spends on purchases). It gives the retailer the details of when the last time the customer made a purchase, how often does the customer make a purchase and how much did the customer spend. With this information, they will know who their most valuable customers are and be able to create customized audiences.
To get a deeper understanding of your customers, solutions such as Experian's ConsumerViewSM database can be leveraged to provide you with demographics, life event triggers, purchase data, lifestyle segmentation data and more. With thousands of data attributes available, it can take any business to the next level.
According to global research firm, Coresight Research, retailers in the United States have announced 5,994 store closures in just the first 15 weeks of 2019. Changing consumer demands, and a volatile economy have made it difficult for retailers to keep pace. However, retail is not going to go away, and brands just need to be smarter about how they conduct business. Making sure you know and understand your customers is one of the ways to ensure repeat visits and set yourself apart from the competition. By enriching your data with 3rd party data from Experian, Customer Data Engine allows you to know and target your customer the same way that Direct to Consumer brands and retailers can and provides you with a full 360-degree view on what your customers are doing and how they are interacting with your brand.
To learn more about Experian's Customer Data Engine, contact us at (877) 902-4849 or experianmarketingsolutions@experian.com to learn more.