As we head into the busiest Holiday shopping weekend the total US visits to the top 500 retail sites increased 10% this past week compared to the same time in 2011. The top 500 retail sites received more than 666.8 million visits for the week ending Nov. 17, 2012. Retail sites have been steadily growing posting 4 straight weeks of growth heading into this holiday weekend. Retail visits increased 15% comparing this past week to the previous week and looking at data for Sunday and Monday of this week the total visits for those two days are up 9% compared to 2011.
As we noted from our CEI data that consumer optimism is at an all-time this holiday weekend and retailers could see traffic significant gains for 2012 versus 2011. Last year Cyber Monday claimed the prize as the busiest shopping day of the year, growing from 138 million online visits to 177 million total US visits to the top 500 Retail sites, a 29% growth comparing 2011 to 2010.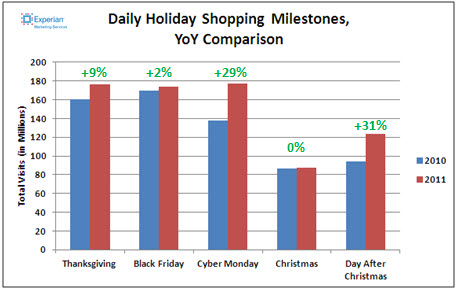 Perhaps seeing that optimism in action are the top retailers with the top 5 most visited retail sites all seeing traffic increases heading this key shopping weekend. Amazon.com was the top visited retail site in the US for this past week. Walmart, Target, Best Buy and Kohls round out the top five. Typically Amazon and Walmart have switched places as the top visited sites on Thanksgiving Day and then reverting back on Black Friday.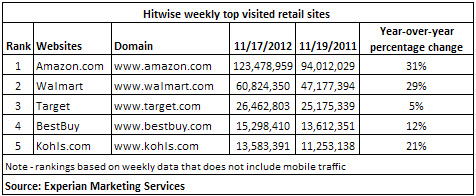 It will be interesting to see this year if the volumes of email increases on Thanksgiving Day as more and more retailers are opening their doors to consumers that night. Last year, Cyber Monday, Black Friday and Thanksgiving were the top 3 Email Transaction days during the holiday season.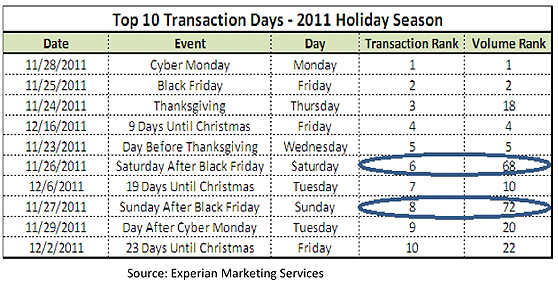 Learn more about what the hot products are this holiday season, how and when consumers search and buy online during the holiday season, make sure to check back here for the latest insights for this holiday season.
Learn more about the author, Matt Tatham