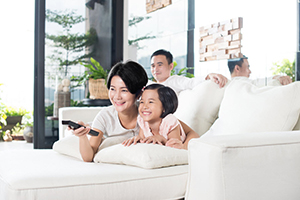 Connecting to consumers is a vital aspect of the world we live in today. Marketers are always looking to create more meaningful interactions with their target audiences so they can form life-long relationships and build greater value. As a marketer, you rely on these connections so that your campaigns resonate with your audience on a personal level.
TV used to be a reliable bridge between the consumer and the marketer. Brands could rely on the shared experience of prime-time TV to get their message out with little-to-no interruptions. However, with the introduction of on-demand television and streaming services, those ensured connections no longer exist. Ad time and the viewer's attention span are now endangered resources and require specific attention and detail based on each individual consumer's wants and needs. Advertisers can no longer rely on the general TV ad model, which reaches individuals that may not be relevant for the product or service. Marketers cannot afford to waste budget on viewers that were never the intended audience in the first place.
This new age of television requires a tool that will engage viewers on a more personal level, one that is built for the digital age and anticipates the world of tomorrow. Connected TV does just that, delivering high-quality, audience-targeted video advertising for any entertainment device that can stream video.
Connected TV was designed to help marketers make the most of today's data and technology. It can help you reach your customers, wherever they are, by pinpointing pertinent viewers on popular streaming destinations, such as Apple TV, Amazon Fire Stick, Roku and more. Advertising options are also available on streaming-compatible devices, including DirecTV NOW, PlayStation Vue and more. eMarketer claims that more than half of the population will watch Connected TV by the end of 2019. This new development has set higher standards in data management, usability and measurement.
Experian Marketing Services is here to help you execute your next Connected TV campaign—from soup to nuts. The program begins by using first and third-party data to effectively reach the correct audience, while also identifying the top movies and TV shows to ensure that the message is not missed or ignored. To maximize efficiency, Connected TV will then re-target and re-engage multiple viewers within the same household, no matter which device they're streaming. Finally, the campaign is measured with precision, using next-generation, top-of-the-line tools and metrics that show your success or where improvement or optimization may be needed.
We are here for you from start to finish—from setting campaign objectives and identifying your target audience, to activation and post-campaign measurement and analysis. We will work with you to optimize and measure the impact of your campaign to make sure you are maximizing your dollars spent. To learn more visit https://www.experian.com/marketing-services/connectedtv.html.