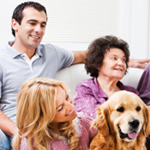 Analysis of data from the 2010 census shows a significant increase in the proportion of households containing members from two or more adult generations.  These multigenerational families are most commonly formed when a young adult returns home to live with his/her parents (and possibly other younger siblings) or an empty-nest couple or a married couple with children living at home starts caring for an elderly parent.  Baby boomer householders are particularly prone to multigenerational family living situations as they find themselves dealing with the demands of housing both an adult age child and a senior age parent at the same time.
Who is the primary decision maker in a multigenerational household?
This dynamic can pose a challenge for marketers when developing targeted marketing campaigns.  For example, who is the primary decision maker in a multigenerational household?  Who else within the household has an influence on product purchase decisions?  What are the most effective marketing channels for reaching members of multigenerational households?  How is product consumption different in a multigenerational household compared to more traditional household types?  What new products could be developed that have broad appeal to household members from widely different age ranges?
As an example, some home builders have capitalized on the trend for multigenerational family living by offering models that feature second master bedrooms, kitchenettes, and separate entrances.  Regional factors might also play a role when developing a strategy to meet the needs of multigenerational households.  Specifically, the incidence of multigenerational families within a retail trade area could be an additional factor to consider when making merchandising decisions for a particular store.
Consumer segmentation systems like Experian's Mosaic USA, help marketers to identify areas of the country most likely to have multigenerational families.  A recent Mosaic analysis focused on specific consumer segments that best represent the most common scenarios leading to the formation of a multigenerational household.  The segments include (1) "Boomers and Boomerangs" (households with a high propensity to contain boomerang adult children), (2) "Generational Soup" (households with a high propensity to contain an elderly parent), and (3) "No Place Like Home" (households with a high propensity to contain either a boomerang child, elderly parent, or both).  The results were summarized within each segment for counties with a population of 75,000 or more.  Here is a detailed breakdown:
Top Counties for "Boomers and Boomerangs" (based on percentage of adult population)
Description
 The members of the postwar baby boom have all grown up – and so have their children who have returned to the nest.  Boomers and Boomerangs consist of these two generations sharing single-family homes.
Region
County
Nearest Major City
East
1 – Stafford, Virginia
Fredericksburg, VA
2 – Carroll, Maryland
Baltimore, MD
3 – Fayette, Georgia
Atlanta, GA
Central
1 – Anoka, Minnesota
Minneapolis, MN
2 – Saint Charles, Missouri
St. Louis, MO
3 – Scott, Minnesota
Minneapolis, MN
Mountain
1 – Davis, Utah
Ogden, UT
2 – Utah, Utah
Provo, UT
3 – Salt Lake, Utah
Salt Lake City, UT
Pacific
1 – Solano, California
San Francisco, CA
2 – Snohomish, Washington
Seattle, WA
3 – Benton, Washington
Kennewick, WA
Top Counties for "Generational Soup" (based on percentage of adult population)
Description
 A haven for multigenerational families, Generational Soup is home to a mix of affluent older couples – nearly three-quarters are from the Baby Boom Generation – and families with young adults and aging seniors.  Most live in suburban homes an easy drive from the nation's big cities, and many households have multiple breadwinners.
Region
County
Nearest Major City
East
1 – Howard, Maryland
Baltimore, MD
2 – Loudoun, Virginia
Washington, D.C.
3 – Hunterdon, New Jersey
Edison, NJ
Central
1 – Fort Bend, Texas
Houston, TX
2 – Collin, Texas
McKinney, TX
3 – Williamson, Tennessee
Nashville, TN
Mountain
1 – Douglas, Colorado
Denver, CO
2 – Arapahoe, Colorado
Denver, CO
3 – Jefferson, Colorado
Denver, CO
Pacific
1 – Ventura, California
Oxnard, CA
2 – El Dorado, California
Placerville, CA
3 – Contra Costa, California
Danville, CA
Top Counties for "No Place Like Home" (based on percentage of adult population)
Description
 This segment has a high concentration of multigenerational households headed by boomer-age parents.  Nearly a third of households contain a young adult in their 20s and 30s – more than triple the national average – and one in six is home to an aged parent.
Region
County
Nearest Major City
East
1 – Monroe, Pennsylvania
Wilkes-Barre, PA
2 – Barnstable, Massachusetts
Boston, MA
3 – Hampshire, Massachusetts
Northampton, MA
Central
1 – Randall, Texas
Amarillo, TX
2 – La Crosse, Wisconsin
La Crosse, WI
3 – Sheboygan, Wisconsin
Sheboygan, WI
Mountain
1 – Coconino, Arizona
Flagstaff, AZ
2 – Washington, Utah
St. George, UT
3 – Larimer, Colorado
Fort Collins, CO
Pacific
1 – Lane, Oregon
Eugene, OR
2 – Jackson, Oregon
Medford, OR
3 – Marion, Oregon
Salem, OR
Top Counties for Multigenerational Segments Combined (based on percentage of adult population)
Region
County
Nearest Major City
East
1 – Stafford, Virginia
Fredericksburg, VA
2 – Hunterdon, New Jersey
Edison, NJ
3 – Fayette, Georgia
Atlanta, GA
Central
1 – McHenry, Illinois
Rockford, IL
2 – Washington, Minnesota
Minneapolis, MN
3 – Anoka, Minnesota
Minneapolis, MN
Mountain
1 – Douglas, Colorado
Denver, CO
2 – Davis, Utah
Ogden, UT
3 – Utah, Utah
Provo, UT
Pacific
1 – El Dorado, California
Placerville, CA
2 – Solano, California
San Francisco, CA
3 – Placer, California
Sacramento, CA