Insights from the Millennial Financial Outlook report
Young adults have always represented an excellent opportunity for marketers seeking to build new and enduring relationships, and now with the leading edge of Millennials entering their mid-30s and their bank accounts and portfolios maturing as well, financial firms are especially eyeing this generation for future growth.
For marketers, getting a handle on how to effectively target and engage this generation relies on understanding where they are at in their lives because — at 30 percent of the adult population and an age range spanning 16 years (and growing) — Millennials don't easily fall into one bucket of attitudes, worldviews or financial maturity. More than any other generation, Millennials are likely to be experiencing a number of life changing events, be it buying homes, changing jobs, starting school, finishing school, going back to school, getting a new car, getting married or becoming parents. All of these events move them up the financial ladder and provide financial services companies with copious opportunities to either begin or extend their relationships with these consumers right as they are about to move on to bigger and better things.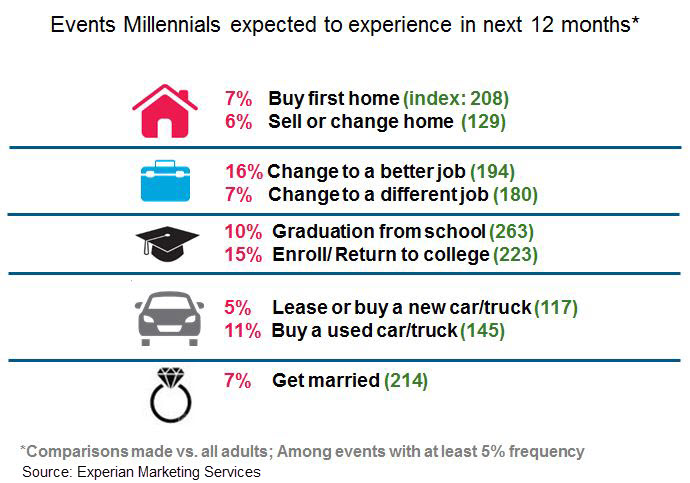 One defining life event that sets some Millennials apart from their peers is college graduation. Often correlating with an older, more career-oriented consumer with a higher earning potential, this segment of Millennials generally has more mature priorities than their non-graduated counterparts. From a life stage standpoint, they are more likely to be weighing the financial considerations that come with having a first (or second) child or renovating a current home. Life insurance, home equity lines of credit and college savings accounts are financial products these consumers care about, but they haven't traditionally been associated with the stereotypical Millennial.
In order to support these changes, college-graduated Millennials tend to take the long view on work. Eighty-four percent of individuals in this segment are employed (the overwhelming majority full-time) and they're not just in it for the money. As a whole, Millennials are extremely aspirational about work and career, but those with a college degree are actually seeing these aspirations bear fruit. Fifty-seven percent view their work as a career rather than a job and 50 percent place job security over large financial reward. In dollars and cents, college-graduated Millennials' individual incomes are also double that of non-graduates.
Having begun to settle in to their work lives and more comfortable salaries, these consumers aren't messing around with financial security. Compared to Millennials without a degree, college grads are more confident about their financial knowledge; they are less comfortable about being in debt; and they are more comfortable trusting their money to a bank. Financial institutions that have been growing their relationships with Millennials since their first credit card application on a college campus should be seeing returns on their efforts with this particular group. With 59 percent having a savings account and an above-average rate of 401(k) ownership, these educated Millennials are poised for greater financial gains in the years to come. And in the meantime, while they are building up their wealth, they have enough income and assets to qualify for loans that will finance those big life transitions.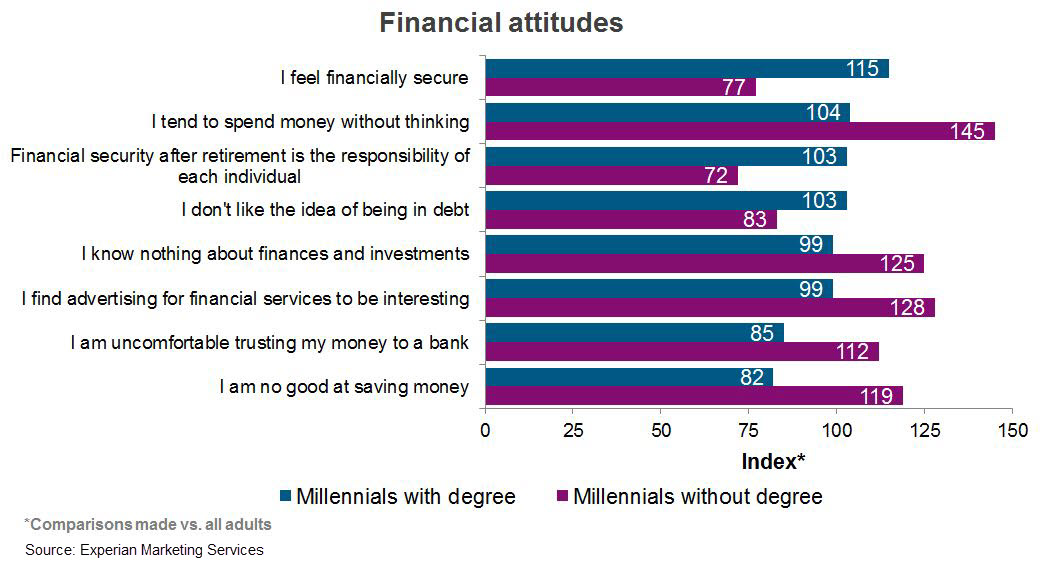 For financial institutions, the question is no longer whether to be targeting this generation, but how to do it. The answer: it all starts with mobile. Almost one-quarter of Millennials see their phone as an expression of who they are; it's a social outlet, information source and life productivity tool all in one. This very naturally extends to personal finance; forty percent of all consumers who use financial mobile apps or visit financial websites on their phones are Millennials. The apps and sites they are most likely to use compared to older generations include the big banks and credit card companies we all know. But they also over index on a truly digitally-native financial service: PayPal. Cold, hard cash isn't outdated just yet, but Millennials are ready to take their financial lives mobile. Given where many of them are in their financial lives, it's clear that companies can justify the investment in products, services and marketing that align with educated Millennials' needs across channels. But take note: the odds will ever be in favor of the mobile app over the bank teller.