One thing is perfectly clear from what we saw last week at CES; the Internet of Things (IoT) is the driving future of consumer electronics and many other product categories we don't typically associate with digital devices. Put the word "smart" in front of just about any everyday product and you'll get a sense of what CES was like this year as marketers combined sensors, connectivity and smartphone based apps into everything to deliver a more valuable customer experience. The event featured connected devices in every category from wearables that measure every aspect of our health and fitness, entertainment systems in our homes and cars and every day appliances from the coffeemaker to our heating and air conditioning systems.
Today, nearly one-third of all Americans use at least one type of smart or connected device not including their phone, tablet or computer. Not surprising, the hot categories of products from CES represent some of the most popular connected devices with users. For example, 14 percent of homes are smart homes, meaning they have connected lights, locks, thermostats, home security systems, etc.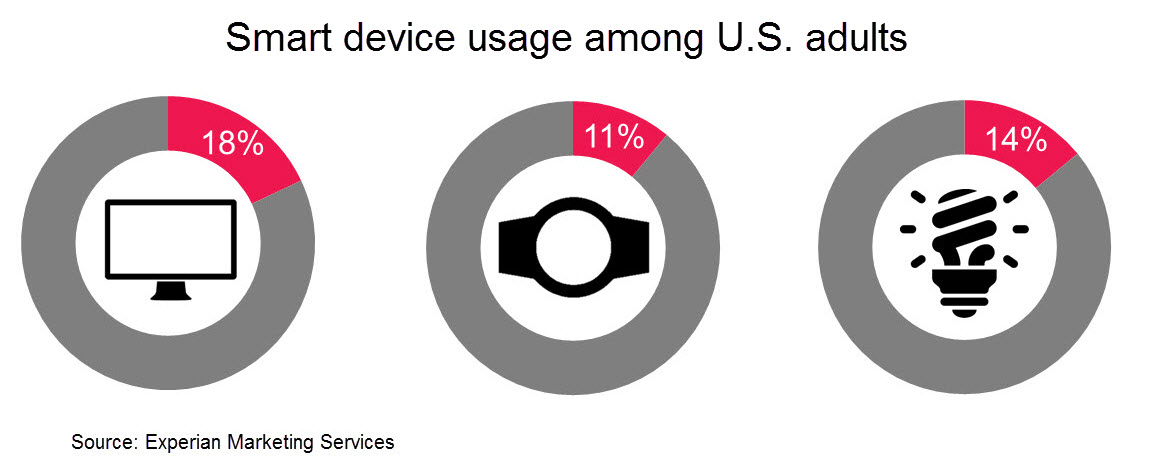 While there were not any breakout innovations at CES this year, a lot of companies are jumping into the IoT with new products or enhancing their current offerings.  Getting out in front of the Apple Watch, there were many smart watches introduced from the likes of Alcatel, Garmin, Sony, Lenovo and Fitbit. This year seemed to be the year of the smart home with smart home hubs from Blackberry and Honeywell to systems from iHome and iDevices that make ordinary things smart and are built to work with Apple's HomeKit. There were also plenty of standalone devices from robotic washers to a self-watering houseplant system to more – and bigger – smart TVs. With smart devices the clear focus of CES, you may wonder: Who are the people behind the Internet of Things? Who will be buying all of this stuff?
For the answer to that question, look no further than the official CES Entertainment Matters Ambassador, Nick Cannon, the actor, comedian, rapper, music producer and future host of a reprised Lifestyles of the Rich and Famous. Based on our recent report, The Internet of Things: Opportunities through smart devices, we found that users of connected devices are generally younger, more educated and more affluent than the average consumer. Marketers of connected devices are focused squarely on this premium audience of wealthy consumers. If our research is any indication, the new Lifestyles will probably feature Nick regaling us with tales of smart yachts, virtual reality workouts and self-monitoring champagne bottles.
While the ultra-wealthy may make for entertaining television, the fact is, adult users of connected devices represent an amazing opportunity for marketers. They are more than 10 years younger than non-users and have household incomes that are nearly double that of non-users. Consumers who buy connected devices are wealthy and see these devices as truly enhancing their ever increasing connected lifestyles. When it comes to more general attitudes smart device users like to stand out in a crowd, are health conscious, they are driven to succeed; and they have a taste for fine things.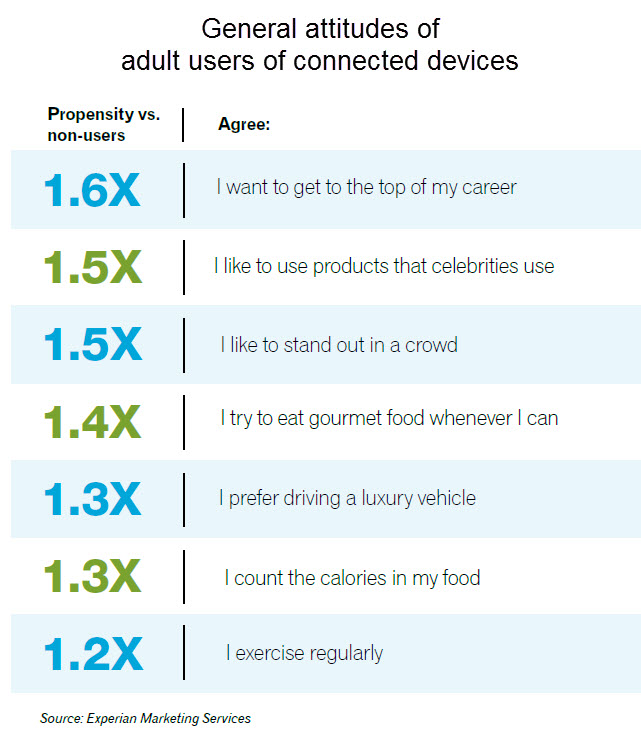 Digging a little deeper, we found that users of connected devices are more likely to be male, racially and ethnically diverse and have kids at home. You may be thinking, "Geek Dad," and you'd be right! Users of wearable devices, including fitness  trackers, smart watches and visual enhancement devices are the wealthiest, the most educated and the most likely to have kids.
Looking beyond just income and education however, we can see why wearables is such a hot category for these consumers. Connected device users in a key Mosaic® segment, Kids & Cabernet, work out at least three times per week but also say, "I don't care for myself as well as I should." As a result, they are 4.2 times more likely than average to use a wearable connected device making them the by far the top-indexing segment of the population for this category of smart devices.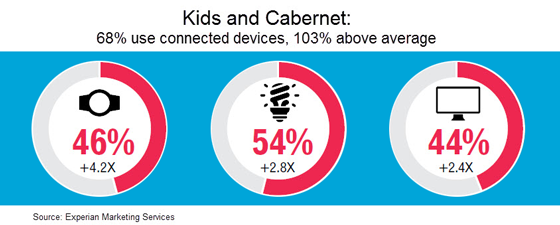 A need like that is a boon to marketers who inspire consumers to change their lives for the better and what we saw at CES shows that marketers using the IoT are up to the challenge.
For more information about the Internet of Things trend as well as insights into those consumers on the leading edge of device adoption, download our recent report.