I recently had the pleasure of presenting with digital marketing agency PM Digital, about luxury consumer trends and digital strategies. During our research, we found the luxury market online saw a 20 percent increase in monthly visits last year with a majority of traffic now coming from mobile devices. Luxury brands have become experts at translating the key elements of their offerings into the online realm and beyond. High price points and prestige aside, luxury apparel's continued online success can be instructive to marketers from all walks of life.
Who is today's luxury consumer?
According to our research, we estimate that there were 1.4 million consumers last month who visited one of the 74 leading luxury websites during the month of October. Using our AudienceViewTM platform, we can get a closer look at those consumers who make up this audience. It's no surprise that nearly two-thirds of luxury online shoppers are women. Interestingly, nearly half of luxury shoppers are older Millennials or younger Gen X. Adults in that age range are among the most likely to be shopping luxury sites. Income-wise, we see, as expected, the group most likely to shop luxury sites are those with annual household incomes of $100,000 or more, but we also see a small bump among those with incomes in the $40,000 range, which is likely younger adults who may be buying just a few key pieces and at times spending more than they can afford on luxury apparel.
Upon further examination, we can also reveal their mindset. Luxury online shoppers are connected and influential. This type insight can provide marketers with guidance to help determine content and product mix as well as a roadmap for developing and enhancing their digital strategies.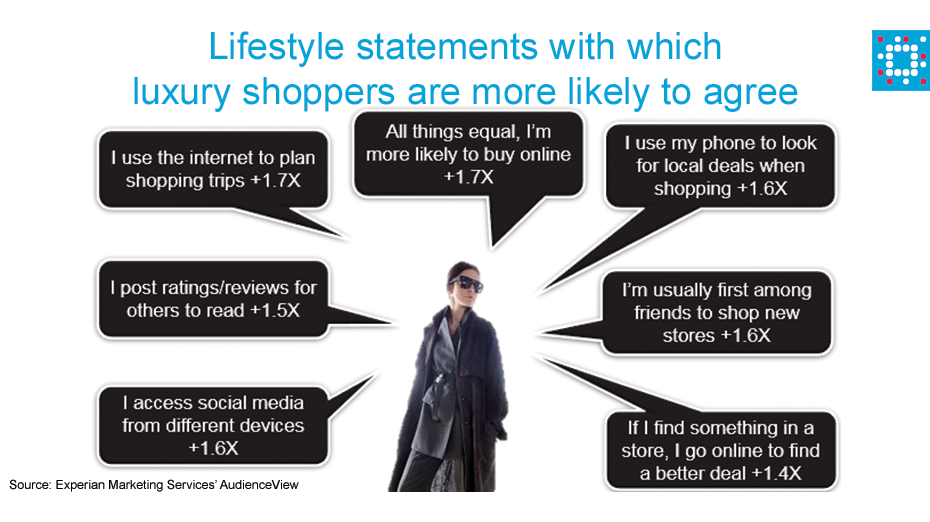 Mobile strategies to reach luxury consumers
Luxury consumers are more likely to use all media, but especially digital channels. They are 22 percent more likely to use a digital tablet during a typical week, 20 percent more likely to use an e-reader and 15 percent more likely to use a computer at work. Despite the fact that smartphone ownership and use is so high, they are still seven percent more likely to use a smartphone with 88 percent of this group using the device during a typical week compared with 82 percent of all online adults. Heading into the holiday season, many retailers are expected to reach their mobile tipping point, meaning that the majority of site traffic will be coming from mobile devices. Any marketer looking to fine tune or build up their mobile strategies in anticipation of that point would do well to look at what luxury brands have been doing as they have been mobile-dominant for a while now.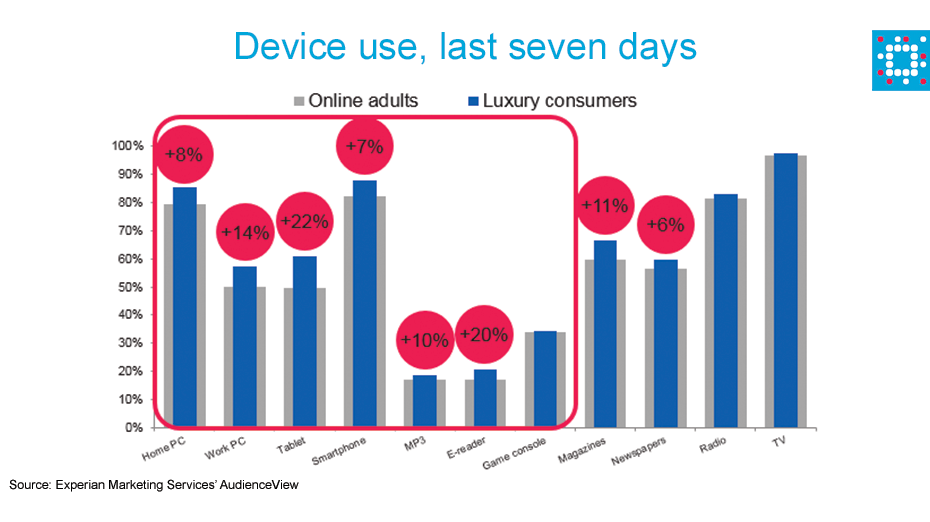 Overall, the luxury sites we analyzed have remained mobile-dominant year-over-year. Fifty-seven percent of visits to those luxury sites now come from smartphones or tablets. This is nearly 10 percent greater than what Apparel & Accessories sites overall experience, and considerably higher than the all industry average.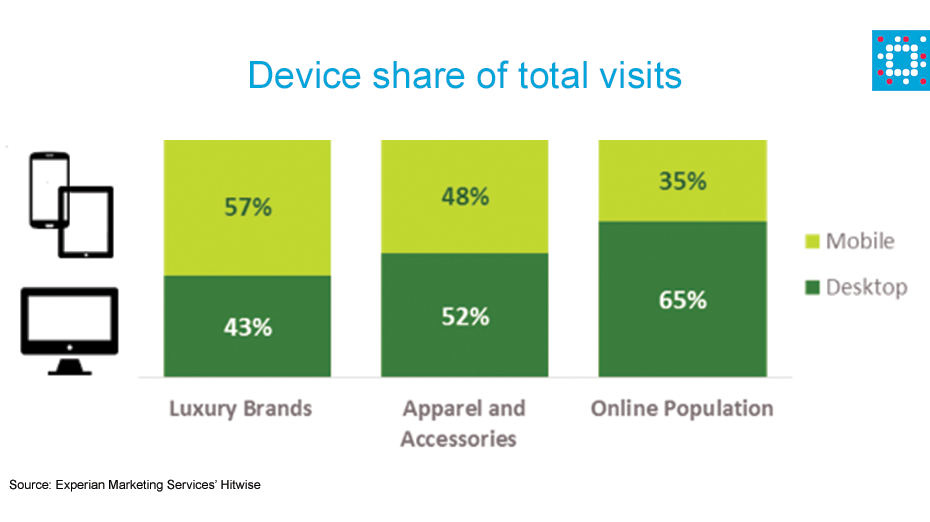 Examining the share brand-by-brand we can identify the mobile leaders, including: Louboutin, Gucci and Michael Kors who have among the highest share of mobile visits.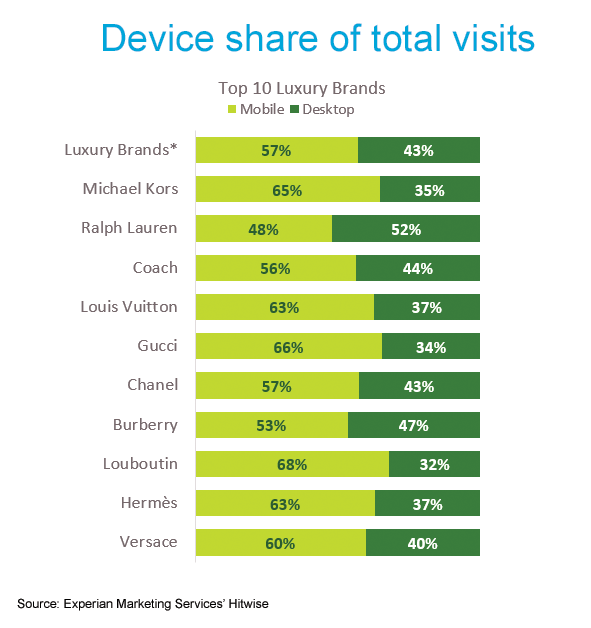 In reviewing the mobile experiences with these brands with high mobile share of visits, the Louboutin site has a more exploratory design and content while Michael Kors is more task-oriented, something that aligns with each brand's goals and consumers. Luxury brands and retail brands alike must move beyond mere optimization and build a personalized mobile experience around their consumer, just like they would in-store.
Learn more about luxury brands online and luxury consumer trends in our recent webcast with PM Digital.