Americans are expected to spend $4.6 billion on graduations this year1 and with graduations of all types occurring now or just around the corner, we wanted to take a look at search traffic around this important milestone. Specifically, we looked at what consumers are searching for and then dug deeper to understand which websites were getting the most traffic for this big event.
Consumer searches around graduation tend to fall into two buckets: pre-graduation searches and graduation searches. Typical pre-graduation searches begin in early April, include people planning for graduation parties and feature keywords around party invites, dresses and overall ideas to celebrate the big milestone. As consumers get closer to graduation day, they search on the final touches such as which music to play, the type of cake to serve and, most importantly, gifts.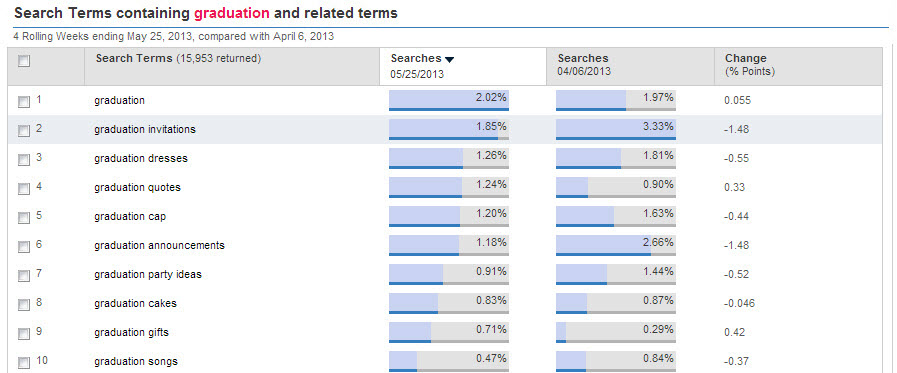 As graduation dates approach, consumers start searching for gifts, with most searches centered on the type of graduation: pre-school, kindergarten, elementary, high school or college, with college and high school graduation making up the largest percentage of graduation searches.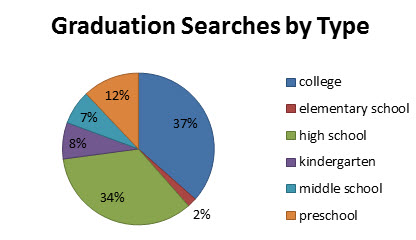 Interestingly, kindergarten and preschool graduation accounted for 20% of all graduation searches. Naturally, we wanted to know what types of search terms drive traffic when it comes to celebrating this first big milestone in a child's life. Unlike the overall graduation category, search terms that are specific to younger graduates were mostly focused around parties and simply celebrating the occasion. There were no search terms in the top 10 related to gifts.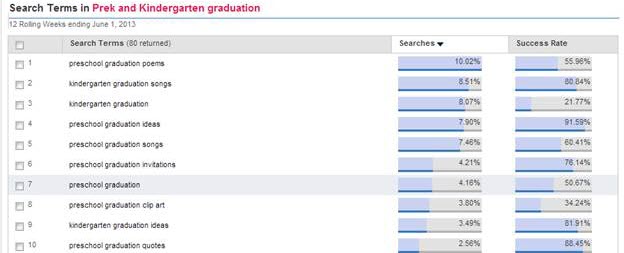 Consumers want the graduates in their life to feel special and personalization is a common thread connecting many of the websites receiving search traffic from variations of "graduation gifts." We also saw websites like Real Simple and Pinterest where consumers were likely looking for ideas for graduation gifts or gifts they could make themselves.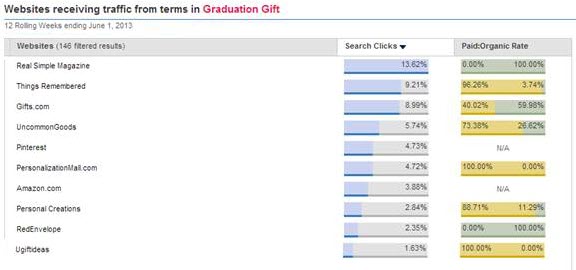 To get a better understanding of the target consumer looking for graduation gifts, we took a look at who was visiting these websites during the 12 weeks ending June 1, 2013. Visitors tended to skew female (52%) and more than of half of all visitors had a household income of less than $60,000 per year. A high concentrations of visitors to these sites can be found in West Virginia, Kentucky and Nevada; Maryland and the District of Columbia have the lowest concentration of graduation gift searchers.
Learn more about how you can identify consumer trends and opportunities to benefit from terms that drive traffic in your industry.
1http://www.marketingforecast.com/archives/24089