The Internet of Things — everyday objects that connect to the internet and other smart devices — used to be reserved for 'geeks' and 'techies.' But as the holiday season approaches and more and more smart products are released into the market, interest in the Internet of Things is growing rapidly. In fact, since 2011, search activity for smart watches and fitness devices increased almost 80 fold, with a higher rate of peak during the 2013 holiday season.
But smart products aren't just limited to wearables — interest is rapidly growing in home automation products, like Samsung SmartThings and Phillips Hue, as well. Since 2011, search activity in this category has grown by a factor of 31, with most of the peak in interest occurring just since July 2014. And given the rapid growth in the category, many consumers are searching with non-branded terms, like "smart home technology" and "home automation," which have similar search share to some of the leading branded product names.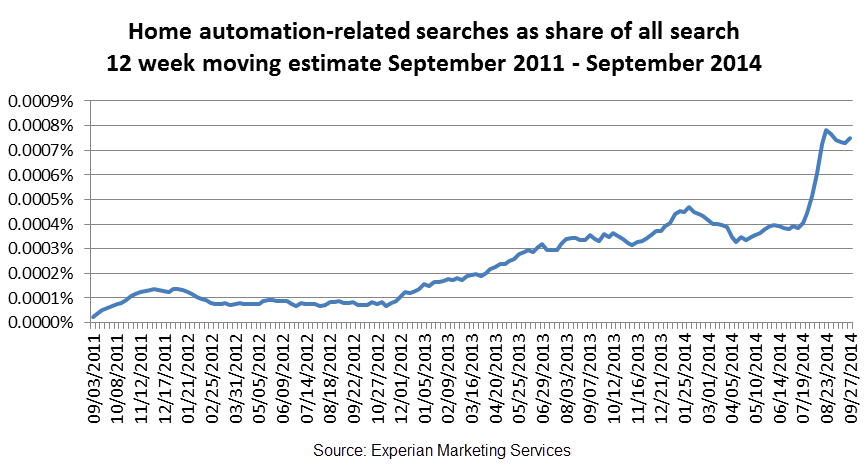 Who are the consumers behind this growing interest? According to the brand new research from Experian Marketing Services, almost half of Americans already use at least one type of connected device (excluding smartphones, tablets and computers). Of course, some individuals are more likely to be owners than others. We'll be digging into the demographics and attitudes of these individuals more deeply in our upcoming webinar, Engaging consumers with the Internet of Things (click the link to register!).
You may be thinking: what are marketers to make of this disruptive trend? Marketers in companies that don't produce consumer products may think they're safe, but they may be missing important opportunities if they bury their heads in the sand. The implications of the Internet of Things for marketers are drastic — as more consumers connect their everyday actions to their smart devices, marketers will have the opportunity to not only better understand the lifestyles and habits of their best customers, but offer even more personal and intimate brand experiences than ever before.
To learn more about the Internet of Things, the consumers who are most likely to engage and how marketers can take advantage of these new technologies, register for our Thursday, November 20th webinar.