A strategy to integrate and unify customer data should incorporate the use of proven tools and processes from a variety of sources including:
Point-of-sale information
3rd party syndicated data
Web and online behavior
Social
Mobile
Search and display
Offline consumer databases
Traditional direct channels
The key to building multi-channel, multi-dimensional views of the customer is being fluent enough with the data structures of those channels to understand what the unique attributes are and how they can be related to a common perspective across silos. You need to be fluent in the linkable keys across channels.  For example:
Traditional – Name, Address, Zip, etc.
Digital – Cookies, IP Address, Email, etc.
Social – handle, FacebookID, etc.
Mobile – phone #, geo location, etc.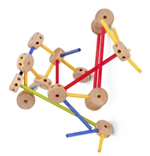 A unique approach to this is what Experian calls the "molecule theory".  This approach addresses how we seek to create the connections between disparate data points, even when the connection needs to be made across multiple intermediary steps to make the connection.  It's called the "molecule theory" because at times the data maps can resemble one of the old school Tinker Toys molecule models we used to create when we were younger.
The concept also speaks to the reality that to aid marketers, particularly B2C ones like retailers, approaches that yield really good guesses as opposed to truly direct 1:1 results can be a much more effective solution.
Many providers can speak to data integration like this, but very few are fluent.  Most speak to it with a stutter.  Service providers with experience in running complex data management processes will have the background that enables them to reach out and conquer integrations needed in the online and social channels.
Speed and flexibility are, of course, always critical to success. Experienced service providers will get you started fast and support your operational needs for database updates, campaign extracts and report analysis. They will adjust your data model as needed, based on your requests or our consultative recommendations.
Questions / Comments contact me
Email:  marcus.tewksbury@experian.com
Twitter: http://twitter.com/tewksbum
Linkedin:  http://www.linkedin.com/in/tewksbum