It's time for our annual list of hot holiday products! What are people searching for so far this year according to our Hitwise online intelligence tool? Out of the gate "Fitbit" dethrones "Uggs," which has been the reigning champ since 2005, when Experian began publishing the list.
But don't get cold feet, while "Fitbit," one of the hottest products for several years, was a natural successor to "Uggs," its reign may be short lived. The iconic Ugg footwear still comes in solidly at number three. One likely reason for its fall is weather. Specifically, unseasonably high temperatures across most of the country have likely discouraged consumers from fully embracing or accepting the looming arrival of winter. As temperatures eventually cool off, it's possible that Uggs will regain its place at the top of the list. However, fellow footwear brands "Converse" and "Toms," numbers four and nine, respectively, may present additional challenges to Uggs' dominance.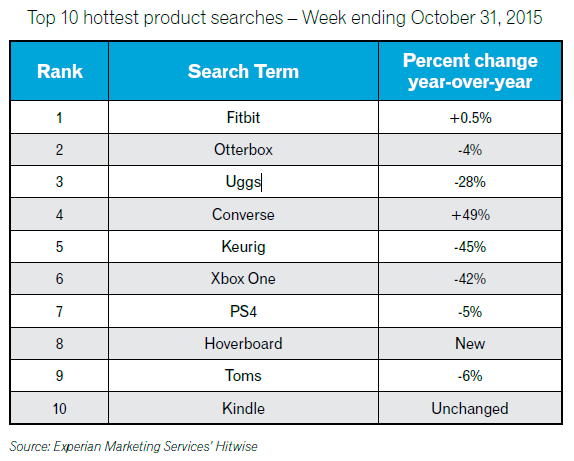 When it comes to electronics, despite this being the third holiday season for the "Xbox One" and the "PS4" — both consoles were released during the 2013 holiday — the two gaming consoles managed to start the season strong coming in at numbers six and seven, respectively, on the hot products list.
Notably absent from the hot products list this first week of the season are all variations of the iPad and Microsoft Surface tablets. While the tablet category started to cool off last year, it seems the new tablets released by Apple and Microsoft in recent weeks have not resulted in broader excitement.
Know your audience: the right hot holiday products for the right people
While many of the hot products appeal to consumers of all stripes — that's kind of how they got to be so popular in the first place — others cater to more niche audiences. Using the new AudienceViewTM platform, Experian Marketing Services is now able to reveal those products that have either distinct or elevated levels of interest among key consumer groups (e.g.: Millennials, Gadget Gurus, moms, etc.). This insight can be especially handy for publishers seeking to produce increasingly popular gift guides for consumers who need some help in finding the perfect gift.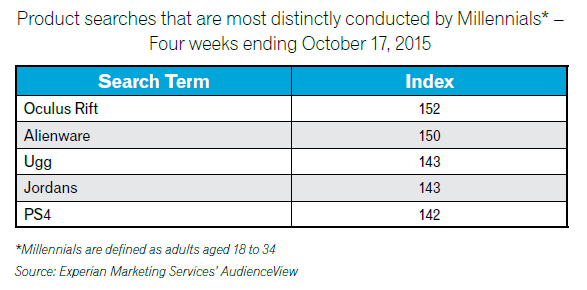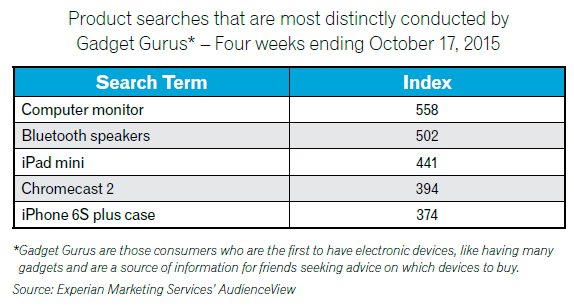 For more on what key consumer groups are searching for, plus valuable holiday data and trends, subscribe to our Holiday Hot Sheet series and join our webinar The gift of holiday data and trends Wednesday, November 18 at 2pm ET.