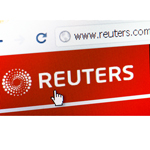 Last year the promise and assumption that the economy was beginning to recover turned out to be anything but as retailers were left with shelves full of merchandise that had to be sold at a discount once the holiday rush was over.
This year, retailers will be more cautious as expected growth is estimated at 3 percent, according to experts speaking at the Reuters Retail Summit in New York City. The majority of this growth will likely occur early in the season as greater numbers of consumers search for deals earlier than years past.
"Internet searches for 'Black Friday' started in the first week of November in 2009 and in the week ended October 23 in 2010," said Bill Tancer, general manager of global research at Experian Marketing Services.
Tancer predicts they'll start even earlier this year and that consumers expect a deal and are willing to search for it earlier. "There's just been some wild fluctuations, just within the first quarter, of how consumers are viewing the economy," said Tancer. "A lot of consumers don't know what to think."
Read the full articles about economic recovery and what retailers can expect at Reuters:
http://www.reuters.com/article/2011/06/25/us-retail-summit-idUSTRE75O0WZ20110625
http://www.reuters.com/article/2011/06/29/us-retail-summit-holiday-idUSTRE75S3K820110629