With just a week before Christmas, consumers have settled into a pattern in terms of what they're buying as evidenced by the reduced fluctuation in online product searches. In fact, 19 of the 20 hot products this week made the list the week prior. Common themes among today's hot products include:
Wearables: "Fitbit" has remained the number one product every week and also has several strong performing variations.
Pie Face game: This toy is a theme in and of itself as the game made popular by a viral video has propelled it's way further up the list each week.
Footwear: "Uggs" may no longer top the list as they have in years past—perhaps due to unseasonably warm weather—but the iconic footwear still occupies three spots in the top 20 and is joined by "Converse" and "Sketchers."
Gaming consoles: "Xbox One," "PS4" and Wii U are seasonal favorites despite this being the third Christmas for the three top consoles.
Coffee: "Keurig" and "Ninja Coffee Bar" both made this week's list this week, but competing coffee maker brands Nespresso and Tassimo have also appeared on the radar as consumers seek to simplify their morning cup of Joe.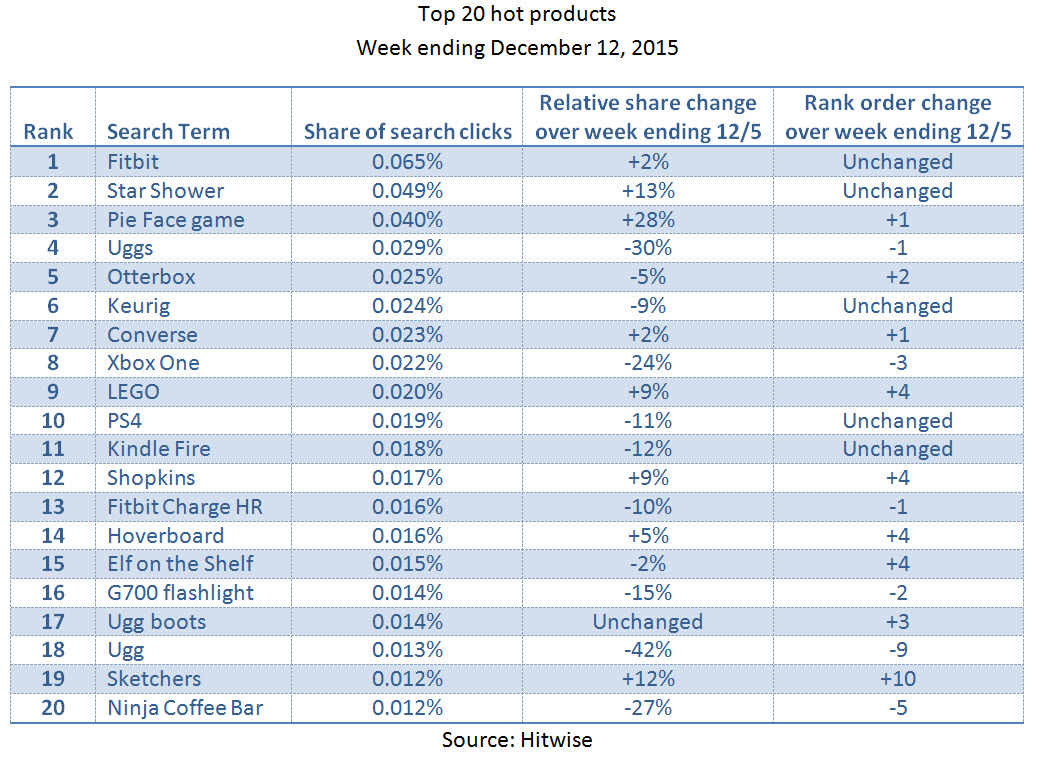 Toys
"Shopkins" may once again top the list as the single most commonly use toy search variation, but the sum of the three variations of "Pie Face" actually push that toy ahead of the leader. In fact, overall, "Pie Face" is mentioned in 0.64 percent of all toy searches while "Shopkins" is mentioned in 0.5 percent. This week's hot toy list is remarkably similar to last week's with seven of the ten items returning. Ordinarily, we see a lot of fluctuation in toy searches from week-to-week during the holiday, so the stability suggest a settling down in the space as shoppers wrap up their shopping or just go with what everyone else is buying as they close out the season.
This chart shows the 10 most searched for toys and games based on search clicks to Toys "R" Us – USA.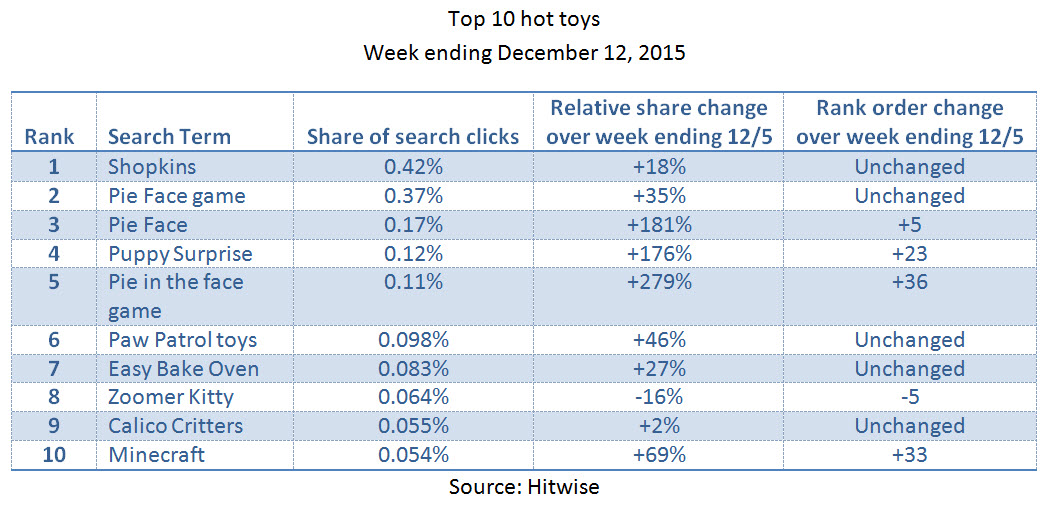 Gift cards
When you've run out of gift ideas and the energy to shop, chances are a gift card is in your future. With each passing day, online searches for "gift cards" and "gift certificates" rise with peak search activity traditionally occurring on Christmas Day itself. While gift-card searches had been trending along the same lines as last year for most of the season this year, activity noticeably surpassed what was observed last year beginning around December 7. It's unknown if consumers will maintain above average interest in gift cards during the remaining days of the season, but retailers should be prepared for a surge of searches in the coming days no matter what.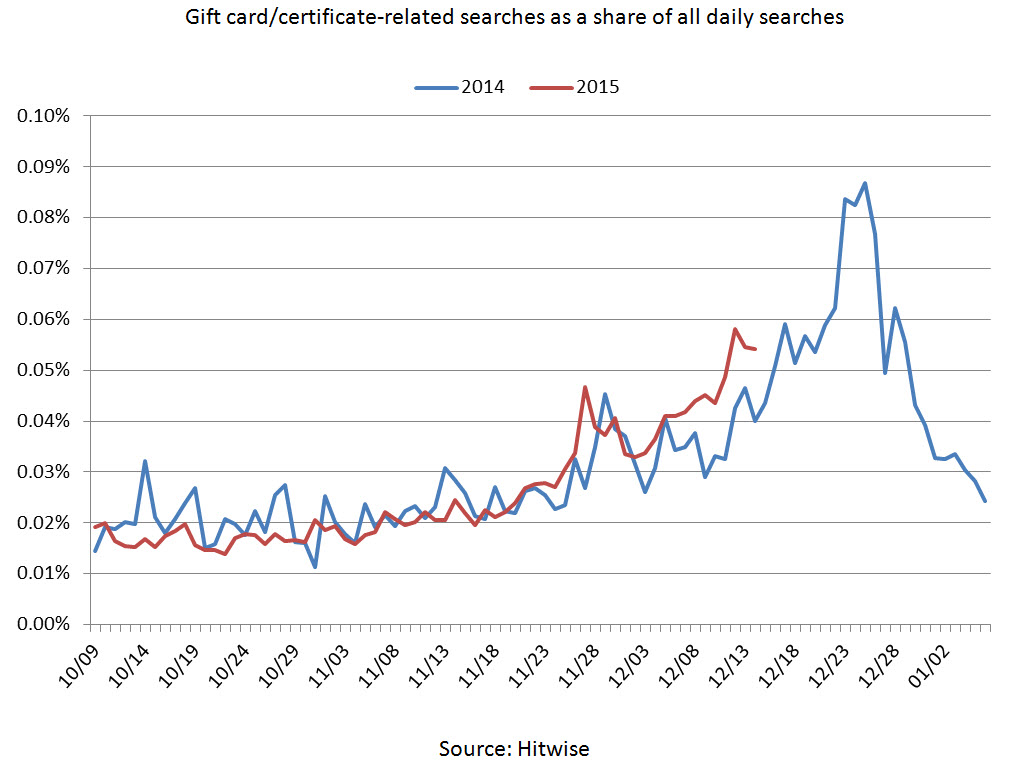 The most sought-out branded gift cards thus far in the season are the usual suspects: "Amazon," "Visa," "Walmart," "iTunes" and "Target." Though in recent weeks, those top performers have all lost some share of search as consumers begin seeking out other options. For instance, during the last two weeks "Amazon" mentions in gift card/gift certificate-related searches fell by a relative 28 percent and "Walmart" mentions dropped by 34 percent. Meantime, mentions of "Redbox" doubled as did "Regal" (as in Regal Cinemas). In fact, many entertainment brands gained in share during the past few weeks, including "Netflix," "Cinemark" and "Fandango."
Using the new AudienceViewSM platform from Hitwise, we found that at least 1.4 million Americans have searched for gift-cards or gift-certificates at some point during the four weeks ending December 12. Fifty-nine percent of those who have already searched for gift-cards this season are female with 25 to 44 year-olds being the age group most over-represented.  Gift card seekers are also more likely to have a college degree and have above average household incomes.
When it comes to shopping, gift card/certificate searchers are increasingly shopping online or at least using the internet to plan shopping trips. Though they say that they tend to spend a long time in stores browsing, they don't necessarily enjoy shopping as a leisure activity. Perhaps their biggest thrill when shopping is getting a deal; Gift card/gift certificate searchers are 33 percent more likely than average to say that they're "consumed with getting the best deal." And their online behaviors back them up. The sites where you'll find this audience in the highest concentration are nearly all related to rewards, deals and coupons. And some search terms that they use at rates well above average include: "coupons" and "promo code."
Where are gift card/certificate searchers shopping and what's on their holiday shopping list? Retailers focused on children's apparel, clothes and furnishings are popular among this set as are fashion and cosmetic sites. They're also among the first to shop on Jet.com, the new ecommerce site that promises shoppers big savings. As for what they're hunting for, electronics feature prevalently with this audience being nine times more likely than average to have recently searched for Google's "Nexus 9" tablet. These shoppers are also helping to propel the "Pie Face" game, "Ugg" and "adult coloring books" to the top of our hot products lists.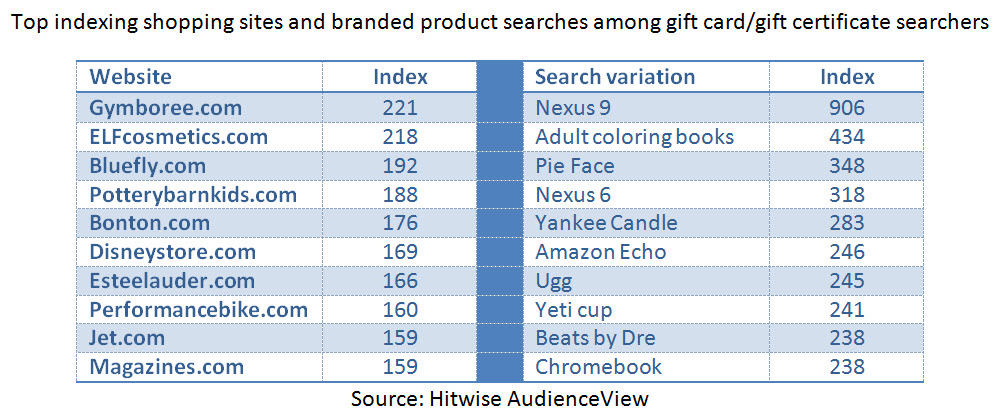 So while consumers seeking gift cards in the final days and hours before Christmas are likely to skew more towards those who have procrastinated or avoid shopping at all costs, those seeking gift cards earlier in the season tend to be more avid shoppers and big deal seekers. Consider developing offers targeted at this audience which reward them with a gift card for making purchases early so you can get them back in your store at a later date.
Learn more about how Hitwise AudienceView can deliver unparalleled insights into your consumer audience so that you can deliver a better brand experience. And for more on this year's holiday marketing trends, subscribe to our Holiday Hot Sheet series.