It may only be September, but as anyone who did any back to school shopping can tell you, the spirit of Halloween is already among us. In reality though, it will still be several more weeks before consumers begin to fully embrace Halloween, but when they do, marketers need to be ready. A good place to start would be to download our latest holiday hot sheet in which Experian Marketing Services reports key Halloween trends.
Marketers may think that Halloween is all about kids and candy, but according to an analysis of costume-related online searches cited in the hot sheet, plenty of grown-ups are dressing up as well. In fact, in October 2014, only half (56 percent) of searches that specified the demographic of the would-be wearer sought costumes for kids or teens. Forty-one percent of such searches were actually hunting costumes for women (28 percent) or men (13 percent). Pet costumes—mostly dogs—accounted for three percent of costume searches.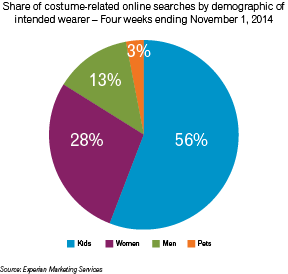 Costume searches for kids may make up half of all searches in October, but they are much more dominant in the early weeks of the month. In fact, during the first two weeks of October 2014, kids' costumes comprised over 70 percent of searches, whereas in the last full week prior to Halloween, they made up just 44 percent. While women's costume searches peak more than a week before Halloween, searches for men's costumes continue to grow up until Halloween itself, reflecting their tendency to wait until the last minute.
Email insights
Just as with online searches, email subject lines also reflect the broad range of audiences participating in Halloween fun. While less than seven percent of Halloween subject lines in 2014 specifically mentioned kids or babies, those that did had a 22 percent lift in unique open rates compared to all other Halloween mailings (16.3 percent for "kids" compared to 14.1 percent for all Halloween mailings). Halloween mailings targeting more grown-up audiences had subject lines ranging from insurance to lingerie and lots of items in-between. While the response to these varied by volume, product and target, what was clear was the great sense of fun many brands incorporated in these mailings.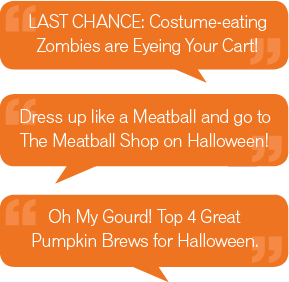 Halloween emails may begin as early as September, but last-minute mailings received the highest response. The last three days of the 2014 Halloween season actually claimed 36 percent of email volume and generated over 58 percent of the Halloween email revenue.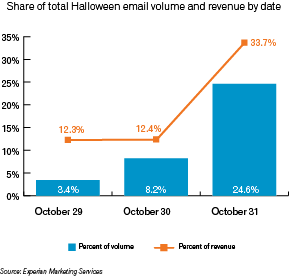 Like what you learned here? There's even more insight to be found if you download the entire hot sheet. Visit our Holiday Hot Sheets resource page to read the full report!