Consumer-generated reviews are now the most influential form of social media. Bill Tancer, our resident data expert and author of Everyone's a Critic – Winning Customers in a Review-Driven World sat down to discuss how businesses can leverage online reviews to their advantage, especially during the critical holiday season.
To get started, embrace these five simple rules to leverage online reviews: 
1.)  Showcase your passion
When you are interacting with a customer, make sure that your passion for your business shines through to customers. If a customer recognizes this passion, they will be more likely to return the favor by writing a positive review.
2.)  Be transparent
Don't surprise your customers with hidden fees. Make sure that your company's website is accurate and includes specific details about pricing, store hours and other pertinent business information. This will help you build consumer trust and increase the likelihood that customers will post positive reviews about your business.
3.)  Make reviews central to the conversation 
Reinforce your brand message by interacting with customers offline and online. In person, don't be afraid to speak with guests and ask them how they are enjoying their experience.  If you find that these guests then write a positive online review about your business, respond to the review by thanking them and continuing the conversation you discussed offline. 
4.)  Leverage reviews for insight 
Online reviews are not just a means to acquire new customers – they are also an invaluable tool to gain insight into your industry and competition. Make sure to research your competition and read their customer reviews to get a better understanding of their strengths and weaknesses in order to help you dominate the space.
5.)  Give them something to write about
Provide consumers with a reason to write a review about your business. This may be something as simple as a unique or extra service that sets you apart from competitors. For example, if you are a locksmith, you may consider oiling the hinges of doors in your customer's apartment before you leave.
Learn more about the power of online reviews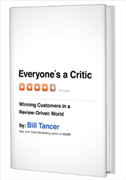 Watch the Everyone's a Critic – Winning Customers in a Review-Driven World webcast to learn:
What we know about online review sites
Why businesses ignore reviews
Why bad reviews are good for your business
Tips to increase positive online reviews