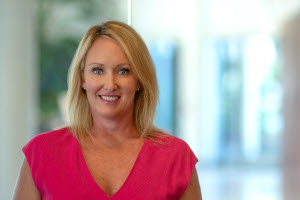 At Experian, we embrace an inclusive culture where everyone has a real sense of belonging, knowing they can show up every day and be who they are, both professionally and personally. So, we are always proud when we win an award in this category. Most recently, our Chief Operating Officer of Marketing Services, Klaudette Christensen was named a winner of a Bronze Stevie® Award in the Female Executive of the Year – Business Services category in the 16th annual Stevie Awards for Women in Business.
The Stevie Awards for Women in Business honor women executives, entrepreneurs, employees, and the companies they run–worldwide.  The Stevie Awards have been hailed as the world's premier business awards.
As Chief Operating Officer of Experian's marketing services division, Klaudette manages a team of over 200 executives focusing on product innovation and delivery, client support and experience, sales engineering, and business operations. An integral part of the Experian team since joining the company in 2010, Klaudette builds strategies that help thousands of brands deliver intelligent interactions across all channels.
Klaudette has accomplished a number of achievements while at Experian that made her a suitable recipient of the Stevie Award. In 2015, Klaudette served as Experian's VP of Product Management for Credit Services and played a key role in business growth, leading YOY revenue to grow by 7 percent. When Experian launched their Level Up Leadership Podcast in January 2019, Klaudette served as the inaugural guest. The podcast, which features key leaders of the Experian team to discuss workplace topics, chose Klaudette due to her high regard as a mentor, as well as extensive speaking experience on educating executives. In April of 2019, she was promoted to Chief Operating Officer of Experian's Marketing Services business.  In her current role, Klaudette is responsible for managing the sales enablement, innovation, product, analytics and operations to help brands reach their targeting goals. Since taking on her new position, Klaudette has established a center for excellence for strategic pricing, restructured teams to drive efficiency and growth, and created a foundation for product and marketing.
"It's an honor to be recognized for my accomplishments, and more importantly, alongside amazing women that continue to push the boundaries for success," Klaudette said after receiving her award.
Nicknamed the Stevies for the Greek word for "crowned," the awards were presented to winners on Friday, November 15th, 2019, during a dinner event attended by over 550 people at the Marriott Marquis Hotel in New York City.  The event was broadcast via Livestream.
Details about the Women in Business Awards and the lists of Stevie winners who were announced on November 15th are available at https://stevieawards.com/women/2019-stevie-award-winners.