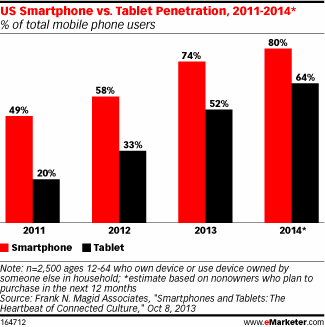 Over the last few years, mobile marketing has become a key media and channel for brands during the holidays. This is primarily due to consumer demand and adoption of mobile devices. Let's face it, consumers are on-the-go and are always looking for the best way to make a purchase decision. It is up to brands to optimize that experience through messaging, mobile web/applications and email. Whether it be the feature phone, smartphone or tablet, consumers are surfing, shopping, exploring, sharing and purchasing goods and services through these on-the-go devices. In fact, in a recent report from eMarketer, research company Frank N. Magid Associates found that "the number of US mobile phone users who owned or used a smartphone this year reached 74%, up from 58% the previous year. The tablet ownership rate among this group saw an even more dramatic increase, reaching above half of mobile phone users in 2013, up from 33% in 2012."
This leads us to a fairly new term call "showrooming." If you have not heard of it, it is time to start learning about the rise of the mobile shopper for this upcoming holiday season.
A recent report from Columbia Business School provides some good, up-to-date, information about the retail shoppers we try so hard to engage. For example:
21% of consumers are M-Shoppers and are using mobile devices while in retail stores to make a purchase
74% of M-Shoppers are over the age of 29
Over 34% submitted a text message to interact with a retailer
Part of the report also identified five segments of M-Shoppers: Traditionalists, Experience-Seekers, Exploiters, Savvys and Price-Sensitives.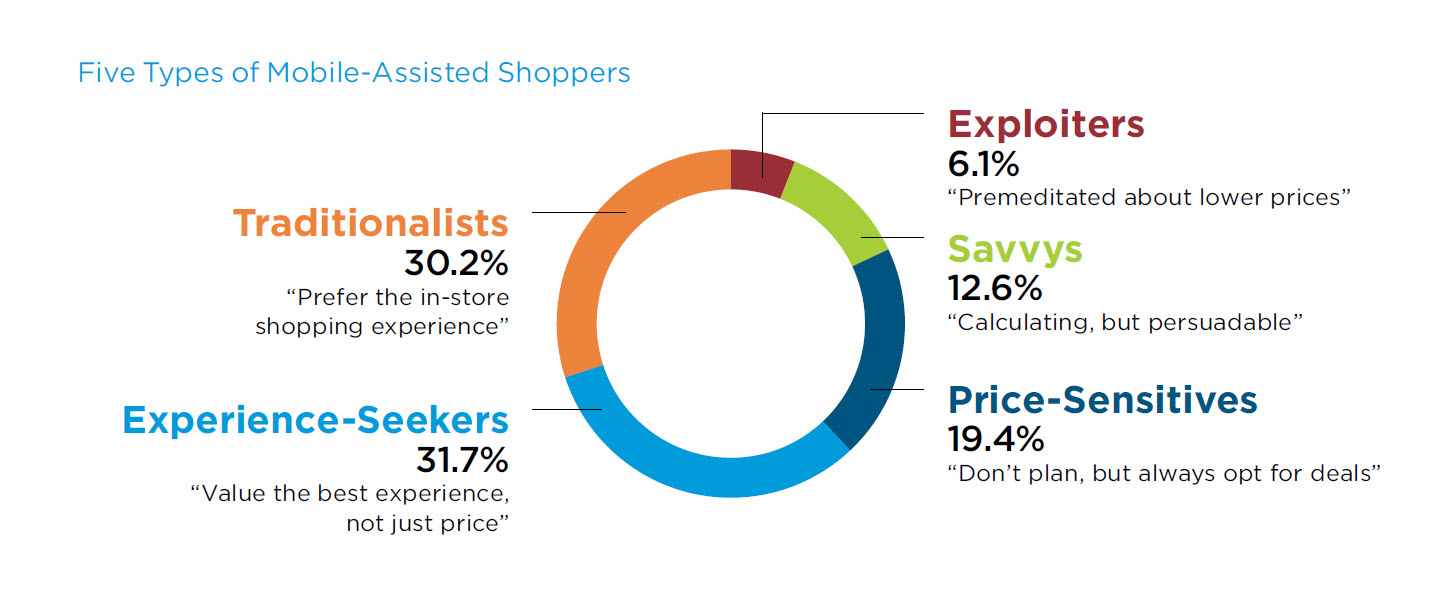 Source:  Columbia Business School Center on Brand Leadership, Showrooming and the rise of the mobile assisted shopper, September 2013
The holidays are a perfect time to incorporate the mobile channel into your customer engagement strategy to help you accomplish the following:
Build a deeper and more meaningful one-to-one relationship with your customers
Increase sales and store traffic
Promote social sharing
Increase engagement and conversion rates
Increase list growth for email and loyalty programs
Build an opt-in mobile database for future promotions
Reach your consumers when and where they are ready to make a purchase decision
At Experian Marketing Services, we work with clients to develop effective holiday mobile programs focused on driving results.  Visit our mobile webpage or call 866.626.6479 to learn more about our mobile product offerings.