The Digital Marketer Report receives 2015 Killer Content Award
The Digital Marketer Report, published annually by Experian Marketing Services, covers the evolving digital marketing landscape, while offering actionable insights that cross-channel marketers can use to deepen customer loyalty strengthen brand advocacy and maximize their profits.
Not only has the Digital Marketer Report been successfully and continually utilized by marketers as their primer resource, it has received ample praise from numerous publications.
The 2014 Digital Marketer: Benchmark and Trend Report, was recently named the winner of a 2015 Killer Content Award by DemandGen Report, a publication for b2b marketing professionals. The Digital Marketer Report has also been recognized as a winner of the American Business Awards' Bronze Stevie® Award for "Best Newsletter or House Organ/Publication – Online/Electronic" and the winner of American Business Awards' Gold Stevie® Award for "Best House Publication".
This year's Digital Marketer Report will highlight new obstacles for marketers and will outline what they must do in order to be successful this year.
The report will dive into the need for marketers to be able to synthesize and manage data, turn that data into meaningful insights, communicate in effective ways across platforms and stay ahead of changing consumer behaviors. The 2015 Digital Marketer Report is a must have for any marketer looking to start 2015 off right.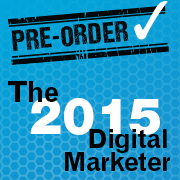 Pre-order The 2015 Digital Marketer Report, scheduled for release this March.