I'll admit it. There was a time, recently, when I had no idea what "deliverability" meant in the context of marketing. Deliverability? It sounds important, maybe a little boring if we're being honest, but is it?
Then I met Spencer Kollas, Experian Marketing Services' resident deliverability expert, and global Vice President of Deliverability Services, who explained it to me like this: With more than 188 billion emails sent every day, millions of messages are filtered, blocked and never arrive at their intended destination. This costs organizations millions of dollars every year. But marketers can do something to ensure that their messages ultimately do reach their customer and not the SPAM folder.
Ah, light bulb. Deliverability!
Deliverability isn't just important for marketing effectiveness, it's critical. And with 98 percent of brands using email as a marketing channel, it can have a dramatic impact on the overall marketing program. New research from Experian Data Quality highlights deliverability as a widespread issue: 78 percent of organizations globally have had deliverability issues within the past 12 months.
So why aren't more people talking about this?
Well, marketers are in luck: Spencer Kollas will be discussing this very issue and what you can do about it next week at the Email Evolution Conference hosted by the Direct Marketing Association. In his Deliverability 101 session, he'll address deliverability best practices and how marketers can avoid common mistakes to reach and stay in their customer's inboxes. According to Kollas, he plans to give attendees a roadmap for building their own deliverability practice and how to make it a high priority within any marketing program.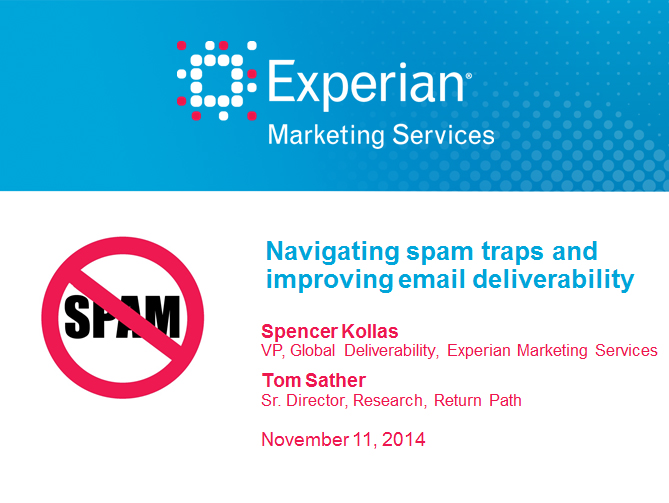 If you're going to be at the conference, you can catch Kollas on February 3rd at 10:30 a.m. If you aren't going, watch a replay of a recent webinar Spencer recorded on "Navigating spam traps and improving email delivery."